Welcome to Labelling Secrets #58
In this Edition:
Only 7 days until Label Power Exhibits at Fine Food Australia Show 2019 Darling Harbour
OKI PRO1050 Color Laser Printer Demonstration
TS TX600 Barcode Label Printer Demonstration
Edikio Access Card Printer Demonstration
Visit the Fine Food Australia Tradeshow
Label Power is exhibiting at the 2019 Fine Food Australia Show from September 9th-12th at the ICC on Darling Harbour.
With a showcase of over 1,000 exhibitors and thousands more brands, we're positively boiling over with options. General & specialty food, catering equipment, front of house, bakery, drinks, coffee, tea, dairy, meat & seafood, retail & technology, fit-out & design, packaging, natural, organic & free-from; go a la carte!

With 23,000+ visitors attending Fine Food Australia each year, it's an exciting and popular event. Sharing experiences with chefs, restaurateurs, cafe and bar owners, and other food operators, over four days.
Visit Label Power at Stand #F56 at the new convention centre to experience a demonstration of the new OKI Pro1050 Laser Label Printer

Find out how Label Power's 22 years experience manufacturing here in Australia will help you fulfill your label and tag requirements with blank labels, digitally printed labels, uv flexo labels, cold foil and hot foiled labels and tags.
Feast on our smorgasbord of colour inkjet printers including the following:
For single colour printing the 600DPI TSC TX600 barcode printer with colour touch screen and 300 metre ribbon capacity will give you the advantage.
Learn how the brand new Edikio Access food card printer will create you professional foodsafe display cabinet shelf tags and cards.
So, drop by and say "hi", and learn more about how Label Power can help you create, design and print stunning labels for your food products!
Label Power is demonstrating the OKIPRO Colour Label Printer at the Fine Food Show in Sydney from September 9-12 in Australia.
Professional standard 4 colour+1 (white plus CMYK) 1200DPI laser printing on continuous label and tag stocks and diecut media is now available at a low entry cost.
The OKI PRO1050 brings a new colour dimension with a unique fifth colour - CMYK+White allowing for greater flexibility in your label design. Printing on transparent or coloured or silver label media is now straightforward by printing an opaque white background under the CMYK image. This means you can get great results on clear, silver or brown kraft label stocks.
For those who need high quality lightfast and durable CMYK printing on white stocks only the OKI PRO1040 is the perfect choice with a lower investment cost.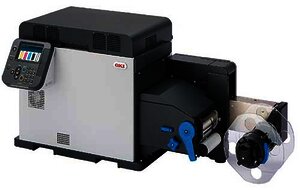 Profitable, In-House Label Printing
Delivers on-demand, short-run colour label printing capability that drives new revenue streams.

Versatile Media Handling
Unrivalled media handling allows users to take on new creative ideas and complex jobs with ease.

Robust Water/Chemical Resistant Printing
Proven ability to produce labels that survive underwater and are robust enough to resist UV fading.
Live demonstrations are available at our manufacturing facility in Brisbane, Queensland, so contact us today to schedule a a demo of the OKI Pro1050!
---
Check out the new TSC TX600 barcode printer at stand #F56 the Fine Food Show Australia 2019!
The TX600 is the culmination of 23 years of designing best-selling high-performance and durable desktop barcode printers. The printers use a large 300 meter ribbon supply on a one inch core that saves both time and money.
With 600 dpi capability, you have a lot of flexibility with printing various fonts and black and white images. The 600 dpi allows you to resize the nutritional and contents messaging to allow for more sace to include messaging and images.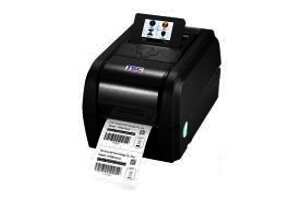 The 600DPI TX600 features a user-friendly spring-loaded center-biased clamshell design for easy drop-in media loading of 5-inch rolls of media. The printer construction features a rugged double-wall design that is stronger and more durable than other thermal transfer mechanisms on the market. Its strong motor is powerful enough to handle a 300-meter-long ribbon.
We also have the lower cost 203DPI TX200 and the 300DPI TX300 available. Order one online today!
Live demonstrations are available at our manufacturing facility in Brisbane, Queensland, so contact us today to schedule a a demo of the TSC TX600!
---
Print Eye Catching Food Product Display Cards!
Check out the new Edikio Access Card Printer at Stand F56 at the Fine Food Show Australia 2019!
Evolis Edikio Access Card Printer - The compact Edikio Price Tag Access printer is designed to make it easier to print single-sided price tags in credit card format. Its size and design mean it can fit into your work environment easily. The printer benefits from the experience and proven quality control of Evolis. It guarantees optimal functioning and a perfect result.
Price Card Printing Solution
The most affordable all-in-one solution for creating and printing your price tags on plastic cards. Ideal for printing small volumes of single-sided price tags.
The Edikio Price Tag Access solution is made up of:
A tag printer
Software for creating and printing price tags
Printing ribbon and PVC cards dedicated for use in the food industry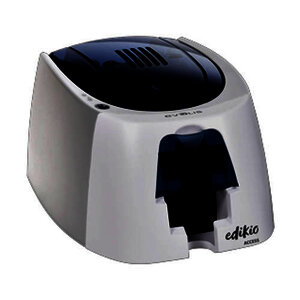 Perfect for:
Butchers
Bakers
Grocers
Cheese Makers
Fishmongors
Fruit and Vegetable Shops
Organic Food Shops
Wineries
A software for creating and printing price tags - The Lite version of the Edikio Price Tag software is designed to make it easier to create and print single-sided price tags. So, you can customise your price tags by adding your product information, logo, and font.
Edikio Access Card Printing Kit also includes:
A wide range of customisable tag templates based on the product sold (fish, meat, bakery counter, etc.)
A library of images to optimise the customization of your price tags
An exclusive "chalk" font for an authentic look
A connection to Excel databases to make it easier to update and track your prices
<link products printers printer-consumables accessories-and-other-consumables card-printer-accessories>A full range of magnetic card holders and acessories is also available here

---