Welcome to Labelling Secrets #54
Welcome to Edition 54
In this edition...
HP Digital print award arrives!
Label Power is exhibiting at the Food & Hospitality Show 2018 Show happening in Brisbane, Queensland on 5th - 6th of August.
Preorder the new Primera LX910, Colour Label Printer now available in Australia from Label Power - Orders are being accepted NOW for delivery in August
Download Free 30-Day Trial of Bartender Label Design Software
HP Indigo Special Recognition Award Arrives!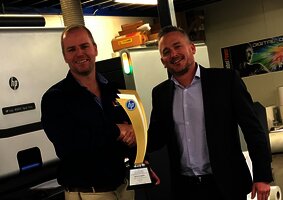 Label Power's trophy in the HP Digital Print Excellence Awards has arrived and is taking price of place in our showroom. After over 21 years in business we are proud to continue to serve our clients by making fantastic labels and investing in the latest print technology to do so.
The winning label was digitally printed and showed gold and silver metallic effects with a dense black and smooth matt overlaminate film. No film or plate charges were incurred by our client as the labels were digitally printed.
If you need to make your product stand out from the rest call our helpful customer service team who can bring your labels to life through great design and quality label manufacturing.
Visit us at The 2018 Food & Hospitality Queensland Show

Food & Hospitality Queensland 2018 is a new event that showcases the latest, food, drink and equipment for your business.
If you work in food and hospitality then you should be coming along to meet the suppliers and discover new ideas to grow your business. You can literally taste the new food trends and try out the latest equipment.
Visit Label Power at Stand E45 to learn about the latest in digital design, printing and labelling of food products in Australia.
This exciting event will be staged at the Brisbane Convention & Exhibition Centre from 5-6 August 2018. Everything is under one roof so you can easily get around and see everything. There will be over 150 exhibitors plus special events including the Queensland Chef of the Year and Brisbane Cafe School. Entry is free but you must work in a food or hospitality or related business. Opening hours are 10am-5pm Sunday 5th August and 10am-5pm Monday 6th August 2018.
For free visitor registration click here and enter your details. Parking is available underneath the venue and the South Brisbane Railway Station is right next door. It is definitely worth the drive from the Sunshine Coast or Gold Coast to see all the new ideas.
From printing your own full colour product labels, to barcode & ID card printers, scanners, label design software, label rewinders, label dispensers and label applicators we have a range of solutions to make a big difference.
On full display will be the all NEW VIPColor VP750 water resistant colour label printer, come and see it printing high speed, low cost, full colour labels on demand. Also check out the Epson C7500G and LX2000 pigment-based label printers and the Benchmate and Benchmax label applicators at our booth. We'll also have one of our best-selling industrial TT printers on show, the Honeywell Datamax I-Class.
Meet with Sean and Justin on our stand for a free consultation on choosing the best full colour or TT printer for your requirements.
See more details here for the trade show: https://www.foodandhospitality.com.au/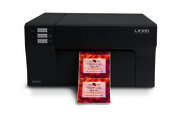 All New Primera LX910 Color Label Printer Allows Faster and Better Quality Printing.
Print full colour labels on demand today!
The new LX910 utilises the latest in high-resolution inkjet technology to print brilliant full-colour product labels on demand!
LX910 is Primera's newest colour label printer. It has the latest high-resolution inkjet technology to print brilliant, colourful labels for your products, boxes and packaging. Each LX910 ships with built-in pizza-style cutter, <link products labelling-tools labelling-software bartender _self>BarTender UltraLite Edition software, starter roll of high-gloss labels, 1 x dye-based CMY ink cartridge and USB 2.0 cable and power cord.
Print with dye or pigment ink, all in the same printer, by simply changing out a single ink cartridge. Dye ink has brilliant, vivid colors for making eye-catching prime labels for your products. Pigment ink is highly durable for more industrial applications and has more uv and water resistance. Never change expensive printheads again as a printhead is included in every ink cartridge. Choose the Ink type that best fits the task without buying two separate printers!
Short run custom labels and personalised labels are printed fast and efficiently, helping you to increase the production of your products. You can even operate several LX910 printers from one PC as your production volumes grow. Your labels can include full-colour photos, illustrations, graphics, text and bar codes. Print them when and where you need them - in quantities you can really use.
The Primera LX910 colour label printers produce gorgeous, professional-quality labels for all your short-run, specialty products. It's ideal for industries such as gourmet foods, wine and water bottles, personal care and cosmetics and natural or organic products.
It can print labels up to 4800dpi and 209.6mm wide at speeds up to 4.5" per second.
Orders are being accepted now for shipment in August and during the month of August 2018 we will offer $400+GST trade in for your existing Primera LX900 printer in working order when you order a new Primera LX910 making your change over price only $2995+GST
Contact Label Power today for further information or assistance to find the right labelling solution for your needs.
Bartender 2016 - Create High-quality Labels, Barcodes and Cards in Minutes

About Label Power
Label Power was established in 1996 with head office and manufacturing facility located in Brisbane, Queensland. We are the industry leaders in VIP (Variable Information Printing) systems which enable clients to print variable information labels and tags on demand.
Label Power supplies full colour industrial digital label printing and converting systems including the VIP Color VP750 colour label printer and the Label Power Digicut 330 laminator and label finishing machine.
Other products supplied are Colour Inkjet Label Printers, Label Dispensers, Label Rewinders and Label Applicators as well as printing consumables. For customised label design and printing, Label Power are distributors of a full range of labelling software including Bartender, Labelview and Nice Label.
An extensive trade label manufacturing plant, coupled with over 21 years experience in the implementation of the best labelling systems, Barcode scanners and Software make Label Power the right partner to help you implement all your product labelling, identification and tracking needs.
For more information about Label Power please visit www.labelpower.com.au or call us on 1300 727 202
We encourage all customers to visit our website to find information about our products and contact us on 07 3710 7000 or email sales@labelpower.com.au