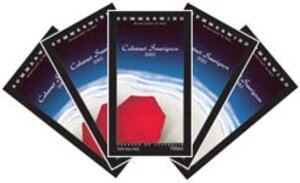 They say you can't judge a book by its cover. That's somewhat true for wine as well but, wander the aisles of any liquor store and you will find an amazing array of wine labels designed to tantalize those taste buds.
Of course you really can't tell what a wine will be like until you uncork it and take a sip or two or four!
But if you do feel guilty for picking out a wine just because it has a crazy-looking animal or bird on the label don't worry, wine makers for centuries have used illustrations to make their product more appealing to the palate.
Picasso's, picture Bacchanale for example, was reproduced for the label of the Mouton Rothschild 1973 vintage and other great modern and contemporary artists including Dali and Andy Warhol have also contributed to the art of wine labels.
So a wine label begins with a great design and a concept of how it should look on the bottle and ultimately how it will attract the consumer.
Materials need to be selected that carry the design and convey the concept. Will the label be a matt or high gloss finish? Will there be special colours or features like embossing?
With so many options available, expert advice is essential, even at the early stages of design. So whether your label has a Wild Horse, Leaping Cat or a Screaming Crow on it, Label Power has a fantastic range of materials and processes to make sure your bottle stands out on the shelf.