March 2005
Christmas! Not quite, but it does seem to get earlier and earlier every year. For those of you who have left your ordering a bit late don't worry. Label Power is ramping up production so those essential supplies can still be delivered over the next few weeks for your Christmas rush.
In this edition we respond to a whole host of questions posed by customers about SCC (Shipping Container Codes) and feature the very latest version of the world's best selling BarTender label design software.
As usual we have a fantastic printer deal and an update on the big move. We are also proud to announce the launch of our new website.
Kind regards
James Malone and the team at Label Power
Congratulations to the winner of a brand new BP-443D barcode label printer, George Kuokides of Kwik Kopy West End in QLD.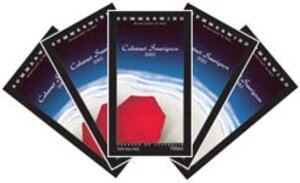 They say you can't judge a book by its cover. That's somewhat true for wine as well but, wander the aisles of any liquor store and you will find an amazing array of wine labels designed to tantalize those taste buds.
Of course you really can't tell what a wine will be like until you uncork it and take a sip or two or four!
But if you do feel guilty for picking out a wine just because it has a crazy-looking animal or bird on the label don't worry, wine makers for centuries have used illustrations to make their product more appealing to the palate.
Picasso's, picture Bacchanale for example, was reproduced for the label of the Mouton Rothschild 1973 vintage and other great modern and contemporary artists including Dali and Andy Warhol have also contributed to the art of wine labels.
So a wine label begins with a great design and a concept of how it should look on the bottle and ultimately how it will attract the consumer.
Materials need to be selected that carry the design and convey the concept. Will the label be a matt or high gloss finish? Will there be special colours or features like embossing?
With so many options available, expert advice is essential, even at the early stages of design. So whether your label has a Wild Horse, Leaping Cat or a Screaming Crow on it, Label Power has a fantastic range of materials and processes to make sure your bottle stands out on the shelf.
Shipping Container Barcodes - Some questions answered
What is a SCC?
A SCC is a Shipping Container Code. It is a type of Interleaf 2 of 5 symbol. It consists of 14 digits: a packaging indicator, a space holding zero, a UPC number and a check digit. The space holding zero is included because the SCC is an Interleaf 2 of 5 bar code and it must have an even number of digits in it.
What is a SCC used for?
The SCC is used for cartons. The UPC number for the items inside is incorporated into the SCC number. The packaging indicator is the designation of the levels of packaging. For example, if you have the individual items in one box, several of that box placed in a larger carton, and several cartons on a pallet, each of those; the box, the carton and the pallet, would need to have a separate packaging indicator so that when scanned, the warehouse / distributor would know exactly what level was being scanned. The following numbers are available for use as packaging indicators: 0 is used when the carton is also sold through point of sale; this would mean that the SCC and the UPC must appear on the same carton. You may pick from 1-7 for packaging indicators for cartons that have fixed contents. 8 is reserved and not available for use. 9 is used when the carton has variable contents.
Where is the SCC most commonly used?
The SCC is most commonly used in various distribution networks.
Do I need to register the SCC numbers before using them?
You need to register the SCC numbers you use with anyone else who must scan the numbers (those in the distribution network, and retailers carrying your products for example).
What other bar codes are used in similar circumstances as the SCC?
Other bar codes used in similar circumstances as the SCC are Code 39 and the UCC/EAN 128 Shipping Container Code.
Can I encode all characters in a SCC?
In a SCC the characters must all be numeric.
What are some characteristics of a SCC?
Some characteristics of a SCC are as follows: it is not a very secure code, so it is recommended that you use bearer bars around the symbol. That way, you will not be in danger of misreads or partial reads. Since the SCC is a type of Interleaved 2 of 5 code, it has a ratio between wide and narrow bars like Code 39 bar codes. In the case of the SCC, the ratio has been designated to be 2.5:1. Again, it can only encode numbers, and there must be an even number of characters in the bar code.
Can I just use a bar code font to make a SCC?
Bar code fonts do not create the high accuracy required to guarantee scannability at point of sale. Creating bar codes requires maintaining a tolerance of +0.0002" (2/10,000 of an inch). This is not possible using bar code fonts.
It is highly recommended that specific software such as Bartender or Easylabel be used in conjunction with a thermal printer to create bar code labels.
Are there any restrictions with using a SCC?
An SCC must be numeric, it must have an even number of characters, it must have a packaging indicator, and contain the UPC number system character, manufacturer code and product code for the items inside.
What is the smallest/largest SCC I can have?
Unlike UPC/EAN symbologies, the SCC does not have a specific smallest/largest designation. The most common size used for large cartons is the 100% size with full bearer bars, requiring an area of approximately 152mm (6") wide by 50.8mm (2") in height.
What does SCC stand for?
SCC stands for Shipping Container Code.
How many digits can I encode in a SCC?
In a SCC, 14 digits are encoded.
Do I need to have the bearer bars / border around my code?
It is highly recommended to have the bearer bars/border around the SCC. Bearer bars are borders which are put around the perimeter of the bar code, forming a box around it, or sometimes in the case of smaller codes (those below 70% magnification) only on the top and bottom of the code. The horizontal bearer bars (on the top and bottom of the code) must touch the bars of the code. The vertical bearer bars must maintain the quiet zone requirements of the bar code. It is strongly recommended that I 2 of 5 bar codes have at least the bearer bars on top and bottom to help insure that either the code reads correctly, or doesn't read at all, preventing partial reads which result in a misread by the scanner.
New features of BarTender's newest version (7.5)
Trust Label Power, the bar coding experts, to bring you the very latest version of <link>BarTender, the world's best selling label design software. BarTender is fast and easy to use offering professional quality label design at your finger tips and super quick drivers for your thermal printer.
Released at Chicago's LabelExpo in September, Label Power were there to bring back Bartender v7.5 and make sure our customers don't miss out on some great new features...take a look at some of the techie stuff.
Hardware security "key" now optional
Previously BarTender was shipped with a hardware security "key" to ensure software license compliance. With version 7.5 the hardware security key is no longer necessary. Great news for customers with laptops. No extra hardware security key means less to carry. Existing customers can contact us for an immediate upgrade to the new keyless version.
Although customers still have the option to continue receiving the hardware security keys, a new software license compliance technology has recently proven itself more reliable, lower in cost, and just as effective. BarTender now makes use of software-based activation to combat software piracy and to ensure that the customer's copy of the software is genuine.
The new activation process is safe and non-invasive. Customers can either activate their BarTender software at install time or anytime within the next 30 days. The software runs on "Trial edition" for the first 30 days if not immediately activated. The software reverts to "Demo mode" if it is not activated after the 30-day trial period. Customers who wish to use the software to its full extent can simply activate their software.
Automatic, from within the Installer Program: Customers simply type in their Product Key Code (PKC) and the rest happens automatically.
Semi-Automatic, from a Web Browser: The Installer program lists the URL address for our Activation web site. Customers can access this site to Activate from any web-browser-equipped computer.
Manual, By Phone: The Installer program lists phone numbers customers can call to get their Activation Code.
Customers who still prefer the hardware security key can still do so upon request.
Other New Features
Easier User Interface
New wizards speed beginners through label setup
Wizards for power users too
Quickly preview and print label designs without opening formats
Enhanced Database Connectivity
OLE DB data sources now supported. (ODBC still supported)
New wizard simplifies connecting to a database
User-definable Background Images
Specify a background label image to appear "behind" your label design
Also add a background colour
Automatically "bleed" backgrounds beyond label edges to ensure full coverage in case of label slippage or poor printer registration
Support for Printer Clocks
Time and date stamps can now be read from the printer's real time clock
Existing use of computer's clock still supported
Label Power stocks the latest version of BarTender. It is available for sale now at very competitive prices. Please call, email or visit our website for more information.