Food, Meat Packaging and Butcher's Display Sticker Labels and Printing
Label Power manufactures food sticker labels and tags specifically for the meat and butcher's industries.
Products include: AQIS approved labels, food grade inserts, butcher's packaging, carcass tags, sequentially numbered inserts, chicken tags, carton labels, security cut labels, PVC cards and spikes.
Label Power supplies plain or pre-printed, self-adhesive food labels in a variety of shapes, sizes and colours.
Label Power also has a complete line of pre-printed Butcher's labels for beef, poultry, pork, lamb, specials, cooking instructions, organic, Grown in Australia, etc and can customise butcher's labels to assure your displayed meat products are eye-catching and easy to purchase.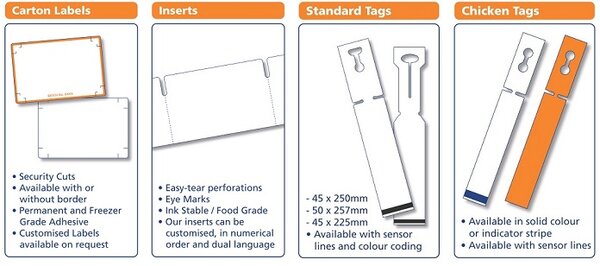 We manufacture food labels in paper and synthetic material and tags in synthetic stock and printed PVC cards.
Paper: thermal transfer, direct thermal and flouro colours - All with long-life adhesive and freezer-grade adhesive.
Synthetic: thermal transfer and direct thermal.
PVC Cards: Single and Double Sided Printing.
Our Food Sticker Labels and Tags Features:
Excellent strength and durability - moisture resistance.
Excellent print quality for superior barcode scanning.
Ease of use and functionality.
Wide range of sizes available.