Primera FX1200 Digital Finishing System
Primera FX1200 Digital Finishing System

Until now, digital label finishing has been expensive, complicated and not particularly well-refined. But no longer.

Primera's FX1200 Digital Finishing System is here. This innovative new machine is ready to meet the demands of converters and manufacturers who need reliable, professional-grade finishing equipment to complete their digital label production. FX1200 is an "all-in-one" off-line solution that produces rolls of finished labels produced by a variety of narrow-web output devices.


With FX1200, you'll be able to quickly and easily perform all of these label finishing steps in a single,
integrated and automated process:

Benefits
Touch Screen Controls
• All set-up and operation is controlled through an integrated touch screen PC. Most jobs take only a few minutes to set up and start running. You can easily adjust job parameters "on-the-fly" due to the significant built-in processing power and on-board memory – a unique feature in this category of digital finishing systems. The wide-screen color LCD display is easily visible in many different lighting conditions.

Cut Any Size or Shape without Dies
• Instead of hard-tooled or flexible steel dies, FX1200 utilizes digitally-controlled tungsten carbide steel knife blades. With FX1200 you'll never have to buy a die or wait for it to be made and delivered. Your turnarounds will be faster and the time and cost savings are significant.
• Finishing speeds of up to 30 FPM (9.14 meters per minute) are accomplished with Primera's exclusive QuadraCut™ technology (patent pending). QuadraCut uses up to four knife blades at a time across the web. This feature dramatically increases throughput compared to systems that have just a single blade. You can cut virtually any size or shape from various pressure-sensitive substrates, including matte and gloss paper, polyester, vinyl, polypropylene, BOPP and more.
• Precise re-registration to pre-printed images is accomplished with dual two-zone timing mark sensors.

A Complete Digital Solution
• FX1200 is the perfect companion to a variety of narrow-web digital output devices, including Primera's best-selling CX1200 Digital Color Label Press (color laser technology) and LX900 Color Label Printer (inkjet technology). With Primera's digital printing and finishing equipment, you get a complete digital label printing and finishing solution from a single vendor at a new, breakthrough price.
---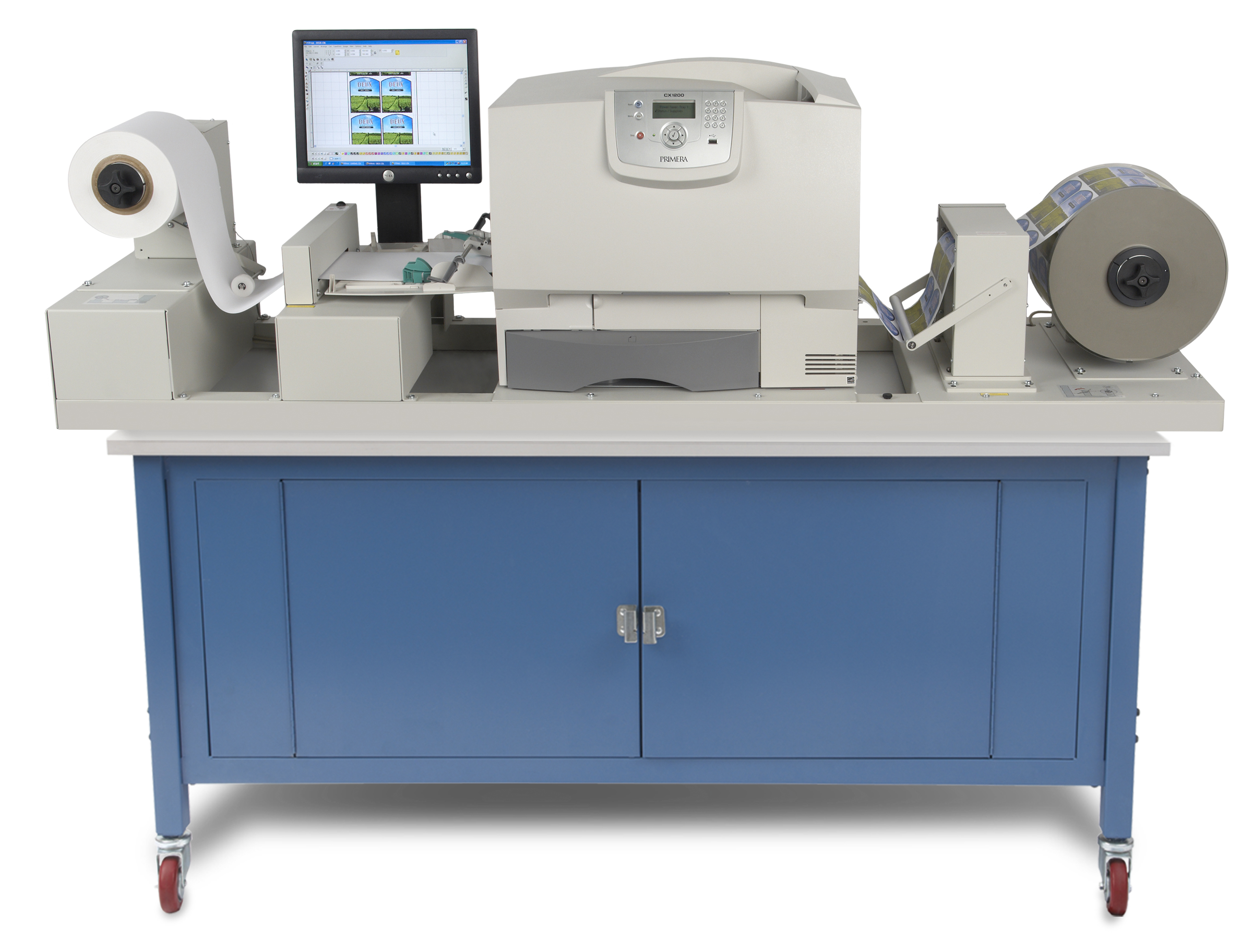 • Print continuous or pre-die-cut label stock
• Print on low cost substrates
• No Need for expensive coated inkjet stocks
• Smudge free and UV resistant high yield toner
---

Input roll max. diameter:
• 305mm.
---
Output roll max. diameter:
• 305mm.
---
Minimum web width:
• 152mm.
---
Maximum web width:
• 216mm.
---
Maximum die cutting width:
• 203mm.
---
Minimum label length:
• 19mm.
---
Maximum label length:
• 610mm
---
Throughput speed:
• Up to 152 mm per second or 30 FPM (9.14m per minute)
---
Controls:
• 15.6" (diagonal measure) LCD touch screen, 16:9 wide panel, 1366 x 768 pixels; emergency stop switch.
---
Number of cutting blades:
• 1 to 4
---
Number of slitting blades:
• 1 to 7
---
Cutting technology:
• Tungsten carbide pivoting knife(s)
---
Cut ?le protocol:
• HPGL
---
Optical sensing:
• Dual two-zone
---
Cut speed (max. diagonal):
• Up to 170" (432cm) per second when using four knife blades
---
Processor:
• Intel® Atom™ 330 1.6 GHz
---
Memory:
• 1 GB DDR2
---
On-board storage:
• 160GB SATA 2.5" HD
---
Data interfaces:
• USB 2.0, 10/100/Gigabit Ethernet, Wireless 802.11 b/g/n, USB memory stick
---
Options:
• Second powered rewind mandrel, Extended warranty
---
Dimensions:
• 78"W x 30"D x 56"H (198cmW x 76.2cmD x 142cmH)
---
Weight (estimated):
• 498 lbs. (226 kg)
---
Power requirements:
• 100-240VAC, 300 watts
---
Agency certi?cations:
• UL, UL-C, CE, FCC Class A
---