Superior labels for CS Global
CS Global recently launched a great new initiative designed to make healthy eating fun for kids. The Kid-edible range of pre-packed, high-quality fresh fruit and vegetable products hit Woolworth's supermarket shelves across Queensland last month sporting the latest in coupon label technology.
Coupon or leaflet labels as they are sometimes called are multi page folded booklets designed for promotions, competitions or in Kid-edible's case, providing important information about the benefits of eating healthy fruit and vegetables plus a chance to win a fantastic portable DVD player.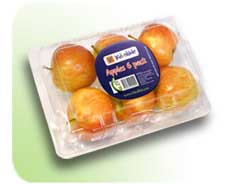 Label Power supplied full-colour two-page coupon labels for apple, mandarin and strawberry packs and worked closely with CS Global's packers to ensure tight delivery deadlines were met.
Marketing Manager for C-lect Marketing Solutions, Michelle Christodoulou, was delighted with the product and said she was looking forward to rolling it out interstate over the next few months.
If you would like to know more about coupon labels and the promotional possibilities of this great product please contact andrew@labelpower.com.au.

CS Global has a funky website supporting the Kid-edible products where kids can enter competitions and play on-line games aimed at promoting healthy eating.