August 2004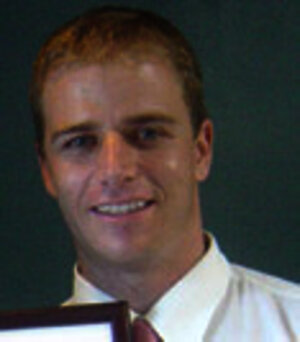 If providing unique labelling solutions was an Olympic event, Label Power would certainly score the Gold with our latest promotional label.
This edition sees the introduction of coupon label technology to Label Power's ever expanding range of products. In addition we have some important information for anyone considering bar coding and there is a whisper that Label Power are on the move.
With each newsletter we always try to bring our readers a bargain and this edition is no different. We are running out the superb Citizen printers but hurry as there are only a few left.
Kind regards
James Malone and the team at Label Power
Congratulations to the winner of a brand new BP-443D barcode label printer,
Simone Wyndham of Kichi in NSW.
Label Power tops off the year
Rounding off a fine year at Label Power, the company has been acknowledged as one of Queensland's top 400 companies.
Every year the prestigious listing of the state's top privately owned companies is compiled by the QBR in association with QUT and accountants BDO Kendalls.
For the first time Label Power joins the 'A' list with household names such as Golden Circle, Zupps and many other great organisations.
The Awards gala dinner held at the Gold Coast Convention Centre saw a huge turnout and some very proud business owners.
James Malone, Managing Director of Label Power, commented on the company's performance saying "I'm absolutely delighted with the top 400 listing and proud of all the staff who have contributed so much this year".
To see a complete listing of the Queensland Q400 why not visit their website at www.q400.com.au.
Barcodes - Some questions answered
How did it all start?
The idea of the barcode was first proposed in the US in the late 1960s as a method of automating the input of numbers (or codes) into computer systems.
The supermarkets of the day wanted a way of identifying products as they passed through the stores without the labour of continually typing numbers into a keyboard. This would also speed the movement of goods through the checkout.
This requirement eventually gave rise to the 12 digit UPC (Universal Product Code) barcode, which in turn has been extended to produce the 13 digit WPC (World Product Code), often known by local labels such as EAN-13 (European Article Numbering 13 digit code). These are now widespread, and are being insisted upon by major supermarket chains.
What are barcodes?
The most common barcodes are produced from a set of bars, and spaces between bars, of varying widths. They have the advantage that barcode scanners can read them easily, even if humans cannot. Normal letters, at which humans are so adept, are still almost impossible for computer scanners to read reliably, even in the case of OCR (Optical Character Recognition) fonts.
The idea of a barcode is to encode an identification number for something that will be unique. Using this unique number in the form of a bar code, the information about the item can be looked up in a database using the code number.
In the case of supermarkets; food products that have been assigned unique EAN barcode/numbers, correspond to the supermarkets own database containing pricing information, stock levels etc. At the checkout the barcode is scanned and the price charged to the customer. In addition the information collected from the scan is used for automatic reordering and a host of other management information about the products they sell.
Which barcodes?
The most common forms of barcodes are: the UCC/EAN 13 digit codes and a shorter version known as EAN-8, containing only 8 digits; the ITF (Interleaved 2 of 5) barcode; the Code 39 (also known as Code 3 of 9); and the EAN-128, which is a specific form of the Code 128 barcode.
UCC/EAN codes are used primarily for retail applications whereas code 128 with its combination of alpha and numeric content is used for non point of sale applications.
How do I go about barcoding my products?
Your first call should be to Label Power. We will guide you through the process and advise you on the best way to go about barcoding your products. You will also need to contact EAN Australia.
Contact us for more information about barcoding.
Phone: 1300 727 202 Email: websales@labelpower.com.au
Superior labels for a superior brand
CS Global recently launched a great new initiative designed to make healthy eating fun for kids. The Kid-edible range of pre-packed, high-quality fresh fruit and vegetable products hit Woolworth's supermarket shelves across Queensland last month sporting the latest in coupon label technology.
Coupon or leaflet labels as they are sometimes called are multi page folded booklets designed for promotions, competitions or in Kid-edible's case, providing important information about the benefits of eating healthy fruit and vegetables plus a chance to win a fantastic portable DVD player.
Label Power supplied full-colour two-page coupon labels for apple, mandarin and strawberry packs and worked closely with CS Global's packers to ensure tight delivery deadlines were met.
Marketing Manager for C-lect Marketing Solutions, Michelle Christodoulou, was delighted with the product and said she was looking forward to rolling it out interstate over the next few months.
If you would like to know more about coupon labels and the promotional possibilities of this great product please contact andrew@labelpower.com.au.
CS Global has a funky website supporting the Kid-edible products where kids can enter competitions and play on-line games aimed at promoting healthy eating.
As part of Label Power's $2.5 million expansion program, we will be relocating to a brand new facility at the end of the year.
In order to accommodate new presses, in-house slitting and our huge range of ex-stock products, we have secured 2,000sqm of factory and warehouse space south of Brisbane.
We will look to achieve a seamless move to our new premises with no interruption in production and a final close down of the West End factory in December.
Watch this space for more information over the coming months.
SPECIAL OFFER!!!
Label Power is offering special prices for the following Citizen printers:
1 x Citizen CLP9001 - blazing speed at 12" per second and 203 dpi
special offer of only $1,895.00 (save $655.00 from usual price of $2,550.00)
1 x Citizen CLP9301 - 304 dpi quality at 8" per second
special offer of only $2,450.00 (save $600.00 from usual price of $3,050.00)
Also if you purchase any of the above printers we will offer a full copy of Easylabel 5 Gold Version for only $595.00, a saving of $200.00 from usual price of $795.00.
To order, email websales@labelpower.com.au however be quick as only 1 of each model is available at this pricing!
Click here to download the full specifications of the CLP9001/9301 printers
Internal Sales
Internal Sales - Full Time
This is a great opportunity to join Queensland 's fastest growing label printing company. Based in Brisbane and working as part of a committed team, this is both a challenging and rewarding role.
It is essential that you have the following attributes:
Enthusiasm with 'hands on attitude'

Excellent telephone manner

Numerate with good computer & typing skills

Attention to detail

Team player
Ability to develop relationships with new clients
You will be responsible for regular contact with existing customers, taking incoming calls, data and order entry and following up quotations. A good salary package, initial and on-going training and the opportunity for advancement within the company exists for the right individuals.
Please send a brief covering letter and resume to:
careers@labelpower.com.au