Label Power wins Bronze at Queensland Printing Industries Awards
Whilst two Australians picked up Oscars at the recent Academy Awards, Label Power celebrated their own success taking Bronze at the recent Queensland Printing Industries Awards.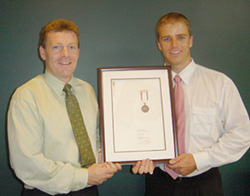 Andrew Bilton (General Manager) & James Malone (Managing Director)
accept the award on behalf of Label Power.
The entry in the 'sheet-fed labels on self adhesive material' received a special commendation from the judges. James Malone was delighted with the accolade.
"Its always great to receive praise for our printed work, but especially when it comes from your peers"
The label entry, produced on die cut A4 sheets using speciality synthetic material, was for a range of homeopathic bath and massage oils.