Welcome to Labelling Secrets #63
In this Edition:
End of Financial Year Specials
Label Power is Making it in Melbourne
New Label Power Desktop Round Bottle Label Applicator
New Inkjet Heat Seal Material Label Stock Now Available
TSC TX300 Label Printer WIFI Capabilities
Label Power Expands Production Capability with New HP WS6900 Digital Press
The VP750 is the next generation of digital print-on-demand color label printer with Enhanced Water Resistance Printing Technology*.
Building on the proven technology of our VP700, it utilises Enhanced Water Resistance Printing Technology that produces vibrant colored waterproof labels. The result is great looking color labels that are suitable for Chilled Food & Beverage, Animal Care, Cleaning products, Chemicals, Pharmaceutical products and most moisture exposed products.
The VP750 combines the performance and reliability of VIPColor VP700 industrial label printer with the new improved inks system that gives better, water resistant labels compared to other dye ink printers.
Ruggedly designed yet intuitive for in-house label production and private labeling needs, the VP750 bring fast, affordable color printing to any print environment.
Label Power is Making it in Melbourne
Label Power welcomes Jonathan Birdsall to their Melbourne team as our on-road labelling consultant.

Jonathan has a lifetime of experience in printing and is available for onsite consultations in Victoria on printed labels, tags and single and full colour label printing systems.

If you need labels, tags or label printers and supplies please contact Jonathan on email - jonathan@labelpower.com.au or call on 0449904177

Label Power manufactures blank and full colour labels and tags in both Brisbane and Melbourne.
Honeywell, TSC. Epson, Zebra and Primers label printers are on display at our printer showroom at 132 Newlands Rd, Reservoir, Victoria 3073.

Jonathan and Kirsten looking at some silver metallic craft beer labels being printed at Label Power: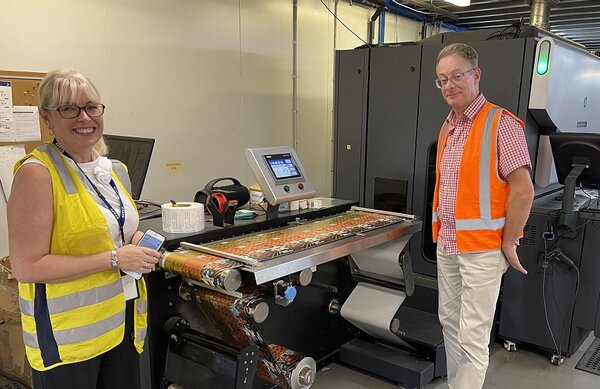 Label Power PLM-C Desktop Round Bottle Label Applicator, Labeller for Cans and Bottles
The Label Power model PLM-C round bottle labeling applicator machine is engineered for different kinds of round products like beer cans and wine bottles, This precision labeling machine uses quality german componentry.
The Label Power PLM-C Labeling machine is suited for various sized round products labeling in the food, medicine, daily chemical and other light industries.
Label Power's PLM-C Desktop Round Bottle Label Applicator Characteristics:
Control system: SIEMENS PLC control system, with high stable operation and extremely low failure rate;
Operation system: SIEMENS touch screen, with Chinese and English language, rich with help functions and fault display function with easy operation;
Check system: German LEUZE check label sensor, automatic check label position, stable and convenient;
Send label system: American AB servo motor control system, stable with high speed;
Alarm function: such as label spill, label broken or other malfunctions during machine working all will set off alarm and stop the run;
Machine Material: The machine and spare parts all use material S304 stainless steel and Anodized senior aluminum alloy,with high corrosion resistance and never rust;
Low voltage circuit all use the France Schneider brand.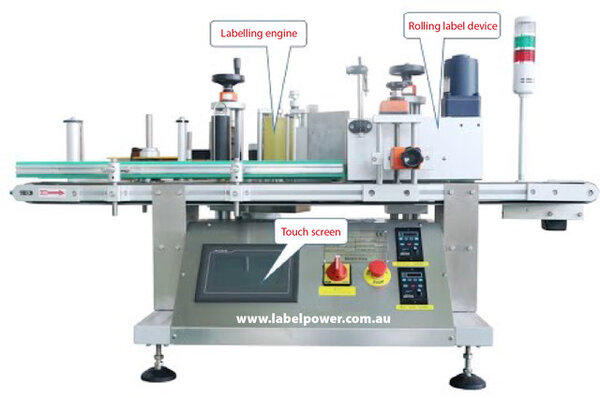 New Inkjet Heat Seal Material Now Available
Label Power are now stocking inkjet compatible heat seal synthetic material for carpets and textile products (Acetate/polyester satin, cotton, etc.) this material will heat seal ( with iron or iron press ) onto uneven and hard to stick to surfaces like carpets, rugs and mattresses.
Standard colour Inkjet label printers (VIP Color, Primera, Epson ) can be used to print on this stock to create eye-catching labels that can then be heat-transferred onto your textile products with uneven or varying surfaces.
Carpets, Rugs, Mattresses and other textile products can all have varying types of weaves, thickness and finishes, so standard adhesive labels usually cannot be used. This material is supplied as a continuous roll, once printed on your inkjet label printer you just cut to size and iron or heat seal on.
Our heat-sealable inkjet compatible textile stock is perfect for labelling carpets, blinds and many more materials.
TSC TX300 Label Printer with Optional WIFI Capabilities
The TSC TX300 300DPI DT and TT label printer with full colour LCD screen and easy to use function buttons is perfect for variable data labels on demand.
For businesses that either cannot use Ethernet cabling in large warehouse operations, or for situations where the label printer(s) is required to be moved from place to place, this optional WIFI kit for the TSC TX300 gives this extra functionality.
Multiple TX300's can used used at the same time, via a single router, as each WIFI kit provides a unique IP address for each printer.
TX300 Features:
Standard interfaces include:
300DPI Print Quality
Free Bartender Ultralite software
Colour LCD screen

USB 2.0, USB-A Host,

10/100 Mbps Ethernet and Serial connectivity.
Optional communications interfaces include:
Bluetooth,

802.11b/g/n WiFi and Centronic Parallel.
Other Printer options include label peel and present, and cutter.
New HP Indigo WS6900 Digital Press at Label Power Means Quicker Lead Times for You
Let Label Power print your full colour product labels from Label Power with no printing plate costs or set up charges when you use one of our existing die sizes. Now our lead times are even better with the doubling of our digital printing capacity.
Label Power can print anything and open new market opportunities for you by leveraging our Indigo's outstanding versatility. Make your labels stand out by relying on Indigo's renowned print quality!
HP Indigo's LEP technology enables ongoing innovation with HP Indigo ElectroInks. Reach beyond CMYK and achieve stand-out results with your product labels with amazing versatility and precision.
Label Power can now produce highly accurate PANTONE emulations, with the widest on-press colour gamut and off-press colour mixing system, covering up to 90% of the PANTONE range.