Welcome to Labelling Secrets #56
Welcome to Edition 56.
In this Edition: Exciting New Product Launch - Matt Synthetic High Resolution Inkjet One Side Coated 195gsm Tag Stock.
Check out the Epson C7500 Colour Printer $800 EFTPOS Card Back special till 15th March only and get an Additional $200 Bonus Discount from Label Power for a full $1000 off the Epson C7500 or the C7500G!
Learn the Advantages of Digital Label Printing
New Label Power Product Launch - Matt Synthetic High Resolution One Side Inkjet Coated 195 Micron Tag Stock
After many months of research, and extensive trials, we are finally able to announce the launch of our Matt synthetic high resolution one side inkjet coated 195 micron tag stock for dye and pigment based inkjet printing.
Label Power, being the experts in the inkjet colour printing space, had many customers ask us, "Do you have a synthertic tag stock to run through our colour printers? We have a trade show coming up and want to print custom Exhibition tags or we need colour tags for identification of our products."
There wasn't this type of inkjet printer stock in the marketplace, so we created one!

A 195 micron single side coated matt synthetic inkjet tag. This is very cool and a game changer for printing full colour tags on demand!

New Label Power Matt Synthetic Inkjet Tag stock:

A custom designed material that has been manufactured to suit inkjet colour machines, this material sits flat and is very well presented when it's attached to an exhibitors lanyard; the advantage is it prints perfectly every time. It even prints with ribbon on regular TT printers such as Datamax and Zebra Thermal Transfer Printers.
Available in continuous rolls or converted into tags. Perfect for printing full colour exhibitor passes and tags on demand!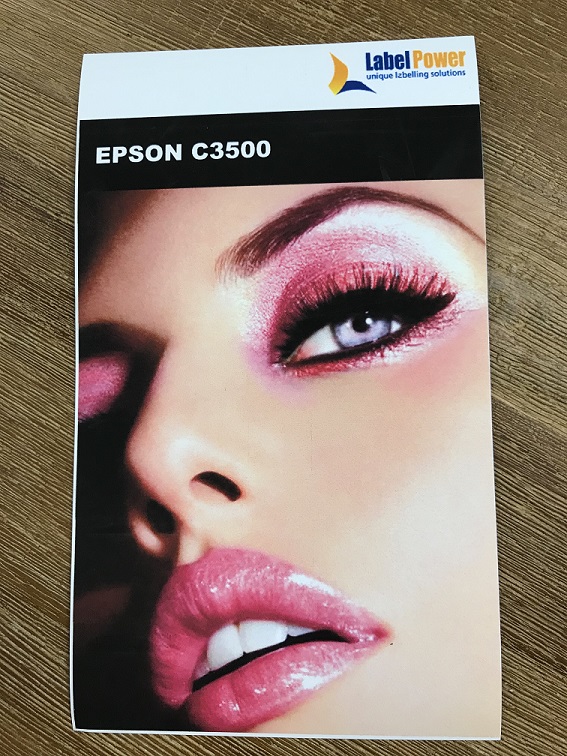 Epson C7500 $800 EFTPOS Card Cash Back + $200 Credit for Inks and Labels till 15th March Only!
The Epson ColorWorks C7500 or Epson C7500G are colour label and tag printers with high capacity ink tanks and durable pigment inks for on demand label and tag printing. Purchase this printer from Label Power, between 1st Feb 2019 and 15th March 2019 and claim the following $800 EFTPOS Card Offer from Epson, plus Label Power will give $200 credit towards additional pigment inks or labels of your choice to get you up and running. This means you will get a Full $1000 Off!
Purchase Date: between 1 February 2019 and 15 March 2019
Promotion Close: Last date to claim online 31 March 2019
Proof of Purchase to be Received by Epson: 15 April 2019
Bonus card will be posted

up to 4 weeks after the close of the promotion.
How to Claim:
Complete the online promotion form with your contact details and purchasing details (serial number, date and store of purchase) before 31 March 2019.


Email a copy of the completed Claim Form and a copy of your Proof of Purchase to be received by Epson, on or prior to 15 April 2019.
Advantages of Digital Label Printing for Your Products
Why Choose Digital label printing for your products?
Benefits of Digital Printing:

- Short to medium runs
- Less setup time
- Multiple SKU's in each run
- Microtext and security features

- Ability to make changes quickly

- Variable data ability

- Produces bright, vivid colors, smooth gradations and shadows without drop-off.

- Ability to hit 97% of Pantone colors
- No plate charges
- Quick turnaround times
- Test market your products with proofs and short runs on the actual label stocks
For more info and a free consultation on how digital label printing with no plate charges will help your business and transform your inventory control please click here to email Justin Alvisio or call 0433118000