Welcome to Labelling Secrets #43
In this issue we've put together a range tools, solutions and recent projects we've had the pleasure to be a part of. There are always a couple of components to consider when working out what material your labels are printed on, what finishes to consider and how to apply labels to your products. So we hope that what we've covered below opens the idea to maximise production, reduce waste and ensure consistent quality for your products and operations.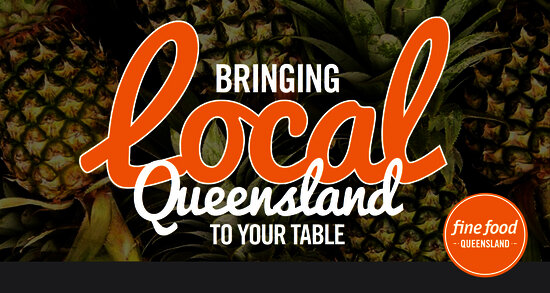 See us at the Fine Food Queensland Show April 2016
We're excited to annouce Label Power are gearing up to attend Brisbane's Fine Food trade event from April 10th, 11th and 12th this year. Held at the Brisbane Convention and Exhibition Centre, the show brings together over 200 exhibitors and 5000 visitors to do business and clelebrate new ideas and innovation in the food industry.
Label Power, at booth A36 in the Packaging Section, will be showing off some exceptional samples of Food and Beverage packaging ideas, finishes and innovative ways to get your products noticed. Along with this, we'll also be presenting some exciting in house printing solutions that could revolutionise your internal production procedures. From printing your own full colour product labels, to barcode and ID tracking printers, scanners, software and some nifty small additions that could make a big difference.
See more details here for the trade show: www.finefoodqueensland.com.au
---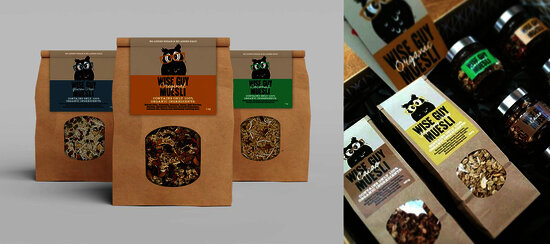 Another happy partnership! Custom printed, food product labels
If you're looking for printed labels of incredible quality, our excellent staff can guide you through each step to get you there. We'd be more than happy to send some print samples so you can consider what is possible for your product. Our digital press is perfect for short-run, quick turn-around jobs of any quantity and any size. Get in contact with us today!
Wise Guy Muesli produces 100% organic, refined sugar-free muesli from their Sydney kitchen. To support this, the look & feel of their labels needed to emulate their hand-crafted magic. We advised an overprinted matt varnish to achieve a smooth, non-gloss, subtle coating that provided protection while still having a hand-crafted, down to earth feel to touch. Our Indigo WS6800 digital press produced stunning colour vibrancy and a crisp, clear finish which matched perfectly with their brand. Check them out for some nutritious morning fuel!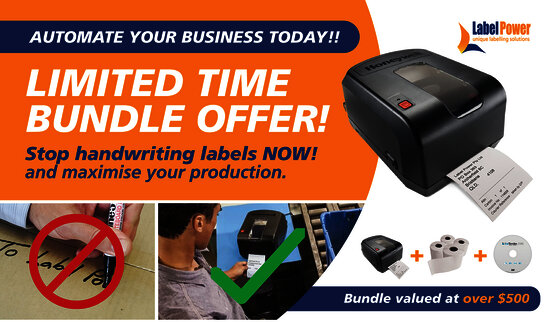 Automate your business today!
Stop handwriting labels now and maximise your production!

We have a limited time bundle offer to do just this! View the offer online for more information
Valued at over $500. All for just $333+GST
Our Automation bundle includes:
- A Honeywell PC42t Thermal Printer
- BarTender Ultralite Software (Ultralite 10.1 SR4)
- Plus 1000 Thermal labels FREE (4 rolls x 250 of 99x148mm)
Contact us for more information: sales@labelpower.com.au or take a look at the PC42t online
The Honeywell PC42t desktop printer sets new standards for user friendliness and affordability. Exceptionally compact and easy to use, this printer is simple to install and is ready to print quickly. Quiet, reliable operation and intuitive design make the PC42t the right fit for light-duty labelling applications in a variety of industries.
Take a look at the PC42 in action
---

Sick of wastage? Print your labels in house, on-demand!
Are you a small to medium business wanting an in-house label printing solution? Then the LX2000 from Primera might be exactly what you're looking for. It is a fast, compact desktop printer that prints stunning colour labels ready to apply to your product. It's durable, reliable and can be the solution you're looking for to take control of your label printing in-house eliminating waste and allowing coordination of printing what you need when you need it.
Take a look at what it can do: the Primera LX2000 Colour label printer or Download the brochure
With a print resolution of 4800dpi, there aren't many alternative machines that can handle that high resolution, meaning incredibly crisp, colourful images. The LX2000 is also able to print labels that are BS5609 & GHS compliant using special ink and a particular label stock for that purpose. Contact our sales consultants for more information or email sales@labelpower.com.au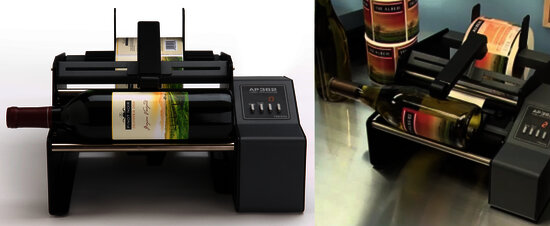 Apply your labels fast, evenly and precisely every time!
Label Power have a range of tools and applicators to suit a variety of scenarios. Get in contact with us to find out what could help you save time, money and wastage with your labelling production. Call 1300 727 202 or email sales@labelpower.com.au
Primera AP362 label applicator is a compact, semi-automatic labelling device that makes it fast and easy to apply pressure-sensitive labels to bottles, cans, jars, tubes and many other cylindrical and tapered containers.
The AP362 applies front and back labels with variable spacing. This model includes memory for up to nine jobs, and a counter with built-in LED display. Labels are applied straight, without wrinkles or folds, in precisely the spot desired. This gives finished products a highly professional look and significantly increases the number of containers that can be labelled per hour versus manually applying labels. With this unit you will be able to apply up to 1200 labels per hour.
This machine is the perfect tool to apply labels to a wide range of products such as wine, water, beer, spirits and other beverages, sauces, vitamins, cosmetics, bath and spa products, spices, specialty foods, health and beauty care, oils, lotions, fragrances, chemicals, paint and much more.