February 2003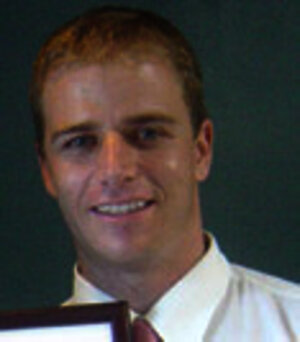 The New Year has started with a tremendous rush at Label Power. After a short break over Christmas, we are now back in full production.
In this edition, we reveal how a small Queensland beverage company used LP labels to achieve a marketing knockout, attracting targeted exposure to more than 80,000 potential customers! Plus we announce the introduction of our RF Security Labels overprinting service, a move that could save you time and money.
Due to considerable demand, we have extended our FREE printhead Clean and Inspection service to newsletter subscribers until the end of April 2003. The only condition is that you must be within one hour's drive of the Brisbane CBD. Please call our office on 3844 099 to arrange an appointment.
Kind regards
James Malone and the team at Label Power
Congratulations to the lucky winner of this month's draw, Nicole Dooley from theprintshop- winner of two bottles of wine.
Ancient Waters Receive Label Power Treatment!
Organisers of the Woodford Folk Festival routinely caution the thousands of visitors who head to the famous six-day event that the cultural extravaganza is conducted during the 'full glory of summer'. And anyone who has experienced a Queensland summer will understand why drinking water is given a high priority at such an action-packed event.
For 15 years, the Festival has been staged in the Maleny/Woodford region of the Sunshine Coast hinterland, about one hour's drive north-west of the Brisbane GPO. In December 2002, Mt Beerwah Natural Spring Water proprietors, Chris and Janet Neill, approached Label Power with a rush order. They needed their company logo and the caption "Raising Funds for the Woodford Folk Festival" emblazoned on thousands of drink bottle labelsS and they needed them quickly!
In a joint effort between Mt Beerwah Natural Spring Water and the Folk Festival Federation, mineral water sold at festival filling stations between 26 December and 1 January would help raise funds for the Woodford Public Art Fund. Because the festival has a long tradition of conservation and recycling, visitors would be encouraged to use their water bottles more than once. People at the festival could enjoy a 600 ml bottle of Mt Beerwah spring water for just $1.00 per refill. Over the six days of festivities, it is estimated that the filling stations helped prevent thousands of unwanted plastic bottles ending up as landfill.
And although final attendance figures have yet to be published, organisers are expected to announce another roll-up of more than 80,000 visitors. What many of those visitors didn't know is that the spring water they enjoyed so enthusiastically is estimated to be hundreds, even thousands of years old! Mt Beerwah water comes from an ancient naturally rising spring in the ranges of the Glass House Mountains. And sometimes, even the bottles that hold the mineral water have an attraction!
Janet Neill says that because the plastic drink bottles have a different label design each year, many a humble water container becomes a cherished memento of the festival. 'Some people even bring their bottles along from the previous year to use them again,' she says. According to Janet, not only did Label Power give her a competitive price for her bottle labels but Label Power was also able to handle an urgent job in an efficient and professional manner. Manufacturers sometimes overlook the potential marketing opportunity presented by major events. Talk to Label Power about ways you can capture the spirit and enthusiasm of an event on your own specially designed labels.
RF Labels No More Double Handling
Label Power's new addition to its wide range of products - RF Security Labels
RF labels are used by many of the largest retailers in the world. These labels can protect virtually any type of merchandise found in chemists, mass merchants, video rental shops, and department stores.
Until now, our customers went through the laborious process of organising their own RF security labels, before sending them to Label Power to overprint their details and send them back. As well as it being a waste of precious time, the transport costs associated with double handling were just another frustrating overhead for many of our customers.
Label Power can now supply customers RF security labels and overprint them with consecutive barcodes at a very reasonable price. No more double handling, and a fast efficient service to your door. Call our office today and talk to our Overprinting Department about how we can supply your RF Security Labels.
Datamax E-4203 Versatile and Whisper Quiet!
The Datamax E-4203 Thermal Printer is a relatively small printer at the lower end of the price scale. But don't be deceived by its low price! It's a big performer. It sits nicely on any office desk or workbench, and its low-noise output won't interfere with your daily office routine. This printer offers both 'thermal direct' and 'thermal transfer' modes.
On everything from address labels to barcode and product identification labels, this robust little unit processes as many as 5000 labels a week.
It's easy to use too. The printer interfaces via serial or parallel ports, with built-in auto detection. The unit has a 203 dpi print head, and will print up to 76 mm per second on labels from 25 mm to 104 mm wide.
As an added bonus, the Datamax E-4203 will print on fan stock accepted from the back of the printer, and it handles die-cut and continuous labels. If you're interested in purchasing the E-4203, please feel free to visit our showroom at 6 Colebard St West /PO BOX 363 Archerfield. QLD 4108 Australia . We'd be delighted to demonstrate how versatile and quiet this economical little printer really is!
So there you have it, a low-cost entry-level thermal printer that's able to match it with the best. In our next issue, we'll be looking at the Datamax E-4304, a 300 dpi printer for those of you who like to include logos with their labels. Until next time, happy printing!
Michael Hodges
Sales & Service
Label Power
Thermal Freezer Labels Rushed to Tender Choice
Tender Choice Meats had an urgent problem. Its retail outlet in Brisbane's Fortitude Valley was supposed to stock an impressive range of pre-packed cuts, but the cold section lacked appropriate labelling and sales were down.
After experiencing ongoing delays and difficulties with another supplier, David Phillips, co-owner of the 'Butcher's Block', went looking elsewhere for solutions. "We'd actually gone a couple of days without much product in the self-serve cabinet because we were unable to source the labels from the other supplier," David says about his James Street Markets store. "I approached Label Power out of the Yellow Pages. They worked overnight to get the labels to us the next morning which I thought was pretty impressive." "I wouldn't have any hesitation about continuing to use Label Power."
To ensure long-life and easy cleaning, Label Power supplied Tender Choice with 48 x 60 mm Direct Thermal Freezer labels, provided one-across in rolls on 38 mm cores, slit and rewound and packed ready to go! Tender Choice is developing a range of retail meat outlets that are staffed by qualified chefs and offer full cooking facilities to cater to time-strapped meat lovers.
Next time you're in the Valley, we recommend a visit to the 'Butcher's Block' for all your favourite meats and don't forget to notice the 'choice' labels in the self-serve section!
To learn more about our complete range of products and services visit our website at www.labelpower.com.au

Or visit our Show Room at

6 Colebard St West / PO BOX 363

Archerfield, QLD 4108
TEL: 07-3710-7000
FAX: 1300-727-212