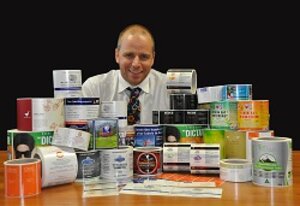 Welcome to labelling secrets 36.
At Label Power our team are dedicated to manufacturing great labels and tags - This means that with our labels your products will stand out from the competition.
From printing systems to printed labels we are here to make your labelling journey as stress free as possible and to help you choose the best fit solution from the many options available.
We don't expect to gain your trust overnight so please read our interesting case study below about how we helped a client get new products to market quickly with no setup costs or wasted inventory.
Label Power is also featured in Food and Drink magazine this month
Also in this issue our latest product releases:
Colordyne CDT 1600C colour label printer - Redefining inhouse label printing standards and costs
Zebra ZT230 industrial barcode printer - Outstanding performance and features not usually found in a printer this affordable.
Datamax E-class Pro Plus barcode printer- industrial features - desktop size and price.
Labelview 2012 - Sophisticated and intuitive barcode and label design software from Teklynx.
We welcome the oppotunity to talk to you in person and show you first hand how innovative labelling software, equipment and consumables can help your business so please visit us at the following trade shows:
Auspack Plus - Stand 632 (Sydney 7-10 May)
Pacprint - Stand 0134 (Melbourne 21-25 May)
Queensland Safety Show - Stand H04 (Brisbane 18-20 June )
We hope you enjoy this issue and as always we need your feedback and comments so we can make it even better.
p.s Are your Point of Sale or inventory labels easy to recognise and do they grab your prospective clients attention?
Dynamic entrepreneur and energetic business man Aaron Zamykal is passionate about developing well-balanced weight loss programs to help Australians control and maintain their weight in a healthy and sustainable way. In 2011, Zamykal got together with a team of leading Australian food technologists and developed a variety of great tasting Meal Replacement Shakes under the brand name Slim Nation, Intelligent Weight Loss.
Zamykal and his team of experts created an advanced weight loss formula, prebiotic and high in fibre, with 24 essential vitamins, minerals and anti-oxidants. To provide even more value, Zamykal also teamed up with dieticians and nutritionists to offer professional online support through the website www.slimnation.com.au.
When it was time to label their product, Aaron turned to Label Power to print his labels. He asked for professional advice regarding material stock as well as varnish or laminate selection, in order to produce striking and durable labels. However, another key factor for him was turnaround time. He needed his labels to be ready by "yesterday".

Following a free consultation, Label Power recommended the labels be produced on a glossy synthetic stock with special BOPP laminate. That way the the batch number and expiry date could be directly printed onto the labels at the time of manufacture. . Using their new HP Indigo digital label press, Label Power printed labels for Slim Nation's original three flavour varieties (vanilla, chocolate and strawberry) and had the entire job ready just two days after the artwork was approved.
When their initial run of meal replacement shakes was close to selling out, Zamykal went into phase two, adding 3 more delicious varieties (Tropical Mango, Caffe Latte and Green Tea Frappe) and updated all 6 label designs. This was economically viable thanks to Label Power's digital printing capabilities – . With Label Power's HP Indigo label press, Zamykal was able to order a small test run, physically label tubs of all six products, evaluate consumer reactions, and work with Label Power's art department to refine and optimize the label designs before proceeding to full production. Slim Nation now has six exciting varieties / label designs and didn't pay for a single film or plate charge at any stage in the process.
"There are many things that you need to take care of when launching a new product. I would say that the key to doing it successfully is to make sure you are surrounded by people that are not only experts in their field, but more importantly, that you can trust", Zamykal comments. "Label Power was part of the team who helped us to put our product out there and we are very happy with the final result."
Slim Nation, Intelligent Weigh Loss Meal Replacement Shakes can be found in selected stores and can be purchased online at www.slimnation.com.au where recipies and diet tips are also available free of charge.
Need eye catching high quality labels to give your products the edge? Call 07 37107000 or email sales@labelpower.com.au
New Colordyne CDT 1600C colour label and tag printer powered by Memjet Technology
The CDT-1600C is the fastest colour digital label printer in its class, it can print up to 304.8mm per second, and up to 1600x1600 dpi resolution onto labels or continuous stock in web widths from 50.8mm to 215.9mm wide.
Printing fast sounds handy however fast print with low print costs is even better - Each of the 5 large capacity ink cartridges contain 250ml of vibrant Ink so your printing costs will be much lower than you'd expect.
The CDT-1600C prints fan-folded or roll labels. This printer gives users the flexibility to print variable data and barcoding, and change their label design whenever they need.
Watch this video to see this amazing printer in action.
Email melissa@labelpower.com.au to receive information pack and label samples.
---
If you are printing barcode labels for the first time or need to upgrade a worn out label printer, the ZT230 is a great low cost industrial printer just right for a variety of labelling applications, including:
Manufacturing: work-in-process, product ID, serial numbers, packaging labels, receiving, put-away labelling.
Transportation & Logistics: order picking-packing, shipping-receiving, compliance labelling.
Healthcare: orders, specimen labels, asset-tracking, unit-of-use labelling
Retail: shelf-labelling, shipping, returns, item tags
Government: asset-tracking, logistics labelling, warehousing
The ZT230 thermal transfer printer has been designed for ease of use, versatility and outstanding value. This printer requires minimal operator training and benefits from tool-less standard component maintenance and a durable design to minimize service. [View technical specifications and buy online]
Introducing the New Datamax E-Class Mark III Pro+ printers - Offering features typically found in industrial barcode printers but at a desktop printer size and price.
The Pro+ features a graphical display with a navigational menu interface that lets users generate labels and tags without using a computer, real time clock, audible alerts, USB host connectivity, faster print speed at 6 ips, and optional wireless LAN and Bluetooth communications – features normally found in industrial class printers, but available with the E-Class Pro+.
The Pro+ also offers a locking media cabinet and enough internal media capacity to hold a 7.2-inch roll of media or stack of fan-folded media. The locking media cabinet is perfect for printing tickets and other media that needs to be protected. In addition, the 7-inch media capacity means less downtime for media replacement maintenance.
It is the ideal desktop printer for manufacturing, healthcare, retail and postal service markets. The technology, features and price makes the E-Class Pro+ a one-of-a-kind in our marketplace.
Models available
Don't need the pro features?
Reduced pricing on all Datamax printer models -click to see range!
---
Some of the new features and enhancements included in Labeview 2012 are:
Uniscribe management: This improves and solves issues with specific language manipulation (Japanese, Chinese, Arabic, etc.) and when there is combination of Right to Left (Arabic) and Left to Right text.
Windows 8 support: LABELVIEW 2012 can be run on the Windows 8 operating system.
New barcode: the Han Xin Chinese 2D barcode has been added.
When printed: printing has been made easier when using When Printed variables.
Give us a call at 07 3710 7000 or e-mail us at sales@labelpower.com.au to upgrade your labelling software. [View editions, pricing and order online]
This year at Auspack Plus - Pacprint - Queensland Safety Show Label Power will be offering the following:
Free high-quality digital label samples on clear, silver and synthetic stocks promoting our Digital and UV Flexo trade label printing services.
New Colordyne CDT1600S colour-sheet fed printer powered by Memjet Technology, this digital print solution has a throughput speeds of 305mm per second and is ideal for envelopes, labels, tags, forms, documents, brochures and flyers.
New Source Technology PCL compatible thermal transfer printers with flat head, near edge printheads, and multiline colour touchscreen LCD displays.
Wax, Wax/resin, and Full resin ribbons including colour ribbons.
Colour label printers including Primera LX400, LX900, CX1000, CX1200 and Colordyne CDT1600C with Memjet Technology.
PMR print and apply label applicator for automatic label printing and applying.
New Evolis plastic card printers – perfect for membership and loyalty card printing.
Free professional consultation and advice on any label or tag printing requirements.
For more information about how these products can help your business, visit Label Power at Auspack Plus - Stand 662 - Sydney | Pacprint 2013 – Stand 0134 - Melbourme.
CLICK HERE TO REGISTER TO ATTEND Auspack Plus | Pacprint | Queensland Safety Show or contact us on 07 3710 7000