Welcome to labelling secrets 35.
As the year winds down, we want to take the opportunity to let you know how much we value your business and support during 2012.
It is our pleasure to serve your company, and we couldn't be more delighted that you chose Label Power as your label manufacturer and supplier of printing equipment and labelling solutions.
In this issue we have put together some great offers, so you can get ready for 2013. From barcode scanners starting at $297+GST to a great plastic ID card trade in offer.
We also have some great news. Label Power have installed our new HP Indigo digital label press and finishing line, to service all your premium quality label requirements so your products stand out from the rest.
We hope you enjoy this issue and please don't forget to take note of our close down period.
Merry Christmas and Happy New Year!
p.s Let's commit to doing more together in 2013
You ask - We Listen - New digital offset premium quality label printing
We are happy to introduce the latest member of our team, our own "HP Indigo digital label press and Digicon label finishing line".
Just some of the benefits Label Power now offer are:
Perfect registration and photographic quality
Super high quality digital offset full colour labels for Cosmetics, Wine, Beer, Food, Health Chemical and more
Reverse print ultra removable window labels
Digital offset Printing on clear and silver synthetic stocks
Digital printing on textured and speciality stocks
Range of varnishes, laminates and hot foil stamping embellishments
Variable data printing. Ideal for barcodes, serial numbers, text, graphics, images and more
Short-run label printing options, Multiple SKU's - No need to order large volumes.
No plate costs
Super fast turnaround times from artwork approval
With our new HP Indigo digital label press and our team of experts we are more than ready to meet all your high quality colour labelling needs.
If you need to print eye catching high quality labels FAST, give us a call (07) 3710 7000 or email us sales@labelpower.com.au
Get the new Symbol - Motorola LI4278 barcode scanner from $297+GST. This crazy introductory price is only until 21st December 2012.
The Symbol – Motorola LI4278 is a cordless barcode scanner built for all day and everyday use. This device allows workers to scan faster and farther as they can capture virtually any 1D barcode – including the typical barcodes that are printed on paper labels; electronic barcodes displayed on the screen of a mobile phone, tablet or computer; and the high density (HD) barcodes commonly used in electronic component manufacturing.
Great Value! The LI4278 utilises the same cradles and accessories as its cousins the LS4278 and DS6878. This means you can use an existing cradle for charging. If not purchase the LI4278 with cradle. This is a once off introductory limited offer.
Purchase a NEW Zenius or Primacy Plastic Card Printer and receive 5 colour ribbons valued at $275+GST FREE. All you need to do is return your old card printer (working or not) to benefit from this limited time special - Offer valid until March 31, 2013
That's right, we will trade you $275+GST worth of consumables (5 colour ribbons) for your new card printer.
Give us a call on (07) 3710 7000 or email us sales@labelpower.com.au to take advantage of this special.
In the meantime, learn more about our range of Evolis plastic card printers
Label Power have been working hard to make the Primera LX400 colour label printer more affordable (under $1000+GST) so everyone can print fantastic colour labels and tags.
We are pleased to announce pricing is a whopping $700+GST lower, this now makes the Primera LX400 colour label printer only $995+GST.
This price is only until 15th January 2013 or until sold out at this pricing, so only a couple of weeks left!
The Primera LX400 produces gorgeous, professional-quality labels for all your short-run, specialty products. It's ideal for industries such as gourmet foods, wine and water bottles, personal care and natural products
With the LX400, there are:
No lead times
No minimum order requirements
No obsolete label inventory
No plate and die charges
This is your chance to own the fantastic Primera LX400 and benefit from in house colour label printing! Order Online
---
Was $2795+GST - Now $2695+GST Save $100+GST
Place your order before 21/12/2012 and get 1 label roll for FREE
Enjoy the benefits of spectacular high resolution colour labels so you can sell more of your products. With Primera LX900 you can print just one label at a time or thousands per day in full colour.
For those of you considering the purchase of a Primera LX900 colour label printer we have two units available for demonstration. We are offering a FREE no obligation 1 week trial of the <link catalogue products name pd primera-lx900-colour-label-printer _blank external link in new>Primera LX900 colour label printer in your premises, just email melissa@labelpower.com.au with your details to learn more and to set this up.
Exclusive to Labelling Secrets readers!
Click here to check the large range of label sizes available.
New "How to Videos" for Primera LX900 on our YouTube Channel
Check out our latest "How to Videos" for the Primera LX900.
This time you can learn:
We update our How-To videos continuously so visit our YouTube channel regularly to check them out.
Primera CX1200 FX1200 demonstration unit available for only $44,000+GST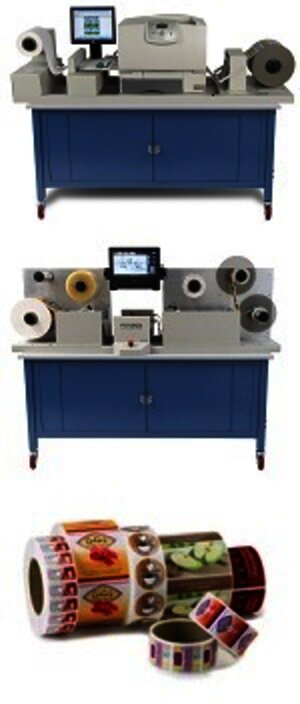 Label Power's Showroom Primera CX1200 and FX1200 for $44,000+GST - ONLY 1 set available
Print, laminate, diecut and slit and rewind lightfast durable labels in any size with no printing plates or dies. We have new demo stock arriving in 2013 so our showroom equipment is available now.
Place your order now for delivery on 15 January 2013 and we will include:
Lockable Cabinet Stand for both units
FX1200 laminate liner power rewinder kit
Installation, training and delivery
This package is normally valued at $56,685+GST and you can get it all for only $44,000+GST - SAVE over $12,600+GST
CALL TODAY (07) 3710 7000 or email james@labelpower.com.au for more information
To secure this a $5,000 deposit is required, First deposit received will hold for 7 days whilst finance / payment details finalised - Visa and Mastercard Credit accepted
View product details and watch video Primera CX1200 digital label press and Primera FX1200 digital finishing system
Label Power Christmas 2012 Close Down Dates
Label Power will be closed from Monday 24th of December 2012 and will reopen on Monday 7th of January 2013 at 8.00am, we have limited staff working from Wednesday 2nd to Friday 4th of January 2013.
Please check your label and ribbon stocks now to ensure you have plenty of supplies to keep you going over the Christmas break.
Don't wait till next year for your labels, Label Power can still supply you prior to Christmas so call us (07) 3710 7000 or email us sales@labelpower.com.au to place your order today!