Label Power's Special Offer!
Get your company logo and label designed FREE when you order a minimum of 10,000 labels with us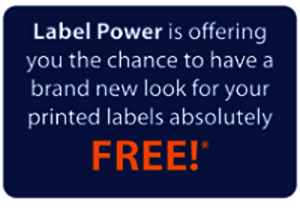 At Label Power we are specialists in self adhesive labels. We print large volumes or short runs to suit your needs.
if you are about to order your year supply of labels, take advantage of this offer and get your new look up and running!
To receive a free, no obligation proposal for your labelling requirements simply put your existing label or tag samples in an envelope, tell us the quantity you require and send them to: Label Power Pty Ltd. Reply Paid 363. Archerfield BC, QLD, 4108.
Alternatively you can email your requirements to sales@labelpower.com.au or fax them to 1300 727 212. Don't forget to include your contact details: company name, address, phone number, email address and contact person.
Call Now for Samples and Pricing!
---

* Free offer consists: Maximum 3 hours creative design work at $85+GST p/h ($280.50 inc. GST) + all design visuals and final ready to print artwork.

---