Primera FX1200 - Digital Label Finishing System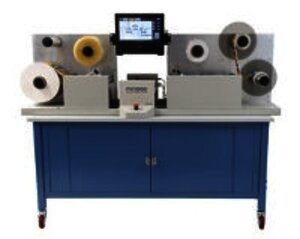 arrange a time for a demonstration.
The Primera's FX1200 Digital Label Finishing System is a simple off line solution that allows you to "finishes" the printed output with several different operations such as:
Lamination:with clear polypropylene or polyester (PET) films for increased durability and UV resistance.
Digital die-cutting: in any size or shape.
Waste matrix removal: making finished rolls ready for use.
Slitting: for making multiple narrow rolls from the wider input roll
Rewinding: onto multiple 3" (76mm) O.D. cores.
In addition the FX1200 it's also the perfect companion to the Primera's CX1200 Digital Colour Label Press
To find out more about this product <link catalogue products name pd primera-fx1200-digital-finishing-system external link in new>Click Here or <link main request-a-quote messagelp external link in new>Request a Quote
---