Evolis Card Printers 10th Birthday - Limited Offer

Ever wondered how you can print plastic membership and ID cards?
We take the mystery out of this process - just purchase blank PVC cards then design and print your own membership cards, client loyalty cards, staff ID cards, plastic business cards with an Evolis Pebble card printer.
To celebrate Evolis Card 10th Birthday, Label Power and Evolis are offering a Limited Black Edition of the Evolis printer, the Pebble, together with 200 free cards and a free colour ribbon.
The Pebble Black Edition bundle offers:
1 Pebble4 Basic USB card printer with a sleek black cover
1 colour ribbon.
200 blank cards.
eMedia-Cards 6.0 standard software.
1 eMedia-Cards CS card design software downloadable free of charge
Massive 3 year warranty (excluding printhead )
All of these benefits delivered in a specific 10-Year Anniversary packaging.
Please see below the details of this fantastic special while stocks last!
Primera LX900 - Colour Printer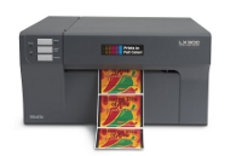 Is the fastest label printer in it's class, specially design for short runs, able to print labels and tags in vibrant full colour at a print speed up to 114.3mm or 4.5" per second. Separate ink tanks for each colour mean you save on running costs.
With this label maker you can:
Produce your own Wine Labels, Beer Labels, Water Bottle Labels, Food Labels, Jam Labels, Cosmetic labels, Candle labels, School stickers or any other type of self adhesive sticker.
Print photos, graphics, illustrations or high-resolution barcode labels.
Prints onto many different inkjet-qualified label materials.
Make your own water and scratch resistant labels.
Sell more products with attractive professional full colour labels
Label Power supplies all printer consumables for the Primera LX 900. We have Labels on rolls and Ink Cartridges for this label printer (Download Consumables Order Form).
Don't miss out on the great end of year specials that we have on the Primera LX900, you have until the 31st December 2010 to place your order.
Primera CX1200 - Digital Label Press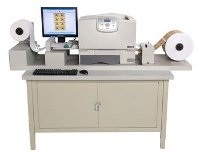 The CX1200 is the perfect solution for service bureaus and a broad range of manufacturers who need to print from just a few labels to tens of thousands of labels at a time.
This roll to roll Digital Label Press will allow you to:
Obtain vibrant colours, sharp text and barcode labels.
Print images up to 2400 dpi.
Print speed of 4.95 metres per minute.
Get fast turn-around and low running costs.
Work with a wide range of approved stocks materials are available.
To find out more about this product Click Here or Request a Quote
---
Primera FX1200 - Digital Label Finishing System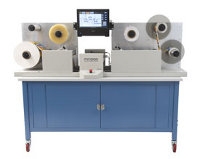 arrange a time for a demonstration.
The Primera's FX1200 Digital Label Finishing System is a simple off line solution that allows you to "finishes" the printed output with several different operations such as:
Lamination:with clear polypropylene or polyester (PET) films for increased durability and UV resistance.
Digital die-cutting: in any size or shape.
Waste matrix removal: making finished rolls ready for use.
Slitting: for making multiple narrow rolls from the wider input roll
Rewinding: onto multiple 3" (76mm) O.D. cores.
In addition the FX1200 it's also the perfect companion to the Primera's CX1200 Digital Colour Label Press
To find out more about this product Click Here or Request a Quote
---
Printworks 2010
For the first time, Label Power was part of the Print Works Expo, one of the most comprehensive sign, printing, graphic display & engraving trade-shows ever staged in Australia.
This exhibition took place from September 20th-22nd 2010, during this time James Malone and other staff from Label Power met many new and existing clients who were amazed by the print speed and quality of the new LX900 colour label printer.
Also on display were Label Power's new "Swift" range of low cost Thermal and Thermal Transfer Network label printers which evenship with free Bartender Ultralite barcode and label generation software. This swift range comprises of 3 printers starting from 203DPI DT and TT printer right up to the 300DPI Network label printer.
The Printworks show attracted visitors interested in the new technology for screen and digital printing, large format printing, graphics, airbrushing, engraving, trophy and awards, LED and illuminated signage among others. During the event a number of educational seminars and workshops were held for all levels of the industry.
The Print Works Expo, represented a valuable opportunity for Label Power to show its latest products, but most importantly to have a close encounter with all those consumers that were receptive to reviewing the latest information in labelling and printing solutions.
Label Power will be exhibiting in further trade shows in 2011. Look out for us at Foodpro 2011 and Auspack 2011.
Label Power Christmas 2010 Close Down Dates + Specials!
Label Power will be closed from 3pm on Thursday 23rd December 2010 and will reopen on Monday 10th January 2011 at 8.00am.
The Public Holidays are 27th and 28th December for Christmas and 3rd January for New Year.
As Christmas Day and New Years day fall on Saturday, we will have a skeleton staff working from Tuesday 4th to Friday 7th January.
Please ensure you check your label and ribbon stocks now to ensure you have plenty of supplies to keep you going over the Christmas break.
---