Evolis Card Printers 10th Birthday - Limited Offer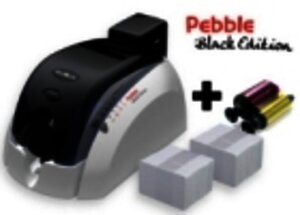 Ever wondered how you can print plastic membership and ID cards?
We take the mystery out of this process - just purchase blank PVC cards then design and print your own membership cards, client loyalty cards, staff ID cards, plastic business cards with an Evolis Pebble card printer.
To celebrate Evolis Card 10th Birthday, Label Power and Evolis are offering a Limited Black Edition of the Evolis printer, the Pebble, together with 200 free cards and a free colour ribbon.
The Pebble Black Edition bundle offers:
1 Pebble4 Basic USB card printer with a sleek black cover
1 colour ribbon.
200 blank cards.
eMedia-Cards 6.0 standard software.
1 eMedia-Cards CS card design software downloadable free of charge
Massive 3 year warranty (excluding printhead )
All of these benefits delivered in a specific 10-Year Anniversary packaging.
Please see below the details of this fantastic special while stocks last!