New Primera LX200 Barcode Label and Tag printer.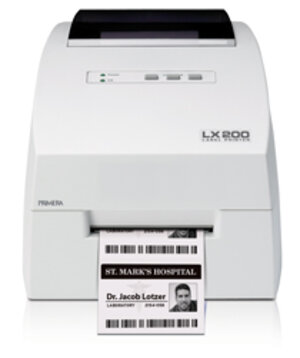 The new LX200 utilises the latest in monochrome or black high-speed inkjet printing technology. With 1200 dpi print resolution, This innovative printer has almost six times as many dots per inch as most thermal transfer bar code printers. The LX200 is capable of printing onto labels, tickets, tags and coupons for a wide range of applications, including those in which higher levels of security, confidentiality and durability are required.
Unlike thermal transfer printers, LX200 uses an inkjet print head instead of ribbons. Thermal transfer ribbons leave behind a record of everything that has been printed. In many applications such as healthcare or government, secure collection and disposal of ribbons is required in order to meet confidentiality and secrecy requirements. Inkjet printing doesn't have this challenge and thus can be a far more secure, convenient and cost-effective solution.
View the Primera LX200 Specification page.
Download Primera LX200 product brochure here.
Download Primera LX200 label stock order form.
Price: Call us now for pricing 1300 727 202

Please Contact Us or Request a Quote.
---