Summa DC3 Plus - Your own Label, Sign and Poster Factory!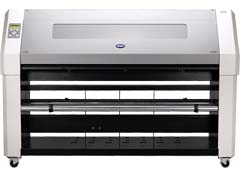 Label Power introduces the amazing Summa DC3 Plus.
Turn your artroom or marketing department into an automated label, sign and poster making factory!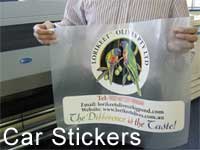 The DC3 Plus prints and cuts labels as small as 5mm x 5mm right up to poster and banner sizes of 910mm by 6000mm. The glossy vivid colours are outdoor durable for up to 5 years outdoors with no lamination required. This makes it the obvious alternative to screen printing for short run labels, signs, vehicle wraps and posters.
Vivid Vehicle or Marine stickers can be produced in any quantity, shape and size. A Visionprint feature enables vivid see through graphics to be printed on regular clear vinyl for graphics on windows.
With it's small footprint and revolutionary thermal transfer technology there's no washup, chemical waste, solvent fumes or health risks to worry about.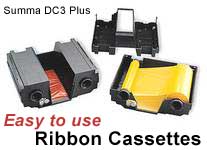 "The Summa DC3 Plus can print onto white or clear vinyl, as it has six colours you can print the white behind the colours," says James Malone from Label Power. "Most jobs can be printed in three colour process using the CMY ribbons only, therefore you can also make two sided labels that can be viewed from either side when stuck on glass. The Summa DC3 also has gold and silver ribbons and 20 other vivid colours."
Repeat jobs can be stored on the 2GIG hard drive for instant printing without the need for a PC. Front and rear media baskets ensure hours of unattended printing. Best of all until the end of the year you can own your own Summa DC3 for $34,995+GST or rent your own Summa DC3 from under $250 per week. Call James at Label Power now 1300 727 202 or visit www.labelpower.com.au