Super Print and Rewind Package Deal!
For limited time only, Label Power is offering an unresistable combination:
Get a Datamax I4208 for AUD$2,245 and receive a free MC10A label rewinder worth AUD $795 for free!*
The Datamax I4208 stands alone as the most comprehensive cost effective thermal printer on the market.
Its rugged construction, high resolution and superior printing speeds make it the most powerful and versatile label printing tool in its class. All printers in this range offer a solid die-cast aluminum frame for extra durability, a powerful 32bit processor for lightning fast printing speeds and a huge 200mm O.D. label roll capacity so you don't have to keep changing the roll.
Engineered for quality, the easy to read LCD front panel display and a range of other ease-of-use features including colour coded operator cues, simple ribbon loading make the Datamax I Class and absolute must for despatch, warehouse or any industrial environment.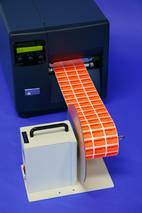 The Label Power MC10A label rewinder simplifies and automates the process of rewinding labels from any thermal printer. As well, this variable-torque rewinder allows you to inspect the labels as they are being printed, greatly reducing the chance of missing labels or misread barcodes.
No more tripping over a long train of labels as they fall onto the floor. The MC10A will rewind the labels as they print from your thermal printer into perfectly wound rolls.
If you have a variety of different core sizes then we recommend the MC11 with a fully adjustable sized core holder. Will use 25mm – 100mm cores or even coreless.
*This offer applies only for orders received by 30th November 2005. All prices are exclusive of freight and GST.