March 2005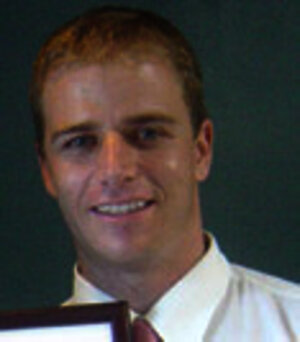 I hope you are all looking forward to a lovely break over Easter. In this edition we introduce a new low cost roll fed full colour label printer to the Australian market. It's like having a mini label printing press on your desk!
You will notice our logo and image has had a revamp to a more contemporary style. If you think your logo needs updating please contact us. Our team of designers will be more than happy to help. Also in this issue find out the importance of having graphic guidelines for your business so you can be assured your company logo and image gets produced correctly with every print job.
We invite you to visit us at 2 exciting trade shows in Melbourne and Sydney shortly where we will be showcasing the new Primera LX800 Colour printer as well as many other new products.
Finally we introduce our new Sydney Business Development professional Paul Hammond.
Have a happy Easter, and remember every extra chocolate egg means an extra trip to the Gym!
Kind regards
James Malone and the team at Label Power
Congratulations to the winner of a brand new Sony Slimline Playstation 2, Judith Mills from the Department of Health and Community Services in Alice Springs, NT.
At Last - Full Colour Labels on a Roll
If you have $500,000 to spend you might consider digital. A spare $30,000 you could go for a 4 colour 300 dpi thermal transfer printer. But if you want a fast, full colour, hi resolution label printer that won't break the bank, look no further because the Primera LX800 has arrived.
For the first time you can have vibrant, quality printed labels on the roll without a budget busting price tag.
The LX800 released at LabelExpo in Chicago last September is proving to be a real winner with both resellers and end users alike. With its incredible 4,800 dpi print quality, wide format, high speeds and variety of useable substrates, the LX800 delivers results that far exceed any other on-demand printer available today.
Setting up the LX800 is simplicity itself using the latest Windows XP/2000 drivers to control all the printing functions. Five built-in resolution settings let you choose the print quality and speed combinations that best suit your application. The printer comes complete with NiceWare™ label design software enabling the user to print professional labels and tags with full colour photos, graphics, bar codes and text right out of the box.
If all this wasn't enough Label Power offers you a great range of pre die-cut labels, including water resistant labels to use with your LX800. High-gloss, matt and semi-gloss labels together with a range of card tag, synthetic and clear polyester combine to give you the most comprehensive range of inkjet printable materials.
With its sturdy metal case and ink cartridges that literally take seconds to replace, the LX800 is quite simply the best industrial grade colour inkjet printer on the market today.
Primera LX800 printer is manufactured in the USA by Primera technology (www.primera.com) and distributed in Australia by Label Power Pty Ltd. To find out the location of a reseller in your area or to see if you qualify to become a reseller yourself contact Label Power on PH: 1300 727 202 or visit www.labelpower.com.au
Are your printers following your Graphic Guidelines?
Most companies have a Company logo but how do you control how this is used and displayed by other parties? How can you stop someone printing your logo with the wrong version, typeface, colour or dimensions?
The best way is to have your own company graphic guidelines created. This document shows print and web companies how they can display your logo, what size the logo is allowed to be displayed, where on the page the logo is to be positioned, etc.
When ordering your printing requirements you can rest easy if you send your company graphic guidelines with your printing order – this will ensure your new and repeat printed material looks uniform and professional.
Why not contact Label Power's in-house graphic design team for your own set of professional graphics guidelines.
Label Power's creative team has over 40 years cutting edge experience working with major brands and organisations such as Sheraton Hotels, Unicef and Rough Guides. A complete range of services from basic layout and pre-press to illustration and full project management is available to compliment your promotional strategies and campaigns.
Email our creative team now on creative@labelpower.com.au.
For more information about our design services and a free consultation, please give us a call at 1300 727 202 or +61 7 3710 7000.
At Label Power we understand that your thermal printer is an important tool for your business. An untimely breakdown can often mean serious consequences so our service team is on hand to provide technical help when you need it.
You can choose from a range of preventative maintenance plans or just simply contact us when necessary. If our trained technicians can't fix the problem on-site we can arrange for a "hot swap"* machine to get you up and running while your printer is repaired.
Our knowledge of printers extends beyond those printers Label Power sells. If you need assistance with any brand of thermal printer including Datamax, Citizen, Birch, Eltron or Tharo please give us a call.
We also provide technical support and direct manufacturer assistance for our other printer lines such as the Primera LX800, VIP Colour VP2020 and Nagano Nameliner 850 Pro.
Just like your car your thermal printer needs a service. Ideally your printer should be serviced every 6 months and as a minimum every year. Call our Help Line to book your service and make sure you keep your labelling system running reliably:
1300 727 202 or 07 3710 7000
*Hot swap is only available to customers who have purchased their machine directly from Label Power.
Label Power will be showcasing our great range of label printers, scanners, labelling accessories and label design software at the upcoming Pac Print and FoodPro shows.
Pac Print brings industry leaders together under one roof and offers opportunity to see some of the World's latest and most innovative printing and graphic communications technologies. Label Power will be demonstrating the Primera LX800 together with a range of Symbol Technologies products and the ever popular LabelMate rewinders.
Visit us at stand 2010 from Tuesday 24th – Saturday 28th May 2005 at the Melbourne Exhibition and Convention Centre.
Here is the link to the official Pac Print website - http://www.pacprint.com.au.
FoodPro is held every three years and covers all aspects of food processing products and services. Label Power is looking forward to meeting many of our end user customers from the industry and sharing some of the new and innovative products aimed at improving labelling efficiencies.
Visit us at Hall 3, Stand 3103 from Sunday 10th – Wednesday 13th July 2005 at Sydney Convention Centre.
Here is the link to the official FoodPro website - http://www.foodproexh.com.
Label Power is proud to announce the appointment of Paul Hammond as our new Sydney Account Manager. Paul comes to us with a wealth of experience in barcoding and scanning system and labels. Paul will be dedicated to servicing our Sydney and NSW customers with a smile.
If you have any full colour labels you aren't currently sourcing from Label Power please contact Paul for some great prices and service!
Paul's direct mobile number is 0419 759 619 or contact our national number 1300 727 202 to arrange an appointment to see how Label Power can cut your labelling costs and improve the image of your products.
Paul's email is paul.hammond@labelpower.com.au.