Trade in your old Primera LX900 on the All New Primera LX910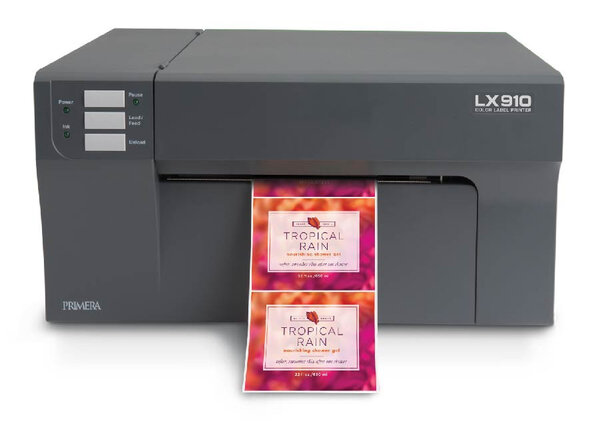 New Primera LX910 Color Label Printer Allows Faster and Better Quality Printing.
Trade in your old Primera LX810 on the new Primera LX910 colour printer and receive $300+gst trade in credit!
The LX910 utilises the latest in high-resolution inkjet technology to print brilliant full-colour product labels on demand!
LX910 is Primera's newest colour label printer. It utilises the latest in high-resolution inkjet technology to print brilliant, colourful labels for your products, boxes and packaging. Each LX910 ships with built-in pizza-style cutter, <link products labelling-tools labelling-software bartender _self>BarTender UltraLite Edition software, starter roll of high-gloss labels, 1 x dye-based CMY ink cartridge and USB 2.0 cable.
Print with dye or pigment ink, all in the same printer, by simply changing out an ink cartridge. Dye ink has brilliant, vivid colors for making eye-catching prime labels for your products. Pigment ink is highly durable for more industrial applications. Choose the one that best fits the task without buying two separate printers!
Short run custom labels and personalised labels are printed fast and efficiently, helping you to increase the production of your products. You can even operate several LX910 printers from one PC as your production volumes grow. Your labels can include full-colour photos, illustrations, graphics, text and bar codes. Print them when and where you need them - in quantities you can really use.
The Primera LX910 colour label printers produce gorgeous, professional-quality labels for all your short-run, specialty products. It's ideal for industries such as gourmet foods, wine and water bottles, personal care and cosmetics and natural or organic products.
It can print labels up to 4800dpi and 209.6mm wide at speeds up to 4.5" per second.
Contact Label Power today about this great trade in deal!
About Label Power
Label Power was established in 1996 with head office and manufacturing facility located in Brisbane, Queensland. We are the industry leaders in VIP (Variable Information Printing) systems which enable clients to print variable information labels and tags on demand.
Other products supplied are Colour Inkjet Label Printers, Label Dispensers, Label Rewinders and Label Applicators as well as printing consumables. For customised label design and printing, Label Power are distributors of a full range of labelling software including Bartender, Labelview and Nice Label.
An extensive trade label manufacturing plant, coupled with over 20 years experience in the implementation of the best labelling systems, Barcode scanners and Software make Label Power the right partner to help you implement all your product labelling, identification and tracking needs.
For more information about Label Power please visit www.labelpower.com.au or call us on 1300 727 202
---