Australia, August 27th, 2014.


Five Point Four make nutritious prepared meals for Men and Women.

Beni Doolan and Tamara Trentin from Five Point Four had big labelling challenges, The business had grown from supplying 1000 meals per week to over 15,000 per week in a very short period of time.

Beni originally started printing black and white thermal labels on a small desktop label printer however printing and hand applying the labels to the containers soon became a full time job for one of his staff members. The labels were only paper so they crinkled, did not last as long as was needed and there was no colour - If the Five Point Four brand was to continue it's growth a more professional and effective solution was needed.
Five point Four use only premium ingredients in their nutritious healthy pre-prepared meals so it made perfect sense for directors Beni Dooland and Tamara Trentin to specify only the highest quality labels as part of the packaging guidelines for this growing company.

Artwork was professionally created in vibrant colours and Beni and Tamara went to market getting several labelling companies to quote on their requirements.

When Five Point Four contacted Label Power they were pleased by the competitive pricing however it was the service and quality provided that made selecting their preferred label solutions supplier easy.

Beni states "Label Power took the time to show us samples of all the various stocks and finishes available, we decided on super high quality digital print. There are 20 varieties of meals that we produce each month so having no plate and setup charges to pay and the flexibility to change our designs whenever we want for no additional cost was a huge bonus. Once Label Power helped us choose the best self adhesive material and print method, then it was time to choose the finish, we had options of matt or gloss varnishes or matt and gloss laminate films. We decided on a gloss white synthetic stock with gloss clear over-laminate film, this means that our labels are fully waterproof, freezer proof and microwave proof and they will help our Five Point Four meals stand out as the premium choice in the marketplace"

Pre-production proofs were supplied and Label Power even checked and advised us of some small typo's that somehow our artist had missed. The fact the Label Power are a HACCP food safety certified label manufacturer gave us extra peace of mind"



Before After
The next issue to overcome was the application of the labels to the lids of the pre-prepared meals. Five Point Four then relied on Label Power to demonstrate the best options to apply the labels to the Five Point Four ready meal containers.
Manual, semi automatic and fully automatic solutions were available.

Beni brought samples of the product into Label Power's showroom and tested the application of the labels to the containers using various label applicators so the best label application machinery could be selected.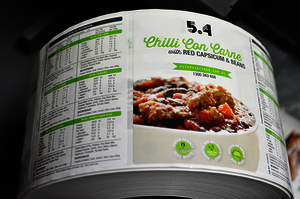 Tamara comments "It was great to have Label Power partner with us and step us through each stage of the process, I would have no hesitation in recommending them to anyone who needs their products to stand out from the rest"

Special Promotion
If you live a busy lifestyle why not try Five Point Four for delicious and nutritious meals at: www.fivepointfour.com.au *New 5.4 customers who buy 5 or more meals will save $10 when they enter the discount code "LP" upon checkout.

If you need fantastic labels please contact us here at: sales@labelpower.com.au