Label Power's Primera CX1200 FX1200 demonstration stock available for only $44,000+GST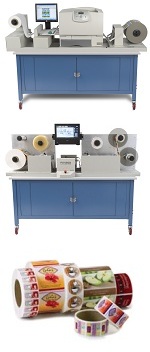 Label Power's Showroom Primera CX1200 and FX1200 for $44,000+GST - ONLY 1 set available
Print, laminate, diecut and slit and rewind lightfast durable labels in any size with no printing plates or dies. We have new demo stock arriving in 2013 so our showroom equipment is available for purchase now.
Place your order now for delivery on 15 January 2013 and we will include:
Lockable Cabinet Stand for both units
FX1200 laminate liner power rewinder kit
Installation, training and delivery
This package is normally valued at $56,685+GST and you can have your turnkey label production package for only $44,000+GST - SAVE over $12,600+GST
CALL TODAY (07) 3710 7000 or email james@labelpower.com.au for more information
To secure this a $5,000 deposit is required, First deposit received will hold for 7 days whilst finance / payment details finalised - Visa and Mastercard Credit cards accepted.
View product details and watch video Primera CX1200 digital label press and Primera FX1200 digital finishing system