VP750 Water Resistant Colour Label Printer by VIP Color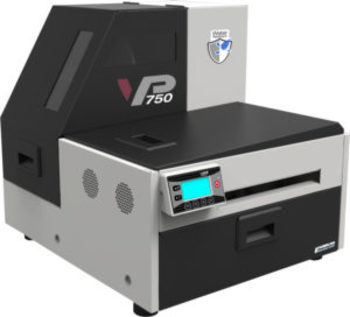 VP750 Water Resistant Colour Label Printer by VIP Color
The VP750 Water Resistant Colour Label Printer by VIP Color is available in Australia!
The VIP Color VP750 label printer utilises the Enhanced Water Resistance Printing Technology that produces vibrant colored, waterproof labels.
The result is great looking color labels that are suitable for:
Chilled Food & Beverages
Animal Care Products
Cleaning Products
Chemicals and Nutraceuticals
Pharmaceutical Products
And Most Moisture Exposed Products
The VP750 Label Printer Features:
Fast print speed up to 12 inches per second. That is to say, you get more than 2,000 4" x 3" labels within 10 minutes.
Print one to 10,000 labels anytime on-demand. In other words, the VP750 industrial colour label printer offers unprecedented flexibility to handle any print job required.
High resolution up to 1,600 x 1,600 dpi. This is great for crisp text and fine barcode. Moreover, you get brilliant colors for prime labels!
Water Resistant Labels - Making VP750 suitable for chilled food & beverages, wineries, animal care, chemicals, cleaning products and most moisture exposed products.
Rugged design with metal enclosure to keep dust out of the printer, so the VP750 is tough enough to weather 24/7 operations on a dusty factory floor.
Individual Up-size 250 ml ink tanks to reduce replacement cost. You get heaps of labels between ink changes with fewer user interventions required.
Large Label Printer - Prints up to 8.5" wide labels. As a result, it is flexible enough to print anything from prime product labels to carton box labels.
If your products require waterproof labels, then the VP750 is one of the best choices available. You can book a time for a live label printing demonstration in Brisbane or we can setup a video conference call to run through a demo with you online if you are in another city in Australia.
Contact Label Power at 1300 727 202 or email websales@labelpower.com.au to book a demonstration or to receive some sample labels sent directly to your mailbox.