Food Packaging Label Printing and Design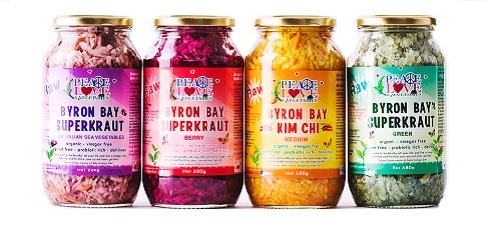 Print High-Quality, Full-Colour Food Product Labels and Stickers with Label Power that are B55609 Compliant!
Food Packaging Sticker Labels have to be informative; providing information such as use by date, ingredients, nutrition information, directions for use and storage, potential allergens and more. They need to withstand sunlight, moisture, condensation exposure and still look great while also being B55609 compliant.
Australia has adopted the B55609 food label compliance regulations, so any food manufacturer who ships their product via containers on ships should make sure their food product sticker labels and ink are meeting this standard. This regulation requires that a label can withstand exposure to saltwater for at least 3 months and includes 2 sections:
Section 2 - Relates to testing the coated base material of the label.
Section 3 - Relates to testing the abrasion resistance and the permanence of the print on the label.
Label Power has extensive experience (26 years) printing customised food package sticker labels for food production and packaging companies across Australia. Our professional labelling consultants take into consideration the factors that might affect your label's appearance - such as: storage, transportation, product use and shelf-life - to make the perfect match between material stock, adhesive and finishes.
Label Power prints professional, B55609 compliant food labels and stickers on clear stock, silver synthetic stock, and textured and specialty stocks. We also offer a range of varnishes, laminates and hot foil stamping embellishments. As a professional sticker label manufacturer, we can create almost any shape or size to suit your creative requirements.
Whether you need to print more labels, revamp your label design or create a new food sticker label, we can help. Label Power's experienced consultants are ready to work with you straight away.
Label Power is

HACCP Certified

and can provide food-safe sticker labels and PVC cards for food display items.
Please take a moment to review our artwork requirements to find out which are the ideal formats to work with to achieve outstanding results.
Print spectacular labels and stickers for your products with Label Power!
Some of the benefits Label Power offer are:
No need to order large quantities - short-run label and sticker printing options, multiple SKU's.
Variable data printing - ideal for customised advertising campaigns, barcodes, serial numbers, images.
Hundreds of different stocks available. Digital printing on clear and silver synthetic stocks, textured and specialty stocks.
Wide range of varnishes, laminates and hot foil stamping embellishments.

State-of-the-art digital printing technology - perfect registration.
Label Power is HACCP certified and provide food-safe labels and tags.
Label Power provides label printing services for businesses all around Australia. You can find our head office in Brisbane, from where we coordinate our national and international activities.