Silver VOID Tamper evident labels 50x25mm
$278.30

(inc GST)


$253.00

(exc GST)
Manufactured Upon Order (Additional 10-Days Manufacturing Time Applies)
This product is designed to leave multiple images of the word "VOID" on the surface if the label is removed. This is a perfect solution where tamper evidence is required.
Typical applications include file cabinets, aircraft hatches, entry doors, envelopes, cartons, electronic components, etc.
The prices displayed below are inclusive of overprinting with Black text using Resin ribbon.
For sequential numbering add $50 + GST Per 1000 Labels.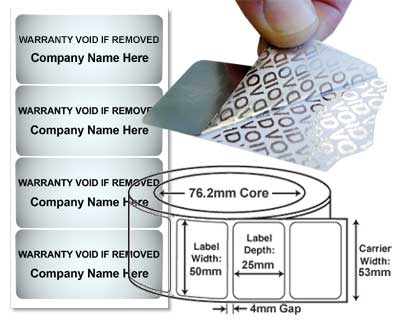 Type
Silver VOID Labels
Price

Quantity

Price

GST

Total Price

500
$230.00
$23.00

$253.00

Note: There is a setup and proofing fee of $25.