Intermec Printer PC23D Light Industrial Thermal Printer
$733.57

(inc GST)


$666.88

(exc GST)
A fast, reliable light industrial printer ideal for small spaces.
Designed to set a new standard in user friendliness and flexibility, the compact Intermec PC23/PC43 provides an intuitive label printing solution. Available in 2" wide direct therma, the PC series is perfect for space-constrained settings. Its low cost and fast operation make the PC series the smart choice for light duty labelling applications where users need reliable, easy to use printers. Easy to install and use Ideal for customers who are new to label printing or who are making the switch from laser or inkjet printers, the easy-to-use PC23 desktop printers feature a double-wall clamshell construction for long term durability.
The PC series was designed by users for quick set-up and trouble-free use. With the most placement options including wall mount and battery power, the printer adapts to its environment and fits right in. No longer are users required to decode a blinking LED to determine printer status. The PC series comes with either a universal Icon interface or colour LCD in 10 languages for immediate notifications reducing training and support needs. Configure and update the PC printer on the spot with USB host port – no computer necessary. One-hand drop-in media loading (and reloading) makes it highly intuitive. Best of all,the disinfectant resistant case means it's made to last in your environment.
Off-the-shelf compatibility and certifications with a wide range of business and healthcare software applications enables users to be up and running quickly, requiring minimal IT support. With a fast throughput at 8 ips, you can count on the PC series to deliver a productivity advantage for your labelling needs. From a migration standpoint, the compact size, common media specifications, and multi-printer language platform of the PC series results in an easy path from legacy Intermec printers such as the PC4, PC41 and PF8, as well as from other desktop printers.
---

Ideal for:
Distribution centre

Courier

Healthcare

Retail environments

Small and medium business manufacturing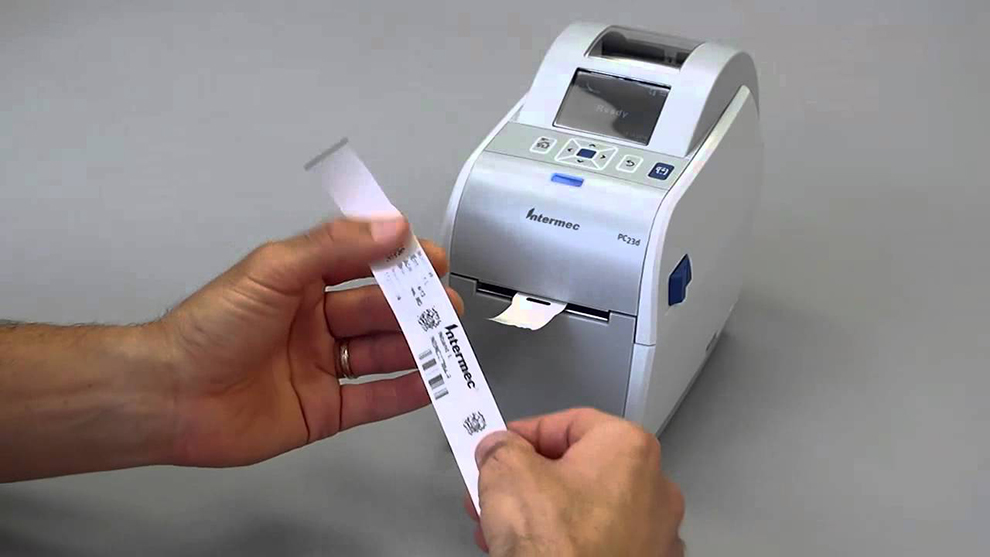 Fits your business needs today and tomorrow! No other desktop barcode printer offers more user-installable options ensuring your printer will grow as your business grows. Modular connectivity ensures the PC series will fit into your existing network environment. USB comes standard along with optional, user installable serial, parallel, secure Ethernet and dual wireless card with Bluetooth® and CCX-compliant 802.11 b/g/n.
The ability to use any Intermec printer language and emulate other non- Intermec printer protocols makes the PC series a cost-effective "drop-in" printer replacement in almost any environment. There's no need to replace the printer if you upgrade your software environment – the printer will easily adapt. The PC series keeps your options open protecting your investment for the long term. Leveraging the Intermec platform provides a solution that can adapt and grow as needs change – even upgrade seamlessly to Intermec industrial printers. This integrated approach provides significant efficiencies in development, deployment and support.
The PC desktop printer series can host stand-alone applications developed through Intermec Fingerprint programming to address custom requirements today or in the future, without the need to upgrade hardware. The PC series offers many Smart features normally found only in industrial grade printers. By adding Intermec's SmartSystems® and XMLLabel™, the PC series will be fully provisioned for remote management and XML printing environments. Furthermore Intermec SmartSystems provides remote monitoring and diagnostics to networked devices for quick maintenance, and upgrades. Support for Monotype fonts come standard helping to speed up configuration – all at an affordable and competitive price. Intermec Delivers: Mobility Lifecycle Solutions & Services Intermec provides customers and partners with best-in-class support, education, managed and advanced services. We deliver business optimization throughout the product lifecycle.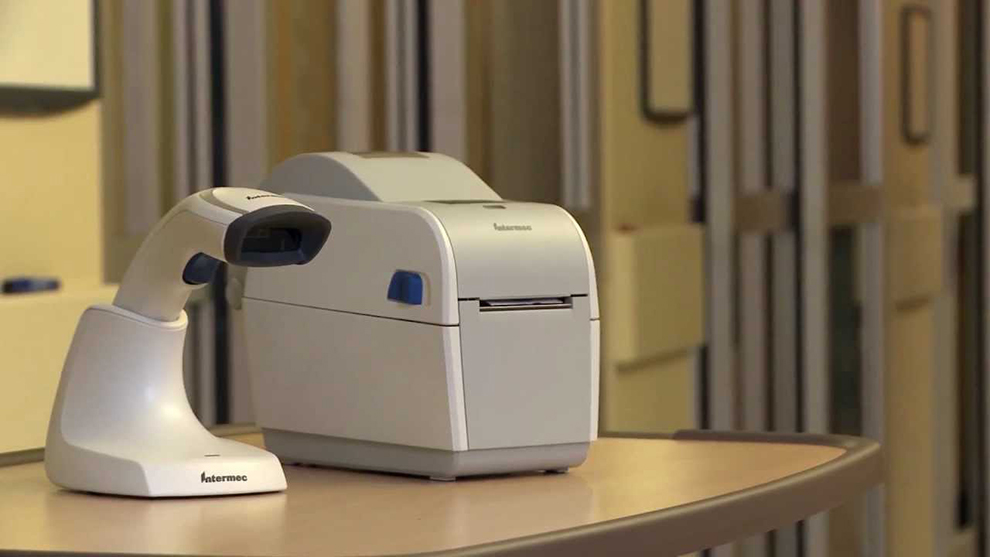 Intermec PC23D Printer Specifications
Physical Description
The compact PC series includes both Direct Thermal (PC23d & PC43d) or Thermal Transfer (PC43t) printers designed for self-adhesive labels, nonadhesive tags, linerless, floodcoat, or continuous paper strip roll.
Real-time Clock: Standard (LCD)
Adjustable Gap Sensor: Standard (LCD)
Print Specifications
Maximum Label Width: PC23d: 60 mm (2.36 in)
Maximum Label Length: Standard: 203 dpi – 1727 mm (68 in) 300 dpi – 900 mm (35 in)
Print Direction: Prints text, bar codes and graphics in all four directions
Print Resolution: 8 dots/mm (203 dpi) or 12 dots/mm (300 dpi)
Print Width:
PC23d: 203 dpi – max. 56 mm (2.2 in); 300 dpi – max. 54 mm (2.1 in)
Printing Speed:
Selectable up to 8 ips (203.2 mm/sec) for 203 dpi; 6 ips (152.4 mm/sec) for 300dpi
Media Specifications
Label Roll –
Maximum Diameter: 127 mm (5 in)
Core Diameter: Min. 25.4 mm (1 in)
Max. 38.1 mm (1.5 in)
Paper Width:
PC43: Max. 118 mm (4.7 in), Min. 19 mm (.75 in)
PC23d: Max 60 mm (2.36 in), Min 15 mm (0.59 in)
Label Length: Min. 6.35 mm (.25 in)
Labels: A wide selection of stock and custom size
labels are available from Intermec Media.
Ribbon Roll – PC43t accepts both 0.5" or 1.0" core
Core: 0.5" ID (12.7mm ID) or 1.0" ID (26 mm ID) with notches
Min width: 1.0" – ribbon only, core width must be 111 mm (4.37 in)
Max width: 110 mm (4.3 in)
Max. length: 0.5": 91 m (3,588 in) 1.0": 300 m (11,811 in)
Thickness (includes liner): 0.06 mm (0.003 in) to 0.15 (0.006 in)
Optional thick media spring kit for media up to 0.20mm (0.008 in)
Ribbons: A wide selection of widths and formulations available.
Connect to Print™
The printer comes with all included: software, drivers, USB cable, power adapter, power cord, a handy QuickGuide to facilitate getting started, and a PrinterCompanion CD with label design program, Windows™ driver, configuration software and documentation.
Software
Printer Command Languages:
IPL, Fingerprint|Direct Protocol, ZSim (ZPLII Simulation), ESim (EPL2 Simulation), DSim (DPL Simulation), XML-enabled printing for SAP® AII and Oracle® WMS
Applications/Drivers:
InterDriver™ Windows® printer driver BarTender Ultralite for Intermec label design and print package
PrintSet 5 for printer configuration, firmware upgrade and file download
Character Sets/Fonts
Printing
Character Sets: English and Extended Latin, Cyrillic, Greek, Turkish, Hebrew, Arabic, Baltic, Baltic RIM, Vietnamese, Thai and more with Monotype™ Universal Font Scaling Technology (UFST) and WorldType Layout Engine (WTLE).
Resident Fonts: Century Schoolbook, CG Times, CG Times Bold, Letter Gothic, Andale Mono, Andale Mono Bold, Univers, Univers Bold, Univers Condensed Bold, Univers Extra Condensed, OCR-A, OCR-B.
Optional: Support for downloading TrueType and TrueType-based OpenType fonts and user-defined fonts.
LCD Display Language
Standard: English, French, German, Italian, Portuguese, Russian, Spanish
Optional: Simplified Chinese, Traditional Chinese, Korean
Graphics Native support for BMP, GIF, PCX and PNG graphics formats.