Zebra HC100 Ethernet wristband printer
$1208.79

(inc GST)


$1098.90

(exc GST)
Zebra HC100 Ethernet Wristband Printer
Zebra HC100 is a wristband printer developed specifically to meet the unique needs of healthcare providers. This reliable patient I.D. solution makes wristband printing easier and more cost-effective than laser solutions.
This printer combines the reliable HC100 direct thermal printer with easy-to-load cartridges containing Zebra's durable Z-Band® wristbands.
The HC100 is easy to use, just pop the wristband cartridge into the HC100 printer and print individual wristbands on demand. Compare these two simple steps with laser printing, which often requires staff to load forms into a special tray, print labels, apply a label to the band, and fold a laminate over the band.
The HC100 printer detects the wristband size that is required - adult, pediatric and infant - and automatically calibrates its settings for optimal print quality. You get long-lasting wristbands with barcodes and text that remain readable.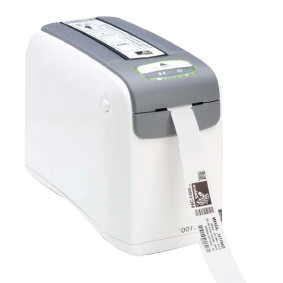 With more connectivity options and a small footprint, the HC100 printer works with your network and fits your workspace. The HC100 is suitable for a wide variety of applications including hospitals and outpatient clinics for patient identification, as well as amusement parks, water parks, resorts, carnivals, concerts, sporting events and zoos for guest identification.
Zebra HC100 Ethernet Wristband Printer Benefits:
Healthcare Wristbands - Zebra's Z-Band thermal wristbands allow you to print patient information and barcodes directly on the wristbands; no need for labels and wristband assembly inherent to laser technology.
Determined MR-Safe by an independent MRI testing company.
Feature a silver antimicrobial coating that protects the wristband.
Scannable up to 14 days, promoting quality patient care and safety.
Quick and easy to print and fasten using an adhesive tab or colour clip.

Attraction and Amusement Wristbands - Enable cashless point of sale and access management with print-on demand bar coded wristbands. A Zebra® bar code printer and direct thermal Z-Band Fun or Z-Band Splash wristbands can:
Reduce ticket fraud; revenue losses associated with theft
Improve transaction speeds
Enhance each guest's experience
Lower total cost of ownership compared to RFID wristbanding.
Standard features:
Quick & easy wristband cartridge loading
Automatic print speed setting—up to
4 ips depending on installed cartridge
Direct thermal printing of barcodes, text and graphics
Dual-wall frame, impact-resistant plastic
ZPL® or ZPL II® programming language
32 bit RISC processor
8 MB (2 MB user-available) Flash memory (standard)
16 MB (4 MB user-available) SDRAM memory (standard)
Element Energy Equalizer™ (E3™) for superior rint quality
Dual communications interface: serial and USB
Odometer for print-length tracking
Illuminated media low/media out indicator
Tool-less printhead and platen replacement
Unicode™-compliant for multi-language printing
Instant media calibration—no wasted media
16 resident expandable bitmap fonts
One resident scalable font
Head-up sensor
Standard tear-off mode feature
XML-enabled printing—allows XML communications from information systems
ENERgY STAR® qualified
---
Resolution
---
Memory
---
Print width
3 wristband widths:
---
Maximum print length
---
Print speed
---
Media characteristics
Zebra offers a comprehensive range of wristband solutions for healthcare and hospitality industries.
Healthcare wristbands
Adhesive or clip closure.
Adult, child and infant sizes.
Barcodes on Z-Band wristbands are proven to withstand water, soaps, foams, alcohol and other common solvents found in a healthcare environment, and remain scannable for longer than the average patient stay
Hospitality wristbands
One-day and multi-day wristband options.
Seven bright colors.
Designed for amusement parks, water parks, carnivals, zoos, sporting events and resorts.
Variable print-on-demand barcoded wristbands means the wristband does not have value until printed, reducing ticket fraud.
---
Physical characteristics:
Width 127 mm
Height 178 mm
Depth 242 mm
Weight 1.4 kg
---
Options and accesories
ZebraNet® 10/100 Print Server (internal)—factory-installed only, offered in combination with serial/USB interface
ZebraNet® b/g Print Server (internal)—factoryinstalled only, offered in combination with serial/USB interface
Font packs—Asian and other international font kits.
Factory-installed 64 MB (58 MB user-available) Flash memory option
ZBI 2.0™—Factory- or field-installed, this powerful programming language lets printers run standalone applications, connect to peripherals, and much more
---
Fonts and graphics
Character fonts: Standard bitmapped Zebra fonts: A, B, C, D, E (oCR-B), F, g, H (oCR-A), gS, P, Q, R, S, T, U, V & Ø Smooth font (CgTriumvirate™ Bold Condensed)
Supports user-defined fonts and graphics—including custom logos
Bitmap fonts are expandable up to 10 times, height- and width-independent. Fonts E and H (oCR-B and oCR-A), however, are not considered in spec when expanded
Smooth-scalable font Ø (Cg Triumvirate Bold Condensed) is expandable dot-by-dot, height- and width-independent, while maintaining edges to a max. 1500 x 1500 dots
---
Barcode symbologies
Linear barcodes: Codabar, Code 11, Code 39, Code 93, Code 128, EAN-8, EAN-13, EAN-14, gS1 DataBar™ (formerly RSS), Industrial 2-of-5, Interleaved 2-of-5, Logmars, MSI, Plessey, Postnet, Standard 2-of-5, UPC-A, UPC-E, UPC-A and UPC-E with EAN 2 or 5 digit extensions
Two-dimensional: •

Aztec Code, Codablock, Code 49, Data Matrix, MaxiCode, MicroPDF417, PDF417, QR Code
---
Firmware
ZPL II—Universal language for Zebra printers. Simplifies wristband and label formatting and enables format compatibility with existing systems that run Zebra printers.
Web View & Alert
---
Networking options
ZebraNet® 10/100 Print Server (internal)
ZebraNet® b/g Print Server (internal)
---
Please Note: specifications and options vary according to printer model and are subject to change without prior notice.