ZEBRA DS4208 Barcode Scanner
ZEBRA DS4208 Barcode Scanner (Includes 2 Metre USB Cable)

2-D BAR CODES — THE WAVE OF THE FUTURE IS HERE - 2-D bar codes help businesses better manage inventory; cost-effectively comply with track and trace regulations for food, pharmaceuticals and more; and capture new types of data to improve overall process efficiency.

FUTURE-PROOF YOUR BUSINESS WITH HIGH PERFORMANCE AFFORDABLE 2-D IMAGING - The DS4208 delivers the blazing speed typical of laser scanners on both 1-D and 2-D bar codes, allowing you to accommodate 2-D bar codes without sacrificing scanning quality or performance.

DRIVE CUSTOMER SERVICE AND REVENUE TO A NEW LEVEL WITH SUPPORT FOR MOBILE BAR CODES - Since the DS4208 can scan bar codes on mobile phone displays, you can attract the millions of customers who are using their cell phones to better manage their lives.
GET THE SMART INVESTMENT WITH A LOW TOTAL COST OF OWNERSHIP (TCO) - The DS4208 is built to last — and our toughness tests prove it. The DS4208 delivers outstanding performance, even after exposure to heat, cold, dust, a spilled beverage — and 2,000 consecutive drops.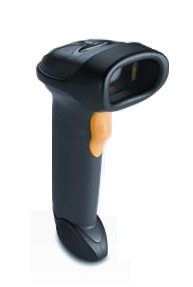 FEATURES:
Scans 1-D, 2-D and PDF417 bar codes on paper, mobile phones and computer displays Scan virtually any bar code on any medium; supports the technology your customers are embracing — electronic bar codes

Two models to meet various data capture needs SR (Standard Range) designed for intensive scanning of paper and electronic (mobile phone) 1D/2-D bar codes HD (High Density) for the tiny and dense codes common in manufacturing

Omni-directional scan pattern Eliminates the need to align bar code and scanner

Supports all common interfaces Easy integration with your existing technology environment; easily migrate to new hosts

Rugged design: 6 ft./ 1.83 m drop to concrete Built to last, providing reliable operation despite spills and drops

Compatible with 123Scan and Remote Scanner Management (RSM) Reduces management time and cost, from initial configuration to day-to-day management
PHYSICAL CHARACTERISTICS
Dimensions:
6.7 in. H x 3.7 in. L x 2.7 in. W (17 cm H x 9.3 cm L x 6.8 cm W)
Weight (w/o cable) 6.1 oz. (172.9 g)
Power 5 VDC ± 10% @ 275 mA (RMS typical)
---
PERFORMANCE CHARACTERISTICS
Light Source Aiming pattern: 617 nm
LED Illumination: 625 nm
LEDs Imager Field of View 39° (H) x 25° (V) Roll Pitch Yaw 0 - 360° ± 65° or greater ± 60° or greater Print Contrast 25% minimum reflective difference
---
ACCESSORIES
Hands-Free Options Gooseneck Intellistand
Power Supplies - Power supplies are available for applications that do not supply power over the host cable