Symbol LS9208i barcode scanner from Motorola
Symbol LS9208i barcode scanner from Motorola
This hands-free scanner offers a high-performance processor and an innovative 100-line rastering omni-directional scan pattern that enables rapid barcode scanning regardless of the orientation of the product. It also offers the flexibility to switch quickly and easily between hands-free and handheld mode, reducing the need to lift heavy objects and the risk of injury.
Combined with a small footprint that fits easily into the tightest environments and the ability to easily switch to single line mode to read pick lists and barcode menus, the Symbol LS9208i keeps checkout lines moving and customers satisfied.

This device is capable of reading a wide range of barcodes – from 13 mil (100% UPC) to 4 mil (Code 39). The Symbol LS9208i enables streamlining of a variety of everyday processes in retail and other environments. This scanner improves throughput at the checkout counter, instantly deactivates EAS security tags and can even help workers identify a product in the back room.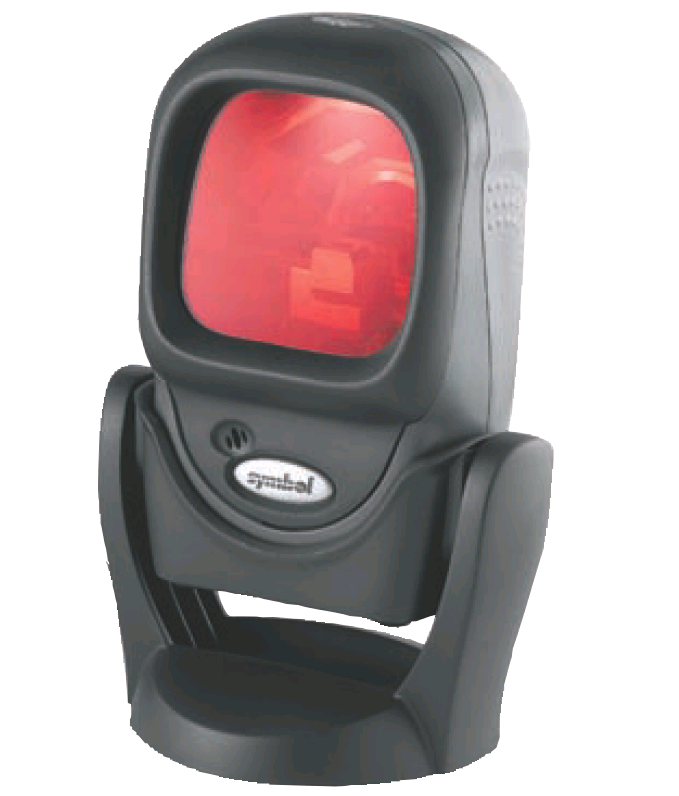 This barcode scanner can also be used to help meet regulatory requirements by verifying prescriptions and managing the administration associated with certain over-the-counter but controlled substances. Employees can quickly scan badges to track time and attendance. Since there is no need to orient the scanner and the barcode, even patrons in a library can scan books in and out.

The Symbol LS9208i barcode scanner features a small footprint, choice of colours and an optional, adjustable multi-mount stand that is easily adaptable to many point-of-sale environments. Its extra loud beeper (85dBA) helps users ensure that the barcode has been read.

The Symbol LS9208i also features a built-in shock absorption that adds unmatched durability for a scanner in this class. What's more, multiple onboard interfaces and universal cables further reduce your inventory requirements. In addition, its remote scanner management capability enables centralized, network-based scanner deployment and management.

This scanner offers premium features and powerful performance to help businesses save time and money.
Symbol LS9208i barcode scanner benefits
High-performance, 100-line rastering omni-directional. Scan pattern Increased productivity for novice and expert users, resulting in shorter checkout lines, better customer service
Single line scan pattern Perfect for reading barcode menus and pick lists
Remote scanner management (RSM) Reduces total cost of ownership by enabling remote, network-based device management
High-performance optics. Delivers superior data capture, even on high density barcodes
Multiple onboard interfaces. Flexible host connectivity protects your hardware investment
Universal cables, allows for easy replacement and/or upgrades
Small footprint, fits into the tightest cash/wrap environment
Adjustable multimount stand. Optimize operator comfort and efficiency
Built-in shock absorption protects scan module assembly increasing durability
Flash memory facilitates updates and customization of product in the field
Checkpoint Electronic article Surveillance (EaS) deactivation option. Integrated antenna saves valuable counter space
Supports 123Scan setup utility. Flexible setup using PC download
Reads GS1DataBar (formerly RSS) Symbologies. Compatibility with new symbology leverages your hardware investment
Global trade item number (Gtin) Compliant. Capable of decoding and transmitting 14-digit GTINs, where appropriate
Advanced Data formatting (aDf) enables users to modify data prior to sending to host computer, eliminating costly modifications to the host software

Dimensions
Without stand: 5.51 in. H x 3.49 in. W x 2.96 in. D (14 cm H x 8.8 cm W x 7.5 cm D)
With adjustable stand: 7.18 in. H x 4.83 in. W x 3.73 in. D (18.24 cm H x 12.27 cm W x 9.47 cm D)
---
Weight
Scanner only: 10.2 oz./320 g
With adjustable stand: 21.5 oz./670 g
---
Voltage and current
---
Nominal current
---
Power
---
Mounting options
Adjustable multi-mount stand
---
Power source - depending on host
Host power
External power supply
---
Colour
Cash Register White or Twilight Black
---
Scanner type
---
Light source
650 nm visible laser diode
---
Roll (Tilt)
Omni-directional: 360°. Roll (Tilt): Controlled by rotating the wrist clockwise or counter-clockwise
Single-scan line: ± 40°
---
Pitch
Omni-directional: ± 50°. Pitch Controlled by dropping or raising the wrist
Single-scan line: ± 60°
---
Skew (Yaw)
Omni-directional: ± 50°. Skew (Yaw): Controlled by rotating the wrist from left to right or vice versa
Single-scan line: ± 50°
---
Print contrast
25% minimum reflective difference
---
Scan Patterns
Omni-directional: 20 interlocking lines, 4 scan angles, 4 lines per angle rastering @ 5 Hz
Single scan line capability
---
Scan rate
Omni-directional: 1500 scans/second
Single scan line: 75 scans/second
---
Depth of field
0 to 9 in./0 to 22.9 cm @13 mil (100% UPC/EAN)
---
Width of field
1.6 in./40 mm @ face
6.7 in./170 mm @ 9 in.
---
Minimum Resolution
---
Decode capability
UPC/EAN/JAN, UPC/EAN w/ Supplementals, UCC/EAN128, Code 128, ISBT 128, Code 39, Trioptic Code 39, Interleaved 2 of 5, Discrete 2 of 5, Code 93, Code 11, Codabar, MSI, GS1 DataBar (formerly RSS)
---
Interfaces Supported
USB, RS232, IBM® 468X/9X, Keyboard Wedge, Wand and Synapse™ (allows connectivity to virtually every POS host type)
---
Ambient light immunity
Immune to normal artificial indoor and natural outdoor (direct sunlight) lighting conditions.
Fluorescent, incandescent, mercury vapor and sodium vapor: 450 ft- candles (4,844 lux) Sunlight: 8,000 ft-candles (86,111 lux)
---
EAS support
Optional Checkpoint Electronic Article
Surveillance EAS
---
Please note: The above performance characteristics refer to 100% UPC barcode at 80% contrast located at 4 in./10 cm from nose of the scanner. Also, specifications are subject to change without prior notice.