Sentinel label printing automation software
Sentinel label printing automation software from Teklynx
Sentinel - FREE Demo version

Add label printing to your existing system! Sentinel seamlessly runs in the background of your system as a low maintenance program and gives you the ability to centrally print on hundreds of printers all at the same time. This makes Sentinel simply the best solution for automated enterprise label printing.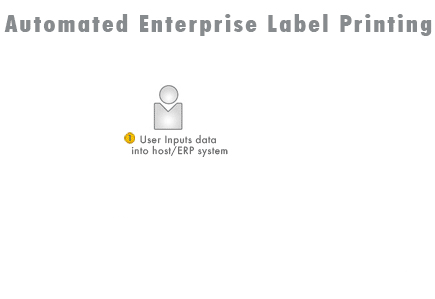 With Sentinel you can reduce IT overhead. Eliminate unnecessary IT interaction when it comes to your print management. Sentinel, as an automated printing solution, requires little to no manual maintenance once it is configured.

Sentinel's unique Mapper tool does all the work for you by decoding any type of data and automatically mapping it to text, bar codes, or images on your labels. You can automatically and continuously convert data from disparate systems like Oracle and SAP.
Sentinel features a Web Module that can be accessed from any browser anywhere in the world. Simply provide a username and password and any user can access the system and keep your labeling process on track.
As an elite Microsoft Gold certified partner and Microsoft Front Runner, Teklynx has the experience and technology to offer the best server-side printing solution. Sentinel is a 6 th generation product with quality proven by thousands of successful global installations. It integrates seamlessly with CODESOFT to offer unmatched flexibility and performance.
Sentinel label printing automation software benefits
Flexible. Integrates with multiple systems and prints to multiple printers across your enterprise environment.
Scalable. Sentinel can grow with your business by enabling you to quickly and easily add clients and printers to your existing network.
Accurate. Combined with Codesoft, you will get precise WYSIWYG results from screen label design to the printed labels.
Efficient. You will save time and prevent errors by eliminating unnecessary manual processes.
Low Maintenance –Once Sentinel is installed and configured, it requires little to no manual support.
Automated. Once data is received by Sentinel, the application will take care of the rest of your printing process with no need for human intervention.
Centralised. Manages your entire print process from one central location, eliminating the need for multiple print stations.
Multi-Threaded. Gives you the ability to print to multiple printers on your network at one time.
Data Capture If you can send data to Sentinel, the application will print it. Sentinel can read virtually any type of text-based flat file, parse the data, and print it.
Reliable. Sentinel manages duplication of all configuration data, ensuring that you have a secondary server to rely on during upgrades or scheduled maintenance.

Operating System
Windows XP SP3, SP2 x32/x64
Windows Server 2003 SP2 x32
Windows Server 2003 R2 x32
Windows Vista x32/x64
Windows Server 2008 x32/x64
Windows Server 2008 R2 x64
Windows 7 x32/x64
---
Memory Recommendations for Best Performance
2 GB RAM
2 GHz Quad/Dual Core Processor or Multi Processor system
200 MB Available
---
Hard Disk Space
---
Compatibility With Other TEKLYNX Software
CODESOFT 10.0
LABEL ARCHIVE 10.0
TEKLYNX CENTRAL 3.0
---
Software Requirements
Microsoft® Data Access Component (MDAC) version 2.8
Microsoft® .NET Framework 3.5
---
Additional Requirements
System must have access to the Internet (software key)
USB port if using a USB key (hardware key)
---
Please note: product specifications are subject to change without prior notice.