Nicelabel label software - Suite
Nicelabel Label Software - Suite 2019.2

Nicelabel Suite 2019.2 is a full-featured, modular labeling solution for label design, integration and professional printing requirements. A wide range of options makes Nicelabel Suite a perfect and easy-to-use, wizard driven tool for any labeling requirement, including RFID, compliance labeling and more.

NiceLabel Pro is included in NiceLabel Suite as the label design module. NiceLabel Pro supports all industry and standard bar codes (including 2-D) as well as RFID Class 1 and Gen 2.
New Features:
Label converter for BarTender and CODESOFT templates
Digital transformation of the entire labeling process with NiceLabel starts with the label designer. The customers who plan to modernize their labeling using NiceLabel software, expect a time efficient and straightforward migration.
Label converter transformsSeagull Scientific BarTender and TeklynxCODESOFTlabel templates to the NiceLabel format.
This release includes:??
A role-based access overhaul?with?authentication and authorization improvements.?
Document management?improvements with drag and drop uploading and digital signatures in Label Cloud.
Optimization of curved text printing
The analytics feature now includes a new materials report to monitor physical label usage – a much improved opportunity for you to offer Managed Print Services (MPS) to your customers.??
Enhanced integrations with web applications and industrial devices.?
Full cloud printing capability for Zebra Link-OS or SATO CLNX printers with NiceLabel Label Cloud. This can be the perfect solution if your customers use a cloud-based ERP system such as Microsoft Dynamics 365 or Oracle NetSuite.??
Simplified licensing for large environments.?
Added support for Code 32 (Italian Pharmacode).
Updated GS1 standard (Release 19.1 from July 2019).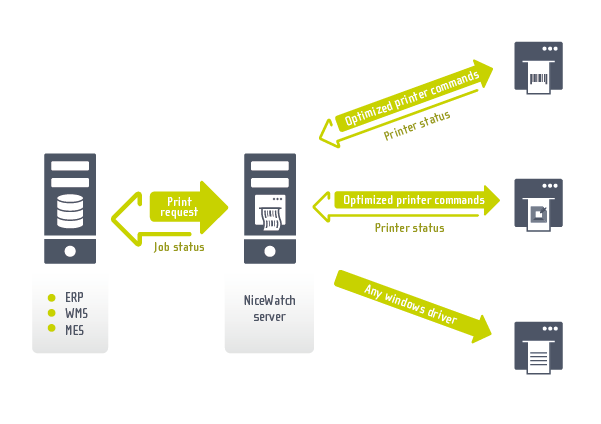 NiceLabel Suite Modules


NiceForm


Label printing operators often stumble on an over-featured user interface which increases the frequency of errors when printing labels. This is where NiceForm-a generator of customizable input forms-steps into action. Simplicity of creation does not exclude advanced features such as database connectivity, label preview and linked forms. The generated forms are used as stand-alone Windows applications and require no additional training to master

NicePrint

Printing pre-designed labels is an easy task with NicePrint - a simple and efficient printing application that provides a pre-designed NiceForm type application. Create labels once and print them anywhere on the network with NicePrint.

NiceWatch

At times automated printing is required in a multi-operating system environment (Unix, AS/400, Host, etc.) or complex application environments (ERP, WMS, etc.), where it is not possible to write program code using Automation commands. Deploying NiceWatch, a powerful data detection module, provides an affordable solution in these situations that acts as middle-ware on a Windows-based PC.

NiceData

A powerful database manager, allows the user to create and edit database tables and import data from text files to database tables. Maintaining a customer or product database has never been easier.

NicePrintQueue

NicePrintQueue is a print job manager module that allows you to check the real-time status of all network and local printers you use. Even more, you can move your print jobs between printers with simple drag-and-drop action and print your labels on other available printers.

NiceMemMaster

NiceMemMaster is used to download TrueType fonts and graphics to a printer's internal memory. This boosts printing performance from NiceLabel and allows any other application to use selected fonts and graphics.
Leading Support for Non-Windows Platforms and Stand-Alone Printing
In addition to the existing integration possibilities, NiceLabel can also be used as a label design tool for many stand-alone printing solutions, which do not require an active PC computer present at print time. The label templates must be designed and prepared in advance. When they are transferred to the devices with stand-alone capability, the complete label printing process runs autonomously.

Stand-Alone Printing
Printers capable of stand-alone operation
Take advantage of printers capable of off-line printing by exporting label templates to their internal memory.
Smart keyboard
A special keyboard, designed to store label templates and enable data prompting, allows a user to print off-line using almost any thermal transfer printer.