Nicelabel Label Software - 2019 PowerForms
$1959.85

(inc GST)


$1781.68

(exc GST)
Nicelabel Label Software 2019.2 - PowerForms
Nicelabel - FREE Demo version

The NiceLabel PowerForms Designer delivers the familiar Microsoft Word-like user experience. This means anyone can quickly design professional labels without barcoding, design or advanced computer skills. Use one of the predesigned label templates or create one from scratch in minutes even if you have never done it before.
New Features:
Label converter for BarTender and CODESOFT templates
Digital transformation of the entire labeling process with NiceLabel starts with the label designer. The customers who plan to modernize their labeling using NiceLabel software, expect a time efficient and straightforward migration.
Label converter transformsSeagull Scientific BarTender and TeklynxCODESOFTlabel templates to the NiceLabel format.
This release includes:
A role-based access overhaul with authentication and authorization improvements.
Document management improvements with drag and drop uploading and digital signatures in Label Cloud.
Optimization of curved text printing
The analytics feature now includes a new materials report to monitor physical label usage – a much improved opportunity for you to offer Managed Print Services (MPS) to your customers.
Enhanced integrations with web applications and industrial devices.
Full cloud printing capability for Zebra Link-OS or SATO CLNX printers with NiceLabel Label Cloud. This can be the perfect solution if your customers use a cloud-based ERP system such as Microsoft Dynamics 365 or Oracle NetSuite.
Simplified licensing for large environments.
Added support for Code 32 (Italian Pharmacode).
Updated GS1 standard (Release 19.1 from July 2019).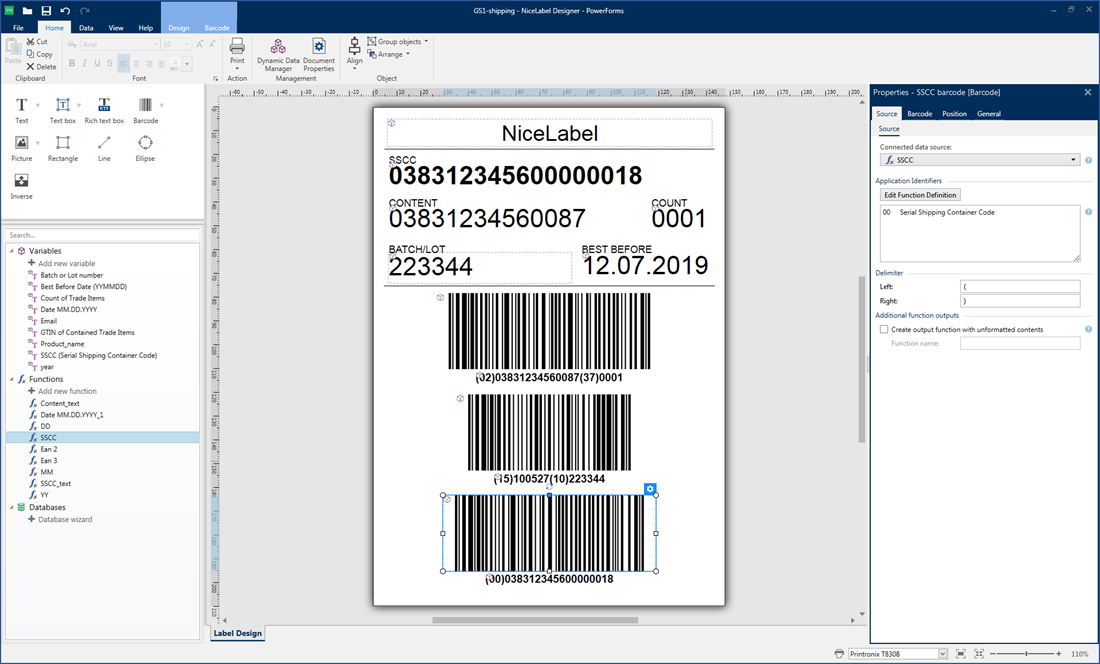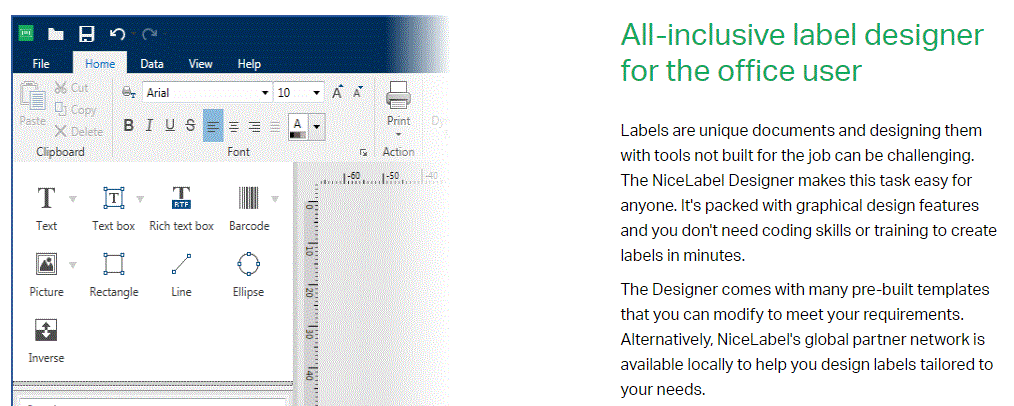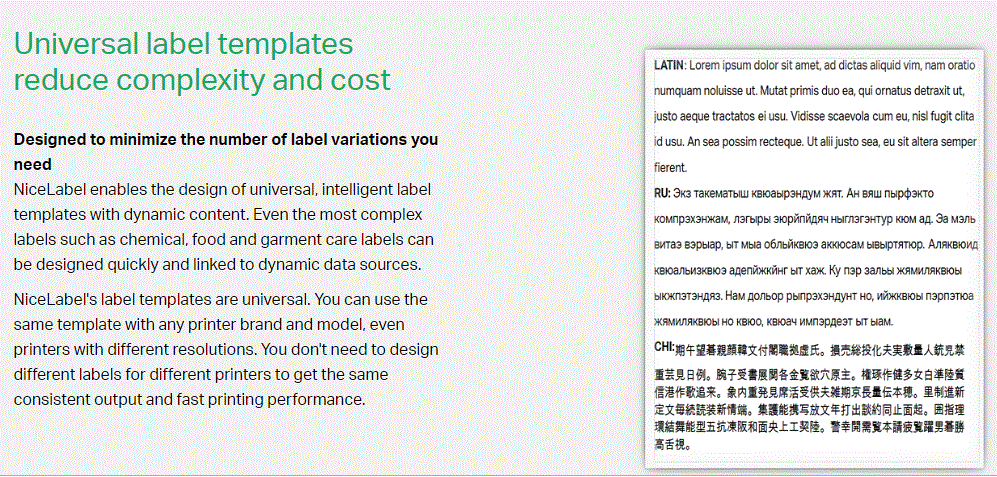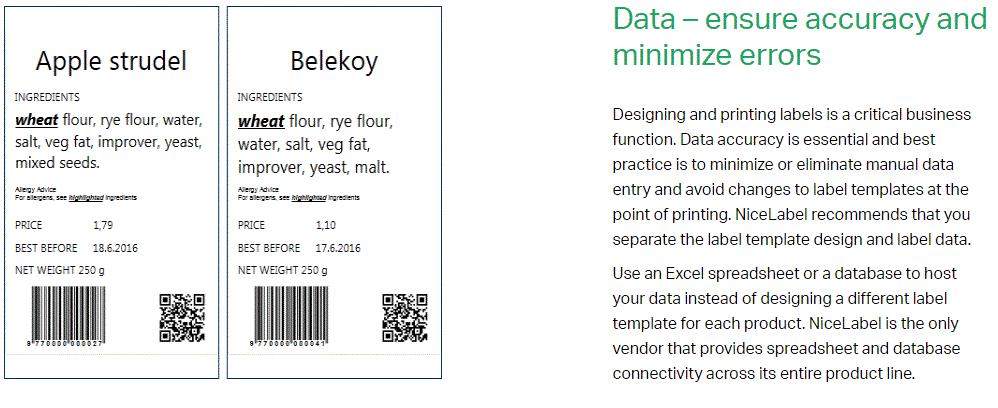 Easily Preview and Edit Label Design and Content:

Design and Print Customised GHS Labels: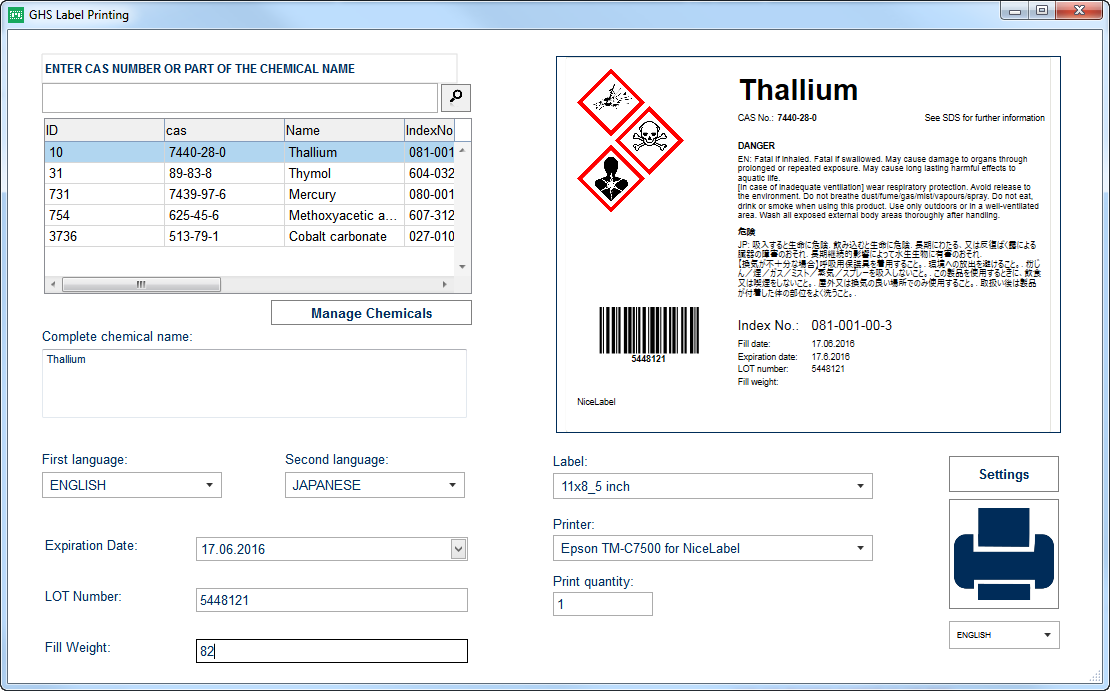 Design like a pro, even if you're a novice
Guidelines, positioning, anchoring, alignment, grouping and other features help you quickly design professional labels.
---
Pre-built compliance labels
NiceLabel comes with a library of pre-built labels that align with industry standards like GS1, AIAG, ODETTE, GM, VDA, etc.
---
All the help you need
NiceLabel provides shortcuts, on-screen hints, error warnings, and explanations to ensure you get all the help you need to quickly create accurate labels.
---
Database connectivity
Anyone can connect to an Excel spreadsheet or an Access database using the NiceLabel wizard. Advanced users can connect labels with server databases.
Easily connect to Excel and text files
Connect to SQL Server, Oracle and MySQL
OLE DB and ODBC provide connectivity to almost any other database
Connection to multiple databases and tables on the same label
Import dynamic graphics from databases (BLOB)
Custom SQL data queries for advanced queries
---
Data validation, formatting and processing
You often need to print data in a particular format; sometimes joined into a single text or barcode object (i.e. for serialization). This also may be required to comply with industry or customer requirements. NiceLabel helps you meet these needs by providing functions configured via wizards instead of requiring coding.
Configurable variables, data-entry rules and error checking
GS1-128 barcode wizard for shipper box labels
Functions for easy data manipulation and concatenation, and for industry standards including GS1, ANSI, HIBC
Advanced VB or Python scripting for custom or special needs
---
Language Support
Chinese (Simplified), Chinese (Traditional), Croatian, Danish, Dutch, English, Finnish, French, German, Greek, Hebrew, Hungarian, Italian, Japanese, Korean, Lithuanian, Norwegian, Polish, Russian, Slovenian, Slovak, Spanish, Swedish, Thai, Ukrainian, and more.
---
Printer Support
High Performance NiceDrivers: Argox, Avery, Blazepoint, Brady, CAB, Century, Citizen, Cognitive, Compuprint, Comtec, Datamax, Eltron, EPC, Etimark, Extech, Facit, General Code, Genicom, GOD BM, Godex, IBM, Imaje, ILS, Imaje, Intermec, Italora, ITD, Lapis, Markem, Markpoint, Meto, Monarch, Microcom, MPH, Novexx, O'Neil, Printronix, QLS, Ring, Sartorius, SATO, Toshiba TEC, Tharo, TSC, UBI, Unimark, Zebra, etc.
---
Nicelabel 2019 PowerForms also supports any standard office inkjet or laser printer.
---
Please note: product specifications vary according to software version and are subject to change without prior notice.