Nicelabel Label Software - 2019 Designer Express
$607.64

(inc GST)


$552.40

(exc GST)
Nicelabel Label Software - Designer Express
Nicelabel - FREE Demo version

Nicelabel 2019.2 Designer Express is a wizard-based software that fulfils basic barcode labelling needs. This entry-level software includes many design elements from the professional edition with the emphasis on simplified user interaction.
Nicelabel 2019.2 Designer Express includes all basic label design tools and support for prompted fields, serialization, date/time stamps and all standard barcode types, including 2-D and EAN.UCC 128. There are no limits to the number of objects per label. Data can be extracted from ASCII text files or a Microsoft Excel spreadsheet using a built in database wizard. NiceLabel 2019.2 Designer Express enables users to handle a simple text file or spreadsheet like a database. Database lookup, sorting, and batch printing are all possible.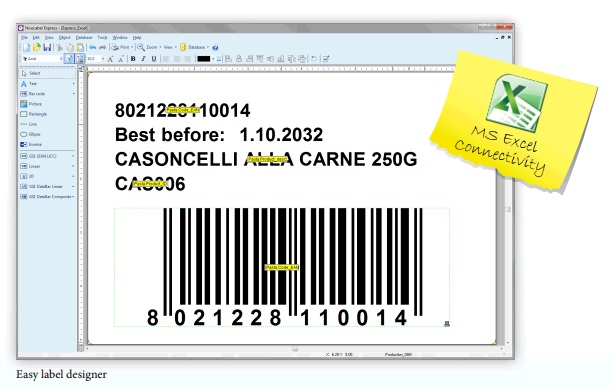 New Features:
Label converter for BarTender and CODESOFT templates
Digital transformation of the entire labeling process with NiceLabel starts with the label designer. The customers who plan to modernize their labeling using NiceLabel software, expect a time efficient and straightforward migration.
Label converter transforms Seagull Scientific BarTender and TeklynxCODESOFT label templates to the NiceLabel format.

This release includes:
A role-based access overhaul with authentication and authorization improvements.
Document management improvements with drag and drop uploading and digital signatures in Label Cloud.
Optimization of curved text printing
The analytics feature now includes a new materials report to monitor physical label usage – a much improved opportunity for you to offer Managed Print Services (MPS) to your customers.
Enhanced integrations with web applications and industrial devices.
Full cloud printing capability for Zebra Link-OS or SATO CLNX printers with NiceLabel Label Cloud. This can be the perfect solution if your customers use a cloud-based ERP system such as Microsoft Dynamics 365 or Oracle NetSuite.
Simplified licensing for large environments.
Added support for Code 32 (Italian Pharmacode).
Updated GS1 standard (Release 19.1 from July 2019).
Nicelabel Label Software Benefits:
Easily create bar code labels - Designer Express wizards help you quickly and easily design labels. You can start printing finished labels in minutes.
Use a wizard to create or use pre-designed label templates

Database wizard helps you connect to Excel spreadsheets

Object wizards include counters, prompts and date/time stamps.

Barcode wizard helps you create and configure barcodes

Graphic wizard gives you access to a comprehensive clipart library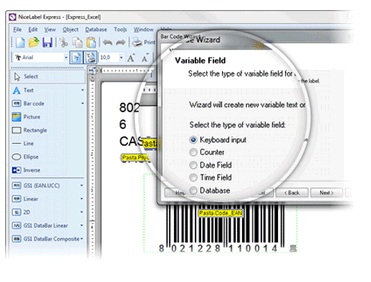 Use Excel as a database - You're already familiar with MS Excel, why not use it to improve your labeling? Rather than create 10 identical labels, design 1 and use 10 rows of spreadsheet data.
Design fewer labels templates and get started printing faster

Manage your label data easier in a spreadsheet

Consolidate designs making maintenance faster

Reduce label design and printing errors

Eliminate print-time data entry and print more efficiently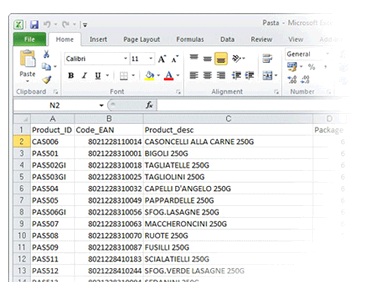 Print to any type of printer - 2019 Designer Express delivers maximum performance and control of label printers when used with NiceDrivers. You can also use any laser or inkjet printer.
Industry standard Windows drivers for 2500+ label printers

Native support for your label printers bar codes, fonts, and other features

Tested by Microsoft for superior Windows compatability

Support for any printer with a Windows driver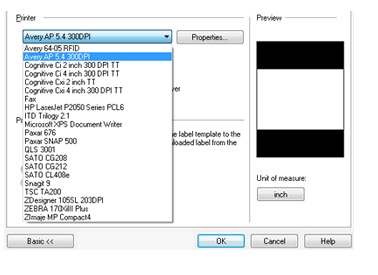 Meets basic labeling needs - 2019 Designer Express includes all common 1D, 2D, and composite bar codes. Variable text and bar code fields support database, prompts, counters and date/time stamps. Designer Express is ideal for simple labeling requirements.
Includes over 60 different barcode types

Wide selection of graphical objects

Variable field and internal printer variable support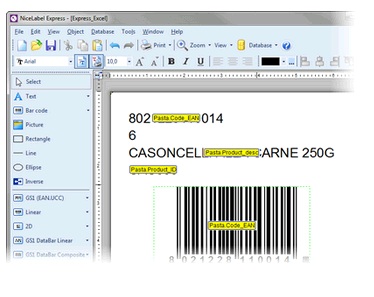 Multiple label design object
Text, bar codes, graphic images, lines and boxes, reverse backgrounds, circles and ellipses. Insert OLE objects, such as WordArt, created from other compliant software applications. No limits to the number of label objects or fields per label.
---
Variable data source
Keyboard input fields, incrementing/ decrementing counters, date/ time stamps, simple database connectivity (text files and Microsoft Excel) and more.
---
Database connectivity support
Text (ASCII) files. Import comma delimited, tab delimited and fixed width text files. Microsoft Excel spreadsheet import (single table).
---
Barcode support
EAN-13, EAN-14, Dun-14, UPC Case Code, EAN-8, Upc-A, Upc-E, EAN/UPC barcodes with supplements, Interleaved 2 of 5, Code-39 (normal, full ASCII, Tri Optic), Code-93, Code128 (A, B, C), Postnet (32, 37, 52, 62), Codabar, Bookland, MSI, Pharmacode, Plessy, Anker, RSS (linear and composite), SSCC, EAN.UCC 128, ITF 14, ITF 16, Kix, PDF-417, DataMatrix, MaxiCode, Aztec, QR, Micro-QR, Codablock F, 2-D Pharmacode, MicroPDF.
---
Industry Standard and Compliance Support
EAN.UCC 128 wizard to simplify creation of compliance and shipping barcode labels.
---
Language Support
Chinese (Simplified), Chinese (Traditional), Croatian, Danish, Dutch, English, Finnish, French, German, Greek, Hebrew, Hungarian, Italian, Japanese, Korean, Lithuanian, Norwegian, Polish, Russian, Slovenian, Slovak, Spanish, Swedish, Thai, Ukrainian, and more.
---
Printer Support
High Performance NiceDrivers: Argox, Avery, Blazepoint, Brady, CAB, Century, Citizen, Cognitive, Compuprint, Comtec, Datamax, Eltron, EPC, Etimark, Extech, Facit, General Code, Genicom, GOD BM, Godex, IBM, Imaje, ILS, Imaje, Intermec, Italora, ITD, Lapis, Markem, Markpoint, Meto, Monarch, Microcom, MPH, Novexx, O'Neil, Printronix, QLS, Ring, Sartorius, SATO, Toshiba TEC, Tharo, TSC, UBI, Unimark, Zebra, etc.
---
Nicelabel 2019 Designer Express also supports any standard office inkjet or laser printer.
---
Please note: product specifications vary according to software version and are subject to change without prior notice.