Labelview label software - Pro
$786.50

(inc GST)


$715.00

(exc GST)
Labelview label software - Pro from Teklynx
Labelview - FREE Demo version



Labelview is an easy-to-use barcode label design software that can be used by anyone from beginners to advanced users. With the stability of Labelview's updated platform, you have the confidence that your software will be dependable today and in the future.

With Labelview you can design barcode labels and integrate your barcode label printing system into existing systems with unmatched power and flexibility.

Whether you need to use Labelview barcode label software to print RFID labels, print barcode labels or print compliance labels, Labelview 10's new features and its intuitive interface provide the most powerful solution. Labelview supports over 40 bar code symbologies, TrueType fonts, and over 2,200 thermal and laser printers, providing the flexibility to handle all of your RFID and bar code label software needs - today and in the future.

Features
Quickly and easily connect to a database, create queries to a database, and manage database connections.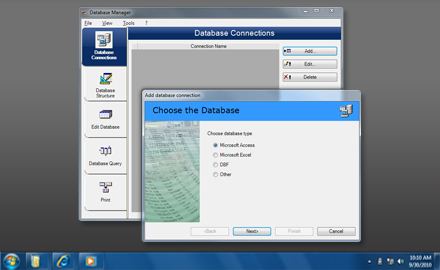 Reduce errors at print time by using customizable print forms.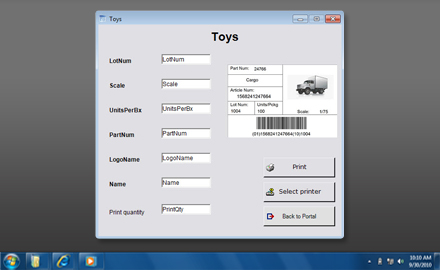 Easily convert labels from version 8.6 or greater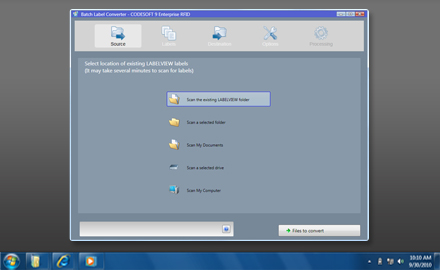 A fresh and modern interface with intuitive menu options.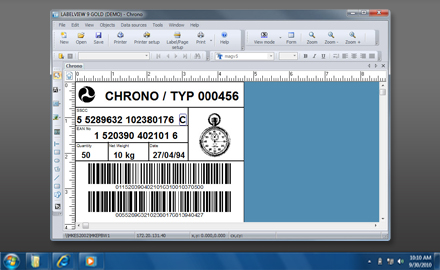 Simplifies adding barcodes, images, text, and variables during label creation.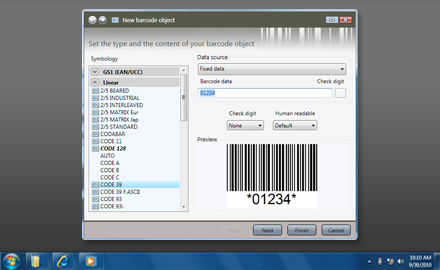 Edition selection
Labelview Pro is recommended for small-scale barcode labeling operations, especially those with manual data input, printing to three or fewer printers.
Labelview Gold is the high-end edition and includes all features of Labelview Pro along with advanced design, integration, and automation barcode software tools.
Labelview Network Can be installed on any number of PCs on the same network subnet and opened by a set number of users at the same time.
*Please note: label design capabilities vary according to software version.
Labelview label software benefits
Allows for easy entrance into enterprise printing solutions. As your business grows, you can easily expand your labeling solution. Labelview allows you to seamlessly transition to TEKLYNX' enterprise products.
Increase productivity.Labelview's redesigned interface, coupled with simplified database connections and streamlined data entry, allows you to design labels and print them in a much shorter period of time.
Reduce errors. Form Designer gives you the ability to create custom forms for accurate data entry. Labelview's updated printing interface allows you to preview the label prior to printing, which acts as the final step in quality control.
Reduce time spent designing labels.Labelview allows you to create labels quickly using wizards, which reduces the overall time spent from initial label design to print time.
General
---
---
Virtual machine product available (tested and supported on virtual machines).
---
Supports over three printers: maximum 3.
---
---
---
---
---
Variables (previously known as hidden objects) .
---
Import graphic formats (bmp, pcx, jpg, tif, etc.) .
---
---
Color graphic file reduction.
---
Graphical, native and custom barcode support.
---
---
---
Multi-level password protection.
---
Label specific passwords.
---
---
Multilingual support (25 languages) .
---
MIL 129/MIL 130L label samples.
---
Citrix Server/Terminal Support: network only.
---
---
Print/export to picture or to file.
---
TextArt Objects / Rich TextField Objects.
---
Counters linked to additional fields
---
Database
---
---
Key field access to database records.
---
---
---
Customized SQL queries/SQL Query Builder Wizard.
---
Variables
Flexible data and time stamping.
---
---
Linked expressions (Formulas) .
---
Add a fixed offset to date.
---
User input fields
---
---
---
System Requirements
Installation requires Administrator privileges
---
Operating System
LABELVIEW Specifications
Operating System
Windows® 7 SP1 x86/x64
Windows® 8 x86/x64
Windows® 8.1 x86/x64
Windows® 10 x86/x64 version 2004 (build 19041.329)
Windows® Server 2008 R2 SP1
Windows® Server 2012, 2012 R2
Windows® Server 2016
Windows® Server 2019 version 1809 (build 17763.1282)
---
Memory
4 GB RAM with Windows® 10 and Server above 2008.
---
2 GB RAM with Windows® Server 2008 (2 GB recommended).
---
---
2 GB RAM with Windows® Server 2003.
---
2 GB RAM with Windows® XP.
---
Hard disk space
Hard drive with at least 500 MB of available space.
---
Display
Minimum: 800 x 600 High Color – 16 bit/
---
Recommended: 1024 x 768 True Color – 32 bit.
---
Supporting software
Microsoft® Internet Explorer 7.0 SP1 or later.
---
Microsoft® Data Access Components 2.8 (MDAC) or greater.
---
Microsoft® .Net Framework 3.5.
---
Adobe Acrobat Reader 9.0.
---
Additional requirements
System must have access to the Internet (software key)
---
USB port if using a USB key (hardware key).
---
Serial port if required by printer.
---
---
---
---
Please note: product specifications vary according to software version and are subject to change without prior notice.