Labelmate CAT-2P Fin-Style Core Holder Label Rewinder
Labelmate CAT-2P Fin-Style Core Holder Label Rewinder
Rewind Labels with ease

This CAT-2P is a Label Rewinder specially designed to wind up labels into a roll as they come out of a printer. Save time with this convenient solution and forget about having to gather up the labels by hand once the printing job is finished.

The CAT-2P Label Rewinders are designed specially for the Primera LX series Colour Label Printers and feature Sensor Arm technology that allows the Rewinder to stop and start when the printer stops and starts, putting less strain on the printer while having the Rewinder do all the work and limiting registration and banding errors.

The special Sensor Arm that tracks the labels coming from the Printer and adjusts the rewinding action accordingly. This Rewinder ensure you trouble-free performance.

The CAT-2P is the only rewinder certified by Primera for use with the LX400 and LX800-Series Color Label Printers. This specially-designed heavy-duty rewinder puts the least possible tension on the web so that print quality is not affected. As you know, inkjet printers are more susceptible to banding or registration problems if the web is pulled during printing.

This unit is ideal for many day-to-day rewinding jobs and perfect for short to medium runs of labels.

The CAT-2P rewinds on standard 76.2mm (3") Cores.

The CAT-2P is an ideal space saving unit that can satisfy the needs of a variety of small and medium business such as food and beverage, manufacturing, transport and freight, chemical industries, among others.

This is a convenient and durable machine that can help you rewind labels with ease.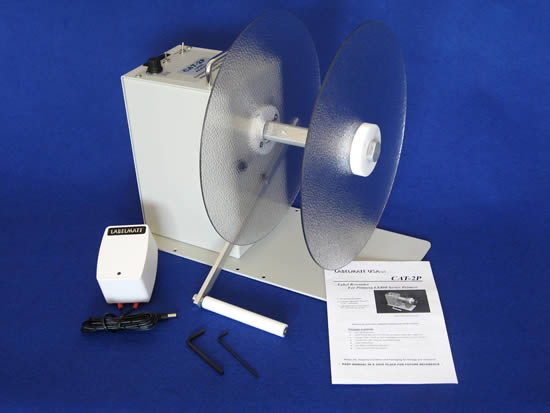 Benefits
• Rugged heavy steel, industrial quality construction allows the CAT-2s to be simply set in place.
• Special anti-slip feet prevent the units from moving.
• Reliable, high quality and maintenance-free



Standard CAT-2P Label Rewinder with Fin-Style. Includes two label Flanges
---
Core:
• 76.2mm (3") diameter
---
Width:
• Up to 152mm (6")
---
Roll Diameter:
• Up to 305mm (12")
---
Please Note: specifications are subject to change without prior notice.