Labelmate CAT-2-TA-ACH Heavy-Duty Label Rewinder
Labelmate CAT-2-TA-ACH Heavy-Duty Label Rewinder
Rewind Labels with ease

This CAT-2-TA-ACH is a Label Rewinder specially designed to wind up labels into a roll as they come out of a printer. Save time with this convenient solution and forget about having to gather up the labels by hand once the printing job is finished.

The CAT-2-TA-ACH follows the output of labels from the printer and rewinds "on demand." When your printer finishes the print job and stops, the Tension Arm senses that the printing has stopped and stops the Rewinder. If the printer starts up again, the CAT-2-TA realises it must start rewinding again. If your printer runs out of labels, the Tension Arm will drop to the table turning off the CAT-2-TA.

This Label Rewinder comes with an Adjustable Core Holder for any core size from 25 to 101mm in diameter. With inner flange.Use APG-CAT if you wish to also guide the outer edge of your label.

The CAT-2-TA-ACH can rewind up to 280mm diameter roll.


This unit is ideal for many day-to-day rewinding jobs and perfect for short to medium runs of labels.

The CAT-2-TA-ACH is an ideal space saving unit that can satisfy the needs of a variety of small and medium business such as food and beverage, manufacturing, transport and freight, chemical industries, among others.

You won't find a more advanced Label Rewinder anywhere.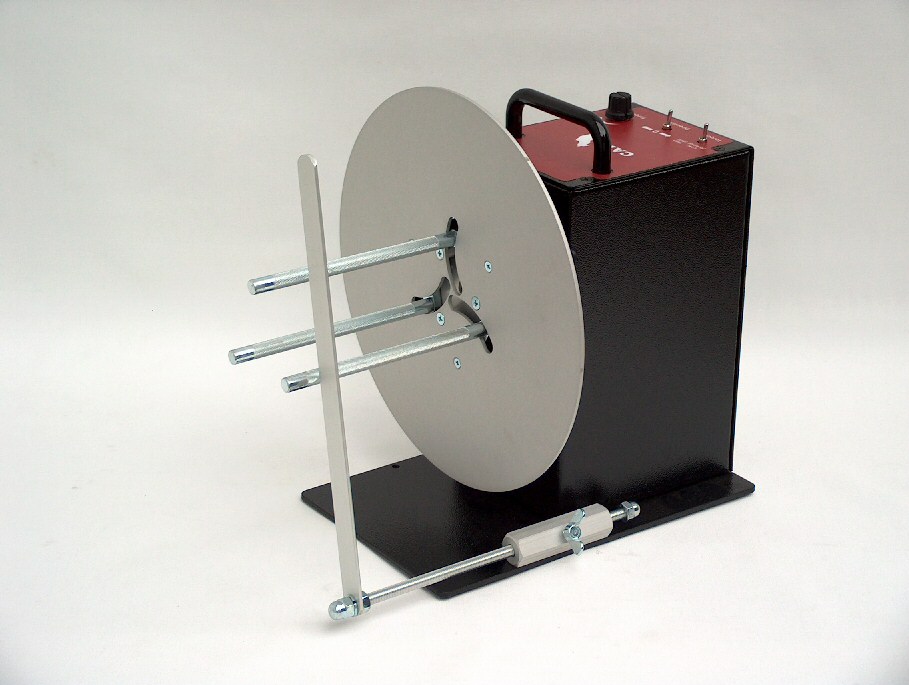 Benefits
• Rugged, heavy-gauge steel construction allows your CAT-2-TA Rewinder to be simply set in place. Special anti-slip feet keep the unit from moving.
• Reliable, high quality and maintenance-free

Heavy-duty Label Rewinder with Tension Arm and an Adjustable Core Holder for any core size 1" to 4" in diameter.
---
Core:
• Any core size from 25 to 101mm in diameter.
---
Label Width:
• Up to 155mm
---
Roll Diameter:
• Up to 280mm
---
Speed:
• Up to 49ips
---
Custom colours, badging, and special core holders are available for private label applications.
---
Please Note: specifications and options are subject to change without prior notice. Recommended: Optional Adjustable Paper Guide (APG-CAT).