Labelmate CAT-16 Heavy-Duty Label Rewinder
Labelmate CAT-16 Heavy-Duty Label Rewinder
The Labelmate CAT-16 is a Label Rewinder/Unwinder specially designed for use directly "in-line" at the output of a printer to rewind web widths up to 406 mm (16"). Save time with this convenient solution and forget about having to gather up the labels by hand once the printing job is finished.

This rewinder brings Labelmate's CAT (Constant Adjustable Torque tm) technology to a wide-web Heavy-Duty Label Rewinder / Unwinder. The CAT-16 is ideal for many day-to-day rewinding jobs and perfect for short to medium runs of labels. It rewinds on standard 76.2mm (3") Cores.

This wide heavy duty rewinder/unwinder can satisfy the needs of a variety of small and medium business such as food and beverage, manufacturing, transport and freight, chemical industries, among others.

The CAT-16 when used as an Unwinder, together with the Labelmate S-500 (40 cm wide Label Slitter / Rewinder), forms a complete "off-line" wide web label slitting and rewinding station. You get easy set-in-place installation with this industrial-quality product constructed from heavy-gauge steel (Provision to bolt the CAT-16 to the tabletop is included).

Put the Labelmate CAT-16 Heavy-Duty Wide-Web Label Rewinder to work for you, today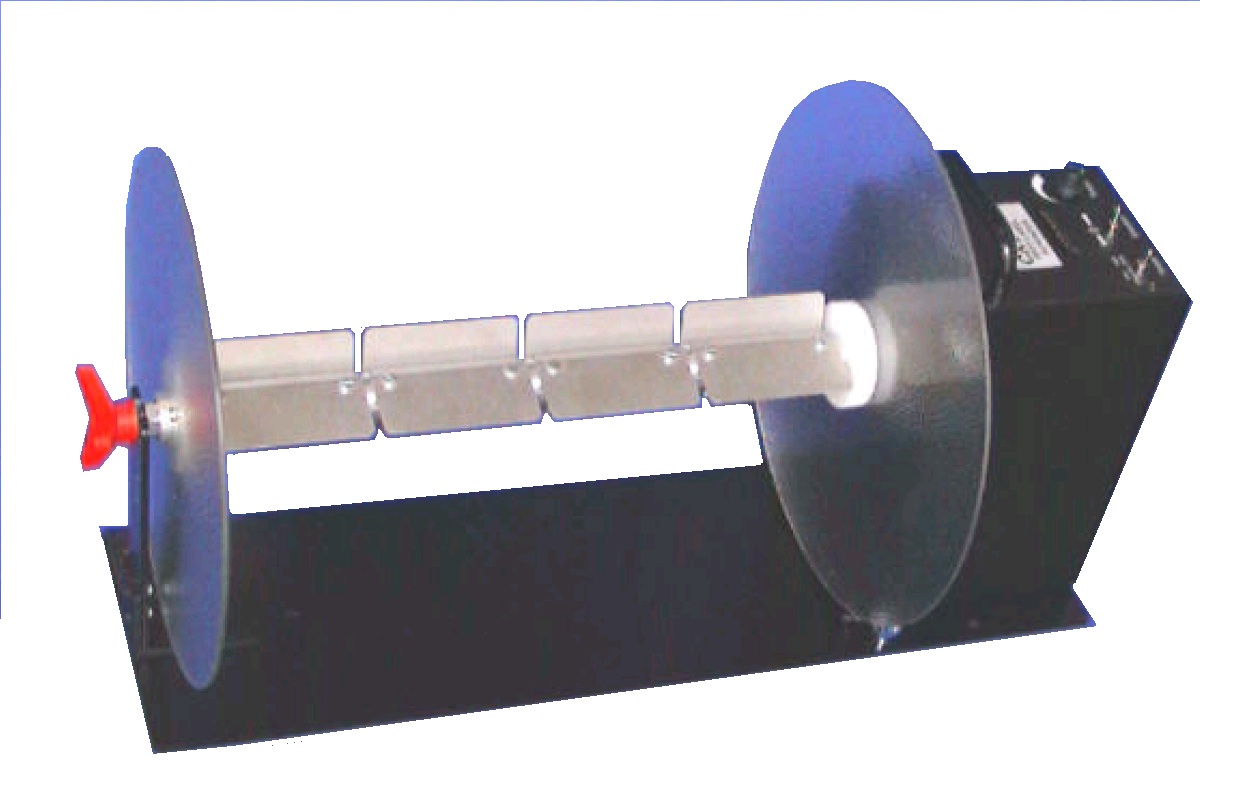 Benefits
• Easy to set up.
• Specially designed for all-day, every-day use.
• No maintenance required.


Core:
• 76.2mm (3") diameter
---
Width:
• Up to 406mm (16")
---
Roll Diameter:
• Up to 254mm (10") Roll Weight:
• Maximum 15Kg.
---
Roll Diameter:
• Up to 300-mm (12").
---
Speed:
• Up to 30 ips (Bi-directional)
---
Torque Control:
• Constant Adjustable Torque. Control system allows precise adjustment of rewind torque.
---
External Halt Control:
• Allows external control of the CAT-16 from a printer or other device that can supply SPST contact opening. Use is optional and not required for operation.
---
Universal switching power supply for extra power.
---
Please Note: specifications are subject to change without prior notice.