Dualys3 Starter Bundle - Obsolete
Dualys 3 Starter Bundle
The dual-sided colour printer for plastic card personalisation
The Primacy plastic card printer has replaced this model


However, you can keep buying your consumables from us:
Click Here to buy plastic cards, ribbons, accesories and more


Complete Printer Package includes Dualys 3 Basic Printer (USB), 1 colour ribbon, 100 blank white cards, eMedia Card Designer Standard Edition, free starter cleaning kit.

Dualys 3 is the benchmark printer to personalise cards in medium to large runs, or to instantly issue sophisticated cards. It matches premium-quality graphics, with fast throughput and autonomy.

The Dualys 3 is the ideal solution for any type of application that requires dual - sided printing of badges:
• Employee Badges.
• Student IDs.
• Access Control Badges.
• Transport Passes.
• Loyalty Cards.
• Payment Cards, and many more.

Dualys 3 is designed to cater to all your requirements, From bulk personalisation of cards to individual card printing, Dualys 3 is the one-stop colour printer for dual-sided personalisation of badges, sterling quality and robust security. Thanks to the most advanced printing engine in the market, Dualys 3 prints high-de¬finition badges within seconds.

This solution benefits from the latest encoding technologies: ISO orJIS2 magnetic tracks, and smart card with contact or contactless (RFID). These encoding options can be combined to personalise multifeatured cards in a single pass, paving the way to a wide range of market applications in various industries: identifi¬cation, biometric security, transport, fi¬nancial institutions, educational organizations, loyalty programs, and leisure.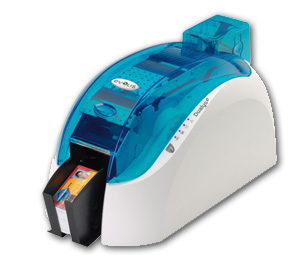 Dualys 3 comes with a feeder and an output hopper, both with a capacity of 100 cards. These features make the printer ideal to deliver cards in medium to large runs. With a stunning throughput of 125 cards per hour in dual-sided mode, Dualys3 guarantees a smooth process with minimum user intervention. Dualys3 also has a manual feeder that turns it into a card-by-card printer.

The Dualys 3 range of printers proudly carries the stamp of Evolis' strong commitment to reliability, and therefore, bene¬fits from unmatched quality along with a pioneering 3-year warranty.
Benefits

Stunning Performances.
• Dualys is one of the fastest printers in the market, and the next generation model provides top-of-the-range performances and higher image resolution.

Printing Quality.
• The Dualys generation comes with a new CPU and printhead for outstanding graphics and image definition, with an incremental factor of 100 when compared with the earlier version.

Printing Speed .
• Dual-sided printer, with a 29 s. / card speed in colour (dual-sided YMCKO-K), Dualys provides premium performances in its category.

16Mb Memory.
• The printer is loaded with a 16MB memory for optimised operations. This enables RAM storage of both sides of a card and a self recovery process in case of disruption: data integrity is preserved and any job in progress will automatically resume.

Colour Profile.
• A "Colour Profile" feature provides the user with a colour matching filter which prints colours similar to those displayed on the screen.

Versatile & Open Platform, ready for integration.
• Options are available on demand to enhance connectivity or benefit from multiple encoding options. Evolis offer modular and scalable solutions that fit any specific customer needs by combining the appropriate options, drivers and encoding technologies. Dualys benefits from this true customisation process.

USB and Ethernet Connectivity.
• Dualys features a standard USB port and is conveniently shipped with an interface cable. An IP-based Ethernet port is also available as an option to bridge Dualys to a LAN, just like any conventional paper printer.



Windows, Mac and Linux Compatible.
• Dualys supports all main OS (Windows 2003, XP and Vista, Mac OS X and Linux), for seamless integration in various IT environments.




Manual Feeding Mode .
• Dualys offers a manual feeding option to personalise cards individually. This feeder, powered by an engine, can be instantly installed and turns Dualys into an over-the-counter display for instant delivery of badges, by the unit. With such an easy personalisation process, Dualys stands as the best choice for Ticketing, Membership Cards, student IDs and other similar applications.

Advanced Encoding Options.
• Dualys offers the widest range of encoding options: 3-track magnetic encoder in Hico/Loco (ISO or JIS2), smart contact station encoders and contactless encoding units. All these features can be seamlessly combined.

User-Friendly Design .
• Both the printer and the software have been designed with user needs in mind. Forget Training, this is a Plug & Print solution.

Software and Hardware Ergonomics.
• The Windows driver and the setup process have been totally reshaped to improve the user interface. The set up wizard leads the user through simple step-by-step instructions, while basic configuration is easily performed. The driver comes with a 'Print manager' for enhanced interactivity through on-screen instant notifications that complement the 4-LED information panel..

Clamshell Opening.
• Dualys benefits from the market-proven concept of a clamshell opening that speeds and eases any printing task such as ribbon installation, cleaning, and card thickness adjustment. Users operate the service by themselves on a daily basis, which minimise downtime.



Card Feeder.
• The detachable airtight card feeder makes it possible to stock several feeders with different card background themes and/or thicknesses, or to enforce printing continuity by simply replacing an empty feeder by a full one.




Compact Design.
• Compact and light, Dualys is a follow-me printer and dedicated travel bag is available to carry it with you.


Outstanding Quality and Reliability.
• Dualys is engineered to last thanks to strict selection of components and advanced quality testing. Dualys reproduces vivid natural colours and images with an outstanding rendition. A hassle-free and very reliable solution.

High Quality Finish and Assembly.
• Dualys offers a high quality finish, our strict requirements being reflected in its injected plastic case and in the quality of the assembly of the different printer modules. In addition to this, prior to any delivery, each Evolis printer is fully tested and adjusted to maximise printing quality.

High quality components.
•Dualys offers photo quality printing thanks to its carefully selected components and state-of-the-art picture management process. The innovative flip-over station enables dual-sided personalisation without compromising printing throughput.

3-Year Warranty.
• Both the printer and the print head come with a full three-year warranty, a proof of Evolis' commitment to making quality a top priority for offering the best conditions.


runs to bulk personalization.

The most cost-effective, all-in-one solution.
• With stunning performances and features, comprehensive accessories and consumables, and a pioneering warranty, Dualys sets a new performance to price ratio for dual-sided printing and scales from small runs to bulk personalisation.





Card Design Software.
• eMedia Card Designer software is delivered standard. From the very first time you use Dualys, you can personalise and print badges using an Excel database and the Data Import/Export feature. A truly professional solution is delivered with the printer. .



A Comprehensive Ribbon Offering .
• A comprehensive ribbon offering, including a half-panel colour ribbon that slashes cost by 40% compared to the standard ribbon. Monochrome printing benefits from a ribbon saver system that increases ribbon capacity by 2 to 3. The best 'cost per card' ratio in the market.

Configurations.
•Dualys is available with the following encoding options : magnetic stripes, contact and contactless smart cards. All these options can be combined in the same printer. Finally, you can choose to add an Ethernet port to the standard USB connectivity.
 
Model Descriptions
Product Description

BASIC
USB
Dualys Basic
Basic printer without option, USB
USB &
ETHERNET
Dualys Basic
Basic printer without option, USB & Ethernet
MAG
USB
Dualys Mag ISO
Printer with Mag ISO Dual HiCo/LoCo 3-track magnetic stripe encoder, USB
Dualys Mag JIS2
Printer with Mag JIS2 Dual HiCo/LoCo magnetic stripe encoder, USB
USB &
ETHERNET
Dualys Mag ISO
Printer with Mag ISO Dual HiCo/LoCo 3-track magnetic stripe encoder, USB & Ethernet
Dualys Mag JIS2
Printer with Mag JIS2 Dual HiCo/LoCo magnetic stripe encoder, USB & Ethernet
SMART
USB
Dualys Smart
Printer with Smart Contact Station, USB
MIFARE
USB
Dualys Mifare®
Printer Contactless with ACG Mifare Easy encoding module, USB

General Specifications:
• Colour printing module.
• 300 dpi print head (11.8 dots/mm).
• USB connection.
• Option for Ethernet TCP-IP connection.
• 16 MB RAM.
• Flip-over station for dual-sided printing.
• Detachable feeder with a capacity of 100 cards (0.76 mm - 30 mil)
• Output hopper with a capacity of 100 cards (0.76 mm - 30 mil)
• 1-Button and 4-LED control panel.
---
Print Modes:
• Colour dye sublimation and monochrome thermal transfer.
• Enhanced colour management system for top quality pictures.
• Edge-to-edge printing.
• Dual-sided printing.
• Integrated ribbon saver for monochrome printing.
---
Printing Speed:
Personalisation throughput will depend on card design and printer settings.
• Colour 1 side (YMCKO): 150 cards/hour.
• Color 2 sides (YMCK0-K): 125 cards/hour.
• Monochrome: up to 1000 cards/hour 1.
• Monochrome 2 sides: up to 350 cards/hour1.
---
Supported Platforms:
• Windows™ XP, 2003 and Vista, 32 & 64 bits.
• Mac™ OS X v10.2, 10.3 and 10.4.
• Linux.
---
Software Supplied:
• eMedia Card Designer Software for designing and editing badges. Compatible with Windows™ XP, 2003 and Vista. Connection to Microsoft™ Excel databases.
---
Warranty
• Use Evolis Genuine products for best performance and extended lifespan of your printer.
• Printer, print head: 3-year warranty, unlimited number of passes ( Subject to observance of specific conditions and use of Evolis genuine consumables).
---
Card Types:
• All PVC, Composite PVC cards, PET, ABS1 and special varnished cards (Under specific conditions) .
---
Card Format:
• ISO CR-80 - ISO 7810 (53.98 mm x 85.60 mm - 3.375" x 2.125").
---
Card Thickness:
• From 0.25 mm (10 mil) to 1 mm (40 mil).
---
Output Hopper Capacity:
• 100 cards (0.76 mm - 30 mil).
• 300 cards (0.25 mm - 10 mil).
---
Card Feeder Capacity:
• 100 cards (0.76 mm - 30 mil).
• 300 cards (0.25 mm - 10 mil).
---
Printer Size:
• Height: 235mm Length: 447mm Width: 237mm.
---
Printer Weight:
•7.4 Kg.
---
Electrical:
• External Power supply: 100-240 Volts, 50-60 Hertz, 1.8 A - Printer: 24 Volts DC, 3 A.
---
Environmental:
• Min/max operating temperature: 15° / 30° C .
• Humidity: 20% to 65% non-condensing.
• Min/max storage temperature: -5° / +70° C.
---
Please Note: product specifications vary according to printer model and are subject to change without prior notice.