Colordyne CDT 1600C colour label printer
Colordyne CDT 1600C colour label and tag printer
Powered by Memjet Technology
The Colordyne CDT-1600C is one of the fastest colour digital label printer in its class, it can print up to 304.8mm/second, up to 1600x1600 dpi, and labels that are 50.8 to 215.9mm wide. Colordyne printers are powered by Memjet Technologies and print lightning fast.
Colordyne CDT-1600C is designed for in-house label production and is capable to meet industrial label demands. With this printer users can instantly print labels and tags at a very attractive cost per label.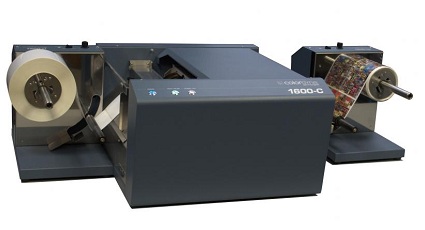 The CDT-1600C prints fan-folded or roll labels. This printer gives users the flexibility to print variable data and barcoding, and change their label design whenever they need.
Join the revolution in affordable color digital printing. Colordyne Technologies is backed by over 3,000 patents and growing. With Memjet technology, suddenly all other color printers are painfully slow.
Colordyne CDT1600C colour label printer benefits
Eliminate your label inventories with the ability to print on-demand with the Colordyne CDT-1600 C high-speed colour printer
The 1600 C delivers full variable color (CMYKK) while printing 50.8 to 215.9 mm wide at 1600 x 1600 dpi. With throughput speeds up to 304.8mm /second
Copy changes made instantly
No plate or copy changes
Variable Data and Barcoding
Roll to roll, fanfold, or continous labels
Improve supply chain management
Print method
Memjet® Inkjet Technology
---
Print head configuration
Maximum dot rate
Up to 740 Million ink droplets per second
---
Five channels per print head CMYKK
---
Print speed
152.4mm

/ second high quality mode, 304.8 / second in normal quality
---
Print resolution
High Quality is 1600 x 1600 dpi, Normal Quality is 1600 x 800 dpi
---
0.076mm to 0.305mm /

0.003 to 0.012 inches
---
Label gap, notch, tick mark
---
Maximum print width
Maximum print length
533.4mm

W x 533.4mm L x 279.4mm H (21"W x 21"L x 11"H)
---
---
Construction
Solid steel made in the USA
---
Optional software
Wasatch SoftRIP Color Management Software
NiceLabel Professional Label Design Software
---
Please note: product specifications are subject to change without prior notice.
Winder
Unwinder