Welcome to Labelling Secrets #64
In this Edition:
October Giveaway Promotion
Datamax Brand Being Retired
Bartender update
Customer Testimonials
Butcher and Fresh Food Labels
Dangerous Goods Labels
Scorpio Label Finisher SCR35PL
October Giveaway Promotion
Free* Argox OS-2140D DT Printer valued at $395.00 RRP for the first 10 new label orders placed in October 2021. (*terms & conditions apply - label order must be valued at more than $1000).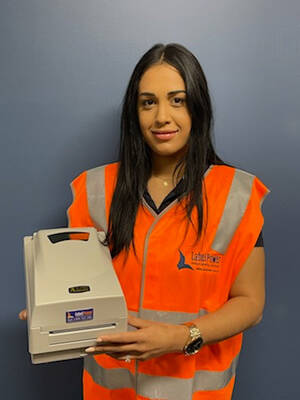 Meet Nadia, one of Label Powers Client Support Officers. Nadia and the team are looking forward to working with you on your new label projects!
Label Powers customer service team are able to assist you with all aspects of your label design & manufacture as well as provide assistance with consumables for your printers (ribbons, ink cartridges, printheads, label applicators) and also co-ordinate servicing for your printers.

Datamax Brand Being Retired

Honeywell has now announced the retirement of most of the long-serving Datamax range, including the E-Class, M-Class, I-Class and H-Class models. The A-Class print engine will remain available.
Final Order Date is December 31st 2021 or Until Current Models Are Sold Out. Limited Numbers of these printers are still available and Label Power is able to provide ongoing service & parts (till they the parts are no longer produced)
Contact us on 1300 727 202 to discuss the options as we have plenty of solutions to offer.
BarTender Update

BarTender Free Support will change from October 1st 2021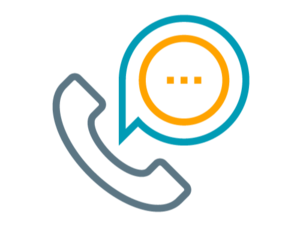 From October 1st 2021, only customers who have an active Maintenance and Support agreement will be able to receive support via email, chat, or phone. The exception to this is for any issues relating to activation and license keys. Email support will remain available to all customers for these specific issues.

Customers with a valid maintenance and support agreement are eligible for a free upgrade to the latest BarTender version therefore, now is a good time to purchase and resume maintenance agreements.
Contact Label Power on 1300 727 202 as there are "Get Current Stay Current" incentives available which will end on the 31st December 2021.
Customer Testimonial

Nothing better than happy customers and here are a few kind words from one of our customers:
Popcorn Man "We were looking for an affordable Labelling company and Label Power more than delivered. They managed all our labelling needs and provided an exceptional service. We are looking forward to many more years of working together."

- Joe Director/Founder
We would like you to become one of our happy customers, please contact the Label Power team today and see what solutions we can offer you and your business.
Butcher and Fresh Food Labels
Label Power manufacture labels specifically for the fresh food, butcher and related industries that are available off the shelf by the roll - and that can also be customised to your specific requirements.

Also available are sequentially numbered inserts, carcass tags, carton labels, security cut labels, PVC price display cards and spikes - For more information Click Here...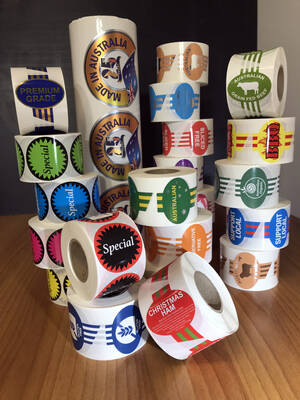 Dangerous Goods Labels
Also available off the shelf are a wide range of Dangerous Goods labels including corrosive, explosive, flammable, irritant, infectious, toxic and many more in various sizes, in rolls or sheets
GHS Chemical labels and Dangerous goods label are useful to identify chemical containers or hazardous materials that can be highly flammable, dangerous when wet or produce toxic gasses.
We also produce printed labels with cautionary messages and handling instructions, such as: Fragile, Don't Crush, Handle with Care, This Side Up and Top Stow.
For more information Click Here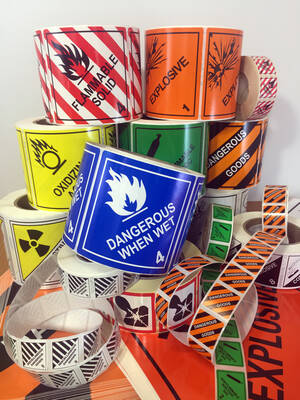 Scorpio Label Finisher SCR35PL - Demo Clearance Model
The Scorpio SCR35PL is an all-in-one system that will unwind, digitally die-cut, remove the excess label material around each die-cut shape, slit, and rewind offering you everything to produce professionally cut and finished labels.
Providing an accurate label finishing solution using cutting plotter technology which allows you to cut different types of material and shapes without the added cost of dies, including being able to produce over bleed artworks / full bleed artworks with ease.
The units are equipped with a cutter management tool that works together with a camera forming an integrated optical black-mark registration system providing cutting speed optimization and avoiding synchronization issues.

All features that turn into full flexibility, limitless variations in label design and smooth workflow.

The Scorpio SRC35PL is a digital label finisher truly meant to meet the on-demand short run label finishing solution for use with digital color label printers and presses.
Click here for more information
Click Here for the Video
Benefits of the Scorpio SCR35PL:
Short run label production in-house means reducing inventory requirements and costs
Producing full bleed labels no longer difficult
Laminating for labels added durability - cost saving as no need for special media
No need to order pre-die cut label rolls
No need for ultra-precise label margin adjustment when printing in full bleed
No need to set up a minimum gap between labels when printing in full bleed - cost saving on media