Welcome to Labelling Secrets #59
In this Edition:
Christmas Closure Dates and Ordering Requirements
Label Power Wins Gold in 2019 International Flexotech Print Awards
Honeywell PX940 Thermal Transfer Barcode Printer with Inline Barcode Verifier is now here!
Coming in 2020 - Epson Colorworks CW-C6010/6510 Commercial Inkjet Label Printers
Christmas Closure and Ordering Requirements
Everyone here at Label Power would like to thank you for your patronage in 2019 and look forward to working closely with you in 2020!
We Wish You a Very Merry Christmas and Safe and Happy New Year!
Label Power will be closed from 5pm on Thursday, December 19th and will reopen at 8:00am on Monday, January 6th, 2020.
To ensure your custom manufactured labels and tags get dispatched before Thursday 19th of December please ensure you place your orders on or before Friday, December 6th. Please ensure you also check your stocks of blank DT, TT and Inkjet labels and consumables to ensure you have enough stock on hand to last through the holiday season.

Label Power Wins Gold in 2019 International Flexotech Print Awards
Label Power is Proud to Announce that We were Awarded the Gold Award from the 2019 International Flexible Packaging and Label Manufacturers Awards for the 6.1.2 Flexo Labels and Tag category!

The H.E.A.L Organic Liver label was printed using Opaque White + Orange + Black with Overall Matt Varnish & Mid Build Gloss UV Varnish. Stock was PP Silver with glassine liner.
Contact Label Power, a leader in the Australian Label Design and manufacturing industry for over 20 years, to work with an award winning label designer and printer!



Honeywell PX940 Thermal Transfer Barcode Printer with Inline Barcode Verifier is now Available from Label Power!

The new Honeywell PX940 series takes industrial printing to a new level of accuracy and simplicity by providing customers with error-free precision printing, increasing production efficiency and reducing operational costs.

The PX940 printers are suited for transportation and logistics, pharmaceuticals and healthcare, shipping and distribution centers, industrial manufacturing, automotive parts suppliers, and applications that are regulated and require high precision and error-free printing.
The PX940 printer is available in two versions: one with the integrated verifier, and an option without the integrated verifier. Both versions are available with standard features such as Bluetooth and smart printing capability, in which users can configure and fine-tune settings without the need for a host computer.
The PX940 printers are available in 203, 300 and 600DPI models. The inline barcode verifier will scan and check every barcode printed, if it detects a scanning error it will pull the labels back into the printer and print a void pattern over the whole label to ensure the faulty label/s can not be used. This will ensure you can guarantee 100% scan rate of your products and eliminate costly returns when products do not scan.

Label Power has these amazing printers in stock now so contact us for a demo in person or by video.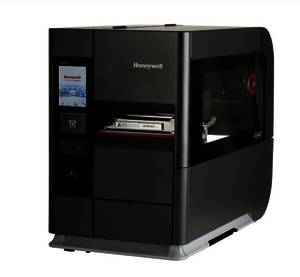 Features:
Defect-Free Labels, Every Time - Integrated label verification technology checks and ensures that labels print accurately every time; instantly notifies you of pass/fail status and ANSI grade.
Precision Printing for Small Labels - Extremely precise printing of up to +/-0.3 mm (0.012 in) virtually eliminates poor-quality, unreadable labels and barcodes
Intelligent Asset Management and Monitoring - Operational Intelligence software provides predictive analytics and data on printer health to help managers oversee their entire printer fleet and proactively prevent issues, ensuring maximum uptime.
No PC Required - Smart printing capability allows you to configure settings on the printer without the need for a host computer.
Simple and Intuitive to Use and Maintain - Easy to use and maintain, with a color multilingual touchscreen interface, quick side-loading design, and a built-in printhead cleaning routine that provides optimal print quality and a longer printhead life.
Epson Colorworks CW-C6010 and CW-6510
Check out the new Epson Colorworks CW-C6010 and CW-C6510 Label Printers - Available for Pre-Order Now!

Coming to Label Power in 2020 are the new Epson ColorWorks label printers, the ColorWorks C6010 and C6510.
These on-demand label printers extend Epson's existing range to meet the needs of small- to medium-sized customers across many sectors including food, chemical, beverage, pharmaceutical and logistics.
The range includes auto-cutter models and time-saving auto-peeler models that automatically remove the label backing paper and can be integrated seamlessly into existing print-and-apply production line systems. printers.
The 4 models in the range are:
ColorWorks C6010A (Autocutter) CW-C6010A with 108mm print width
ColorWorks C6010P (Peeler) CW-C6010P with 108mm print width
ColorWorks C6510A (Autocutter) CW-C6510A with 211.9mm print width
ColorWorks C6510P (Peeler) CW-C6510P with 211.9mm print width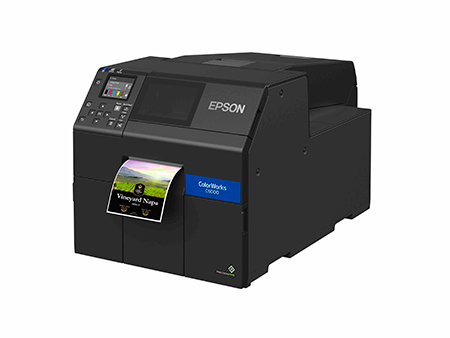 All products support a wide range of shapes, materials and label sizes. The CW- C6010 can support media widths of 25.4mm to 112 mm and the CW-C6510 from 25.4mm to 215.9mm. In practical terms, these ColorWorks label printers can print anything from tiny labels for eyedropper bottles, to large durable labels suitable for chemical drums.
This media flexibility and on-demand digital four colour print (even with small label sizes) will make life easier for time-sensitive businesses with many SKUs to manage.
The ColorWorks range has been developed to have wide usage potential. Users will benefit hugely from the speed, control, efficiency and flexibility that's offered, along with a wealth of new supporting features.
The CW-C6010 models can be integrated with production line systems to print and peel one-by-one labels with variable data - this is something Epson believes is the world's first peeler-equipped inkjet label printer to print and peel labels one-by-one.