Welcome to Labelling Secrets #53
Welcome to Edition 53
In this edition...
Label Power is exhibiting at the Foodservice Australia 2018 Show happening in Darling Harbour, Sydney on 27th - 29th of May.
View the new VIP Color VP750 Water Resistant, Colour Label and Tag Printer now available in Australia from Label Power.
Download Free 30-Day Trial of Bartender Label Design Software

Label Power is Exhibiting at Foodservice Australia 2018 in Sydney
The Foodservice Australia 2018 show will grow significantly this year when it moves to the new exhibition centre at Darling Harbour in Sydney.
Visit Label Power at Stand K53 to learn about the latest in digital design, printing and labelling of food products in Australia.
If you work in the food or hospitality industry then you need to plan a visit. There is simply no better place to discover new ideas. You can literally taste the new food trends and try out all the latest catering equipment.
This year the show runs from 27-29 May. There will be over 350 exhibitors and special events including the Chef of the Year, National Restaurant Conference, Cafe School, Australian Pizza Championship, Savour Patissier of the Year and the new Aged Care Catering Summit.
From printing your own full colour product labels, to barcode & ID card printers, scanners, label design software, label rewinders, label dispensers and label applicators we have a range of solutions to make a big difference.
On full display will be the popular VIP Color VP700 colour label printer, come and see it printing high speed, low cost, full colour labels on demand. We will also show the pigment inkjet printers for durable waterproof labels on demand. Also check out the Epson C7500G and LX2000 pigment-based label printers and the Benchmate and Benchmax label applicators at our booth. We'll also have one of our best-selling industrial TT printers on show, the Honeywell Datamax I-Class.
Meet with Gary and Justin on our stand for a free consultation on choosing the best full colour or TT printer for your requirements.
See more details here for the trade show: http://www.foodserviceaustralia.com.au/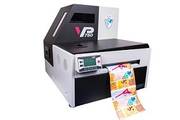 Now available in Australia, the VP750 by VIP Color high performance inkjet label printer debuts at Label Power. The VP750 is the next generation of digital print-on-demand color label printer with Enhanced Water Resistance Printing Technology* and includes an automatic cutter.
The VP750 is a revolutionary digital print-on-demand colour label and tag printer with Enhanced Water Resistance Printing Technology*, it raises the performance benchmark whilst lowering the cost of on-demand colour label printing for all industries.
This state-of-the-art printer is powered by cutting edge Memjet thermal inkjet technology and is capable of printing at a blazing speed of 18 metres per minute or 304 mm per second (12") This means you can print 100 full colour water resistant labels 100x150mm in less than one minute.
The VP750 prints exceptional vibrant colour graphics and crisp text and barcodes up to 1600x1600 dpi in resolution.
Label Power's Managing Director James Malone states "With the addition of Bartender Labelling software by Seagull Scientific, you have the ability to design and print full colour, water resistant labels at high speed with variable data and barcoding." Compatible with synthetic and paper based labels. However, users are advised to conduct their own tests for compatibility prior to mass production.
The VP750 effortlessly prints the exact batch quantity and real-time up-to-the-minute requirements, providing unprecedented flexibility and convenience. Ruggedly designed, yet intuitive for in-house label production and private labeling needs, the VP750 brings fast, affordable colour printing to any business with it's 5 x huge low cost 250ml, water resistant Ink cartridges onboard.
With the roll unwinder incorporated into the steel body of the machine, the VP750 is the most compact Memjet printer on the market. For long print runs, external 355mm OD unwinder and 355mm OD rewinders are also available.
The large LCD display makes it the most operator friendly, You can also print and present just 1 label at a time with the cut and present feature.
The VP750 will print on a large number of media types, from paper to synthetic Labels and tags with matt or gloss finishes and now can print water Resistant labels using Enhanced Water Fast Inks. Even silver, gold and clear synthetic inkjet stocks are available from Label Power.
The VP750 is a perfect companion for a label applicator to get your labels printed fast and applied even faster, you can find a range of our label applicators listed here.
The VP750 benefits include:
Create any quantity of Colour labels exactly when and where you need them
Print Water Resistant Labels on Paper or Synthetic Labels.Surprisingly Low cost of ownership
Eliminate the need for pre-printed label inventories
Print up-to-the-minute label data and avoid costly labelling errors.Enables increased flexibility to meet your labelling needs FAST
The VP750 is now available from Label Power. For more information about how this product can help your business, contact us on (07) 3710 7000.
Individual ink tanks for each colour let you replace only the colours that need replacing. You'll save time and money on every job you print.
Printed labels can include photos, graphics, illustrations and text - even high-resolution linear or two-dimensional bar codes.
Print labels when and where you need them in just the quantities you can actually use.
Short run custom labels and personalised labels are printed fast and efficiently, helping you to increase the production of your products. You can even operate several LX1000 printers from one PC as your production volumes grow.
Whether you print just a few labels at a time or thousands, they'll be printed at speeds you probably never before thought was possible from a desktop label printer.
Order just one roll or ten rolls of blank labels in many sizes and stocks online or we can custom manufacture in any size you require.
The LX1000 Colour Printer is able to print labels that are BS5609 compliant (suitable for marine exposure for chemical drums) using special ink and label stock for that purpose.
Bartender 2016 - Create High-quality Labels, Barcodes and Cards in Minutes

We encourage all customers to visit our website to find information about our products and contact us on 07 3710 7000 or email sales@labelpower.com.au