Welcome to Labelling Secrets #45
Welcome to edition 45!
In this edition find out about the Foodtech show happening in Brisbane this weekend from Sunday. Learn how Old Cossack introduced 18 types of labels to the market with no plate charges and we introduce the new Primera LX500 colour label printer.
Visit FoodTech Queensland 26-28 June 2016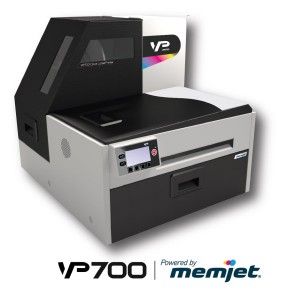 We're excited to announce Label Power is gearing up to attend Brisbane's FoodTech Queensland trade event from June 26th, 27th and 28th this year. Held at the Brisbane Convention & Exhibition Centre, the show brings together over 130 exhibitors and 5000 visitors to do business and celebrate new ideas and innovation in the food industry.
Label Power, at booth C47 in the Hall 2, will be showing off some exceptional samples of Food & Beverage packaging ideas, finishes and innovative ways to get your products noticed. Along with this, we'll also be presenting some exciting in house colour label and tag printing solutions that could revolutionise your internal production procedures. From printing your own full colour product labels, to barcode & ID tracking printers, scanners, software and some nifty small additions that could make a big difference.
The Fine Food show hours are Sun 10am-5pm, Mon 9am-5pm, Tues 9am-3pm, so get down to booth C47 with your labelling issues and ask us to solve them for you. We also have at the stand a limited number of free Bartender 2016 Trial CD's that will give you a 30 day free trial of this leading software.
On full display will be the popular VIP Color VP700 colour label printer, come and see it printing high speed low cost full colour labels on demand. Meet with Label Power staff and with the industry experts from VIP colour who are flying in from Singapore. Also on display will be the Evolis Pebble and Primacy card printers - visit to find out about food safe PVC card printing for food display cabinets as well as Membership Cards, ID cards other card printing solutions.
See more details here for the trade show: www.foodtechqld.com.au
________________________________________________________________________________________________________________________________________________
Old Cossack's Mighty Brew
Darren and Joanne Molloy from Old Cossack Drinks co have always had an interest in healthy living. In the beginning of 2014 they started Old Cossack Drinks co by selling drinks using their Kefir culture. The Water Kefir is a symbiotic culture of healthy bacteria and yeasts held in a polysaccharide matrix - in simple terms this means it's a fermented beverage with probiotic bacteria and lots of other good stuff.
Darren and Joanne know that good stuff needs great labels so it wasn't long before they found Label Power and started working with our friendly team. As their products grew in popularity they decided to get a revamp on their range. Photo below of their old labels from Label Power before the rebrand. The latest labels look even better and are printed on metallic silver with a soft feel matt overlaminate film, Label Power produced 18 different types within a week and with no plate charges. When starting the business Darren and Joanne also purchased a Primera AP360 applicator to label the many thousands of bottles.
Take care of your body's probiotic needs with Old Cossack Drinks today.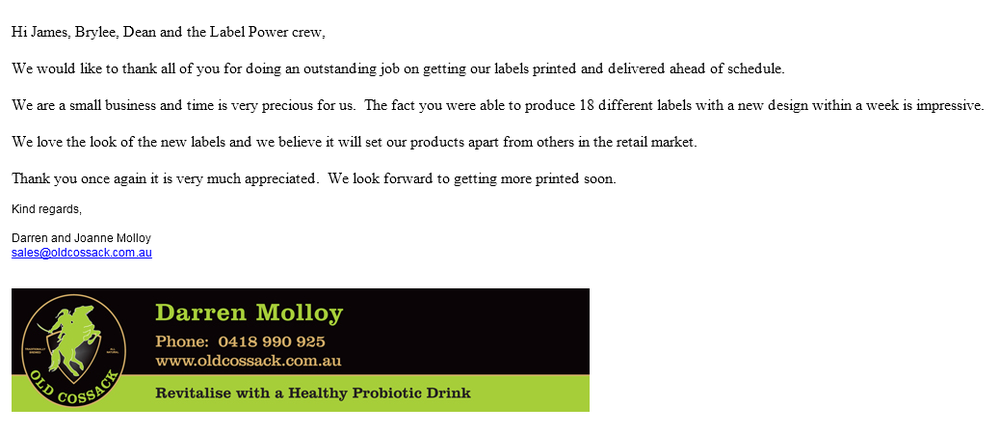 _______________________________________________________________________________________________________________________________________________
New Primera LX500 Color Label Printer
New LX500 Color Label Printer. Faster and better quality printing. Optional built-in label cutter in a small compact size.
The LX500 & LX500c utilise the latest in high-resolution inkjet technology to print brilliant full-colour product labels on demand!
From initial set-up to full operation, the both LX500's are easy to use. Plus, everything you need to start printing labels is included in the box! Each LX500 ships with BarTender UltraLite Edition software, sample roll of high-gloss labels, ink cartridge and USB cable. You'll be printing full-colour labels within minutes of taking the printer out of the box. Your labels can include full-colour photos, illustrations, graphics, text and bar codes. Print them when and where you need them - in quantities you can really use!
The Primera LX500 & LX500c colour label printers produce gorgeous, professional-quality labels for all your short-run, specialty products. It's ideal for industries such as gourmet foods, wine and water bottles, personal care and natural products.
It can print labels up to 4800dpi and 101.6mm wide, has an optional built-in label cutter (LX500c), and is small and compact in size. Weighing only 3.5kgs, the LX500 has the ability to print up to 102mm wide and 4800 dpi full colour printing.
Built-in Label Cutter with the LX500c Model
The LX500c, an additional model, includes a built-in guillotine label cutter inside the printer so you can quickly and easily dispense individual labels or cut at the end of or between label jobs. This built-in guillotine is a significantly more robust internal cutting mechanism than previous or similar Primera models.
Apple Mac Driver now available for the Primera LX2000!
MAC driver now available for The Primera LX2000 Colour label printer
With a print resolution of 4800dpi, there aren't many alternative machines that can handle that high resolution, meaning incredibly crisp, colourful images. The LX2000 is also able to print labels that are BS5609 & GHS compliant for chemical and drum labelling using it's lightfast pigment inks with Matt synthetic inkjet labels from Label Power. Contact our sales consultants for more information or email sales@labelpower.com.au