Welcome to labelling secrets 32, our First issue for 2012.
Please join us this month in celebration that Label Power have received the 2012 accreditation from Datamax-O'neil as a Solution Valued Partner and take advantage of very special Datamax Printer and Bartender software bundle offer we are extending to all readers.
We also invite you to visit us at the Fine Food Queensland Show. The show runs at Brisbane Convention Centre from Sunday 11th to Tuesday 13th of March 2012.
Read about how the new Primera CX1000 colour label printer will help you produce durable, vibrant, fade resistant and waterproof labels at an amazingly low cost point.
We also have more special offers for all our readers with Wristband printers, Address Label printers and Barcode Scanners.
Don't miss the opportunity to start the year with the best labelling equipment and consumables for your business from Label Power.
We hope you enjoy this issue and as always we appreciate your feedback and comments.
Label Power continue to strengthen Datamax relationship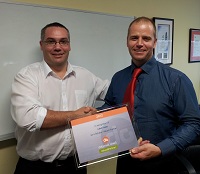 Label Power are excited to receive the 2012 accreditation from Datamax-O'neil as a Solution Valued Partner.
This accreditation means that Label Power will continue to deliver enhanced customer service and technical support for all Datamax-O'neil products. Moreover, during 2012 Label Power's consultants will be part of a special training program oriented to update and improve their knowledge on all Datamax O'Neil products.
A wide range of Datamax O'Neil printer models, Primera Colour printers and Label Power labelling solutions will be exhibited by Label Power (Stand 7204) at National Manufacturing Week at Sydney Showground, Sydney Olympic Park, Homebush, from Tuesday 8th to Friday 11th May so make sure you put these dates in your calender. If you are in Sydney and need spare parts or pricing on new Datamax, Primera or Zebra printers or custom labels to suit contact Jeff Newton on 0449 904 177 or jeff@labelpower.com.au for a free professional consultation.
You can order many Datamax printer models online at fantastic prices - E-Class desktop printers | M-Class H-Class and I-Class industrial barcode printers.
Buy the Datamax E-4204B Direct thermal and Thermal transfer printer with Bartender Basic labelling software for only $695+GST. Save over $50 when you order these two products together. To order email us at sales@labelpower.com.au **** Plus as an extra special bonus when you order this month we will also give for free 1 full roll of wax/resin ribbon 110mm x 300M and 1 full roll of blank despatch labels 99x148mm with 350 labels per roll. This bundle includes everything you need to start printing your own labels today - printer, software, power cables, usb cable, ribbon and labels!


Bartender Basic Label Software
Bartender Basic Software package, designed to support laser and thermal printers.
Bartender Basic Edition Licensing: based on the number of PCs used - Maximum allowable PCs: 1, Unlimited Printers
Printing: allows manual selection of any installed printer. This edition does not allows other software to control which printer or data files Bartender uses. [View tech specs - and Download 30 Day Free Trial]

Label Power will be exhibiting at the Fine Food Queensland Show, from the 11th until the 13th of March 2012, on stand number E38. This event will be held at the Brisbane Convention and Exhibition Centre.
Label Power will be presenting its Primera LX900 colour label printer and the Zenius plastic card printer as well as Datamax printers and many label stocks and samples. We also have free barcode ribbon samples for all Datamax and Zebra printers. For professional advice on the best labelling solution for your business please visit us during the show.
Fine Food Queensland has earned the reputation as Queensland's No 1 food industry exhibition. This is the place to find the newest and best foodservice, commercial kitchen and bakery equipment products and services on offer and stay abreast of what's on trend in the catering & hospitality industry.
Register now to visit Fine Food Queensland at www.finefoodqueensland.com.au [view more]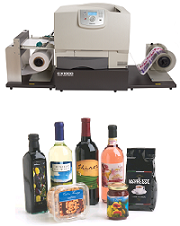 1. Lower cost per label = higher profits. With the Primera CX1000 cost per label is almost always significantly lower than outside vendors. Forget about ordering massive quantities of pre-printed labels, paying for expensive set-up charges, and dealing with long lead times or wasted inventory.
2. Superior print quality. One of the best things about CX1000 is its incredible 2400 dpi print quality. Compared to 1200 or 1600 dpi machines, you'll notice a striking difference in overall quality. CX1000 output has much deeper and far more vibrant colours.
3. Impressive performance. Print speed is 5 meters per minute. You can print up to 152.4 meters at a time which nominally equals a 204mm diameter roll. Once a job is started, it can be left unattended. A built-in cutter automatically cuts the web once the job is completed. [View tech specs and see Video]
How would you like to save over $4000 when buying a Pack Leader Label Applicator?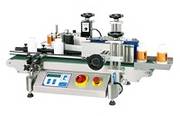 Buy the Pack Leader ELF-50 wrap around labeller "Pre-Loved Demo" for only $5995+GST. Regular price $10995+GST = $5000+GST on savings

Pack Leader ELF-50 wrap around labeller is a space saving and high performance table top labeller, specially designed to wrap around and top labelling.

The ELF-50 offers precise labelling position, good quality and high stability so you can apply labels to products efficiently and enhance their appearance [View tech specs and video]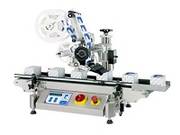 Buy the Pack Leader ELF-20 top labeller "Pre loved Demo Model" for $5995+GST. Regular price $9995+GST = $4000+GST on savings

The ELF-20 is the smart choice for small production runs when efficiency and equipment cost are the major considerations. Its aluminum and stainless steel construction makes it portable and ideal for the most demanding environments. [View tech specs and video]

For just $999+GST you can start printing individual wristbands on demand.
Print wristbands in 2 simple steps with the Zebra HC100. Just pop the wristband cartridge into HC100 printer and print your wristband.
The HC100 printer detects the wristband size that is required and automatically calibrates its settings for optimal print quality. [View more]

The LS2208 is a handheld Barcode Scanner specially designed to provide fast and reliable scanning in an ergonomic, lightweight form. This device is ideal for a wide variety of applications such as retail, hospital, education, government and many more.
The LS2208 captures data accurately and fast, is easy to deploy and use, just simply plug into a spare usb port on your pc or laptop. Its ergonomic design reduces user fatigue and maximises user comfort and a convenient stand is included.
The Symbol LS2208 is engineered for continuous, heavy usage all day, every day and has been tested to withstand multiple 1.5m drops to concrete. On top of this, its scratch-resistant tempered glass helps preserve barcode scanning accuracy. [View tech specs and order online]

Forget about this time consuming and frustrating task. With our range of Dymo 450 Labelwriter printers you can print from 51 up to 71 labels a minute (4 line address labels).
Print crisp and clear texts, barcodes, images & pictures, date & time, serial numbers and lines. Moreover, produce over 100 different label styles and layouts with these labelwriter printers.
Dymo 450 $136+GST | Dymo 450 Turbo $227+GST | Dymo 450 Twin turbo $318+GST | Dymo 450 Duo Turbo $363+GST
Get your labels done right, simplify your life and save time and money.
We encourage all customers to visit our website to find information about our products and contact us on 1300 727 202 or 07 3710 7000
Email us at sales@labelpower.com.au for further assistance or info.