We would like to thank all our clients for their loyalty and trust demonstrated during 2011. It has been a busy year and we have been working very hard to add to our portfolio exceptional products, in order to provide you with -even better- quality labelling solutions.
In this edition, we introduce the Zenius Card Printer along with our hottest product of the year the Primera LX900. Take a look and see how they can benefit your business.
We also have an exciting Free Printer offer when you buy our Large Dymo Address Labels. Label Power can also assist you whether you need technical assistance with your printer or need to book a maintenance service plan.
Christmas is nearly here so please check your label, ribbon and printer cartridge stocks now and take note of our holiday close down period.
We hope you enjoy this issue and as always we appreciate your feedback and comments. Best wishes and warm regards from Label Power
---
Label Power Christmas 2011 Close Down Dates
Label Power will be closed from 3pm on Friday 23rd of December 2011 and will reopen on Monday 9th of January 2012 at 8.00am, we have limited staff working from Tuesday 3th to Friday 6th of January 2012.
This year Christmas day falls on a Sunday so the the public holidays in Australia are Monday 26th and Tuesday 27thDecember for Christmas. Monday 2nd of January is the public holiday for New Year's day.
Please ensure you check your label and ribbon stocks now to ensure you have plenty of supplies to keep you going over the Christmas break. Don't wait till next year for your labels, Label Power can still supply you prior to Christmas so call or email us now!
---
Label Power did it again! we are in the Q400 - list of top 400 Queensland companies

Label Power are proud to announce that we have again featured in the Q400 list of top 400 Queensland companies shooting up from ranking 279 in 2010 to 203 in 2011.
To view the full list of top Queensland companies and their ranking visit www.qbr.com.au/queensland-400.aspx
For just $1750+GST you get 1 Zenius card printer, 1 colour ribbon, 50 blank white cards, emedia card designer standard edition and starter cleaning kit.
The new Zenius is a one-stop solution to print high-quality single-sided cards - in monochrome or colour - and encode technology cards. Zenius takes plastic card personalisation to the next level by simplifying routine tasks such as ribbon installation and printer status monitoring.
This compact, modular and easy to use card printer delivers superior print quality on every job. This printer is small, light-weighted and silent which makes it suitable for welcome desks, sales counters, office desks and many more work environments. The Zenius prints up to 120 colour cards per hour including images, text and barcodes and best of all comes with a 2-year warranty [View more]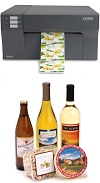 Place your order before the 31st of December and receive an additional $100+GST CREDIT onto your account that you can use towards Labels or any other consumable purchase.
The Primera LX900 is the fastest colour inkjet label printer in its class, specially designed for printing runs of customised full colour labels. With a huge range of ex stock labels sizes available the Primera LX900 is a must have for companies who have a wide range of products that need to be professionally labelled.
If you are interested in consumables for this printer we have | Ink Cartridges | Printhead | Gloss Inkjet Paper Permanent Labels | Matt Inkjet Synthetic Permanent Labels |
Hurry Up! This special is valid while stock lasts.
Dymo 450 Turbo Label Writer is a compact, fast and functional label printer for everyday use. With this machine you will be able to create and print barcode labels, envelopes, packages, files, binders, videos, CDs labels, name badges,and even more.

The Dymo 450 Turbo prints up to 71 labels a minute (4-line address label). Moreover, this unit incorporates an improved 600x300 dpi graphics mode so you can print crisp and clear texts, graphics and barcodes. [View more]

Be quick as this offer is valid while stocks last!
With the Primera LX200 you can print a wide range of barcodes and ID labels up to 108mm wide. This printer is capable of printing onto labels, tickets, tags and coupons. The LX200 provides the highest-quality printing and easiest supplies replenishment.
The LX200 doesn't use a ribbon, instead, it "jets" ink directly onto plain paper or specially-treated, high-performance inkjet substrates. This process leaves no spent ribbon behind that shows a mirror image of what has been printed – important for confidentiality and secrecy requirements.
With 1200 dpi print resolution, this innovative printer has almost six times as many dots per inch as most thermal transfer bar code printers. The LX200 is Ideal to print for small text, intricate graphics and even high-resolution, grey-scale photograph. [View more]
Please note: This offer is exclusive to Labelling Secrets subscribers, to place an order and enjoy this price please email us at sales@labelpower.com.au quoting this newsletter.

See also the wide range of LX200 labels available ex stock

Multipurpose tape is ideal for packaging and sealing cartons, communicating cautionary messages and enforcing handling instructions, and also identifying products with your company logo.
Choose from clear, white or coloured Polypropylene & PVC to get your message across. We have a wide variety of sizes available - from 12mm to 48mm width x 66m length. Our standard base colours are white, clear, yellow, orange, red, brown, light blue and light green.
Order 2 cartons or more and benefit from our volume discount [View more]
Looking for technical assistance?
Look no further, our service team is on hand to provide technical help when you need it. We provide technical support and direct manufacturer assistance for our printer lines such as Primera, Datamax O'Neil, Zebra, Evolis and VIP Color.
You can choose from a range of preventative maintenance plans or just simply contact us when necessary. Remember that ideally your printer should be serviced every 6 months and as a minimum every year. Contact Us to book your service and make sure you keep your labelling system running reliably.
---
We encourage all customers to visit our website to find information about our products and contact us on 1300 727 202 or sales@labelpower.com.au for further assistance.