Bartender v9.0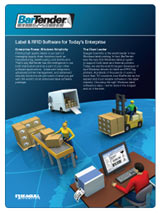 Main | Overview | Downloads | Brochures | Features
Version 9.0 of Australia's most popular labelling software Bartender has been released to Australia by Label Power.
New Features include BarTenderReprint, Media Usage Tracking, and Enterprise Print Management The biggest new release in over ten years of our BarTender label and RFID software began shipping on September 10, 2008. The free, downloadable Trial Edition is available now, as well as brand new brochures and an extremely detailed "What's New" white paper.
New features and modules now available in the
BarTender Label Management Suite include:
Printer Maestro application provides super-friendly centralized management of every printer and print queue on any size network.
Printer Media Usage Tracking and Inventory Control of printer parts.
New BarTender System Database lets you log more detailed print job information and be better prepared for high-security audits.
History Explorer provides easy, highly flexible navigation and viewing of past print jobs.
Reprint Console lets you easily replace lost or damaged labels, even if the original label data is no longer readily available.
New Integration features.
More New Features, including support for larger networks.




Click here or the menu for further information.





Upgrade your existing BarTender software now to take adventage of the special pricing only available till Dec 31 2008.





Price: Call us now for pricing 1300 727 202

Please Contact Us or Request a Quote.